Is Building a Home in 2023 Worth It?
As 2022 comes to a close and we prepare for 2023, consider your goals for the new year. Maybe one of those goals is to buy or build a new house in Texas.
Before you begin the home building or home buying process, continue reading to determine if building a home in 2023 is right for you. In this post, we address the following questions:
---
What Are the Benefits of Building a House in 2023?
There are many benefits to custom home building in Texas:
---
1. You Can Create the Space You Want for You and Your Family
One of the most beneficial aspects of building a new home is that you get to create the space that works best for you and your family.
Love to Host? Choose an open-concept floor plan with lots of great living space.

Family Visits? Find a floor plan that includes an extra guest room for visitors.

Kids or Grandkids at the House? Consider a one-story vs. two-story plan and/or have a dedicated space for kids to play.

Work from Home? Choose a floor plan with a home office.
Learn more in our article: How to Create a Hospitable Living Space for the Holidays.
2. There's a Need for Newer Homes in Texas
As you think about Texas, and Dallas-Fort Worth specifically, you may think there isn't a need for newer homes, but there actually is. The reason home builders keep building houses is because there is a real need for it, and here's why:
Not Enough Supply to Meet the Demand. There have been less homes available on the market over the past couple of years. That's because there has been a greater demand for homes in Texas as more people move here and fewer people looking to sell.

Home Sales Have Skyrocketed. While economists predict this will start to decline in 2023, over the past couple of years homes have been selling for way more than they're worth, which is why you've probably heard about or experienced the many bidding wars going on to buy a home in Texas.

Flipping Houses Is Not Easy. Despite the many popular shows that make it seem like a breeze, flipping older homes to bring them up-to-date and suitable for how you and your family lives is not easy and is often very expensive.

Older Homes Not Up to Code. A lot of older homes are not up to building codes. That's because building codes change as we learn more and more about safer building practices and newer technologies come out. Older homes have not been required to follow these new building codes because they're already built.

New Homes Are Equipped for Modern-Day Living. Think about the number of devices your family uses on a daily basis. How many wall outlets are you using in your home? Are these outlets equipped to handle the load your devices require? Do you like to see and be together with your family while you're cooking meals? Is your home open-concept or connected to the dining room to allow you to do that? Consider the ways in which we live today and how they differ from life in the 60s, 70s, 80s or even the 90s. Times change and so do homes.

New Homes Are Built to Help You Save. Newer homes are all about energy-efficiency and ways in which the homeowner can save money in the long run and minimize needed repairs.
Learn more in our article: Why Do We Keep Building Houses in Texas?
3. You Can Earn Instant Equity When You Build Versus Buy a Home
One of the downsides of buying an existing home, especially in today's market, is that you pay for a home based on what it's worth today - maybe even more if you get into a bidding war for the house. By building a new home, you pay what it takes to build the house and then you reap the benefits of the new build by how much it's actually worth - considering comparable home sales in the area, where you build, and how new it is. This is the appraisal value of the home.
As an example, let's say you build a house with Hedgefield Homes and spend $300,000 on the plan, $75,000 for the land and $45,000 - $55,000 for site development. Your all-in budget is $430,000. When you apply for a construction loan, the bank will want to do an appraisal of the house to figure out how much it is worth. They look at how big the home is, what features you plan to add to the home, where you are building it, and comparable homes that have sold in the area in the past year. From that, they are able to give you an estimated appraisal value of the house. This appraisal value is usually more than what you spent to build the house. So that $430,000 you spent on the home could instantly be worth $550,000 or more based on the appraisal. That difference is your instant equity.
Learn more in our article: What Is Instant Equity & How Can I Use It for My New Home?
4. Build Where You Want to Live
Let's say you're ready to buy a new home and have a specific place in mind. Maybe you want to build in a rural setting, west of Fort Worth. You look around and can't find any homes for sale. If you're looking to move right away, that means you have to choose a different location for your new home.
The benefit of building a house vs. buying is that you can usually find lots available where you want to live. If you find a lot available for a good price, consider purchasing that and then you are able to build a home where you want to live.
Learn more about choosing where to build in our article: Should You Build Your Home on a Lake in Texas?
5. Plan for the Future as You Design Your Home
Another great benefit of building a house is that you can design your home with the future in mind. This is especially helpful if you are working on a tight budget.
Here are some examples of what this could look like:
Extra Bedroom
"I really want an extra bedroom, but I don't have the money to add that on right now."
Consider a plan like our Archer Floor Plan. There's definite potential to add another bedroom off the Eating space in the future as long as you position the home on your lot so there is enough space for an add-on like this later.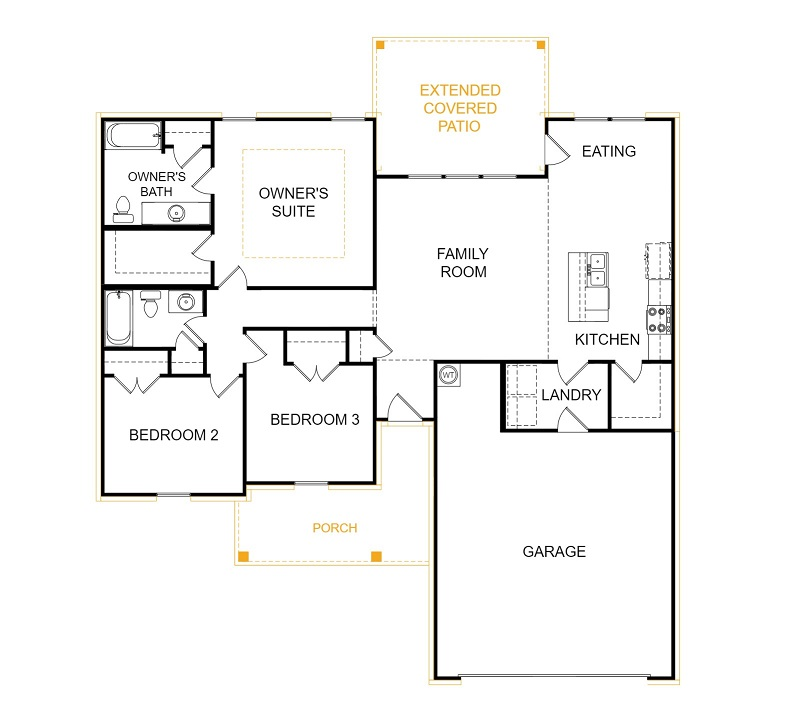 Another Living Space
"Our family may keep growing. This space is probably fine for now, but I could see us needing more living space in the future."
Say your family is growing with more kids, in-laws or grandkids… A plan like our Hamilton Plan provides a lot of options now and for the future.
While you have plenty of extra bedrooms, you can also use the Flex Space as an extra playroom or living space for the kids, an office or an extra bedroom. Or you might even consider converting the garage into a theater room or playroom later on.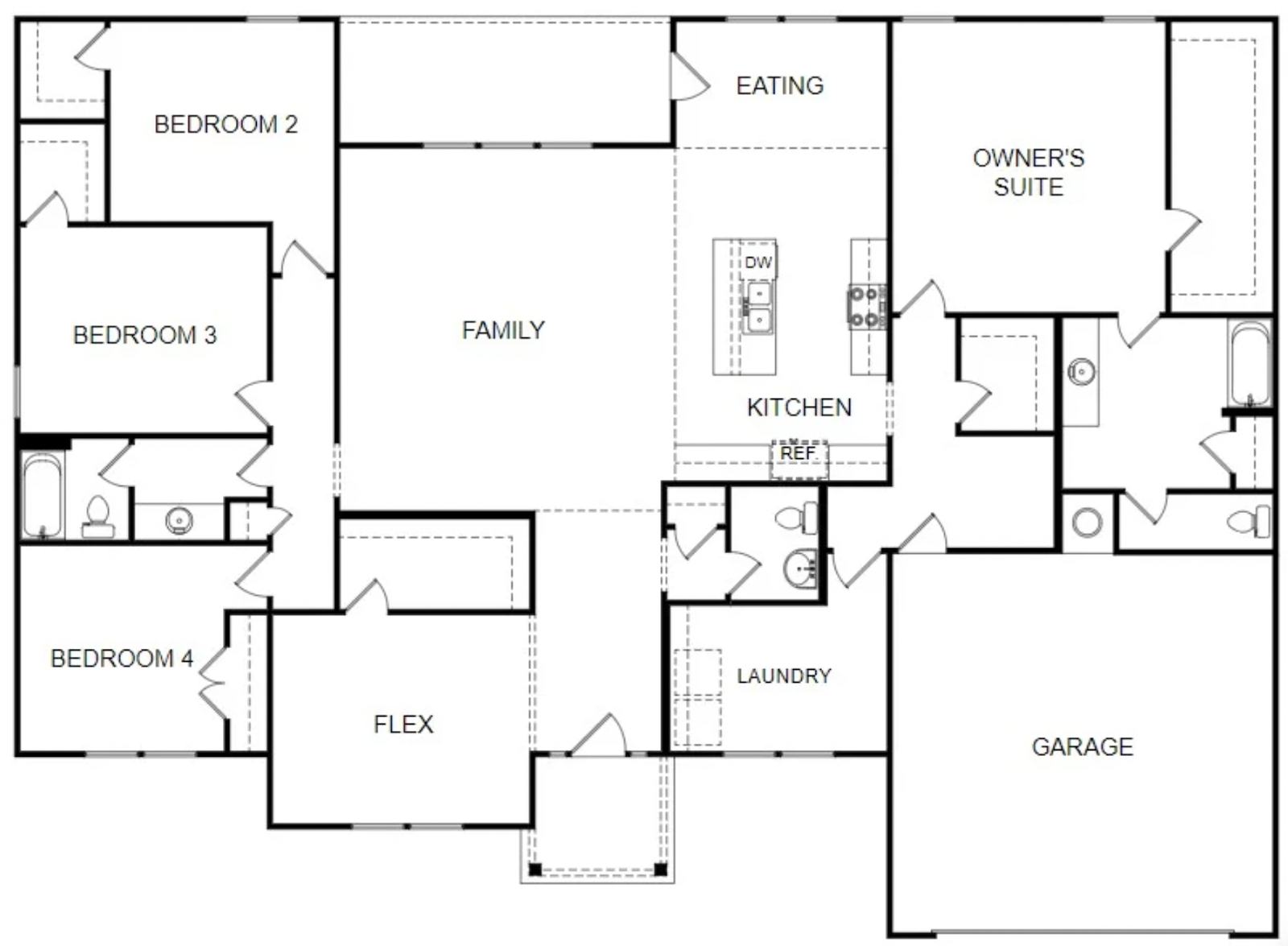 Add Outdoor Features
"Our family loves to spend time outside! How can we afford the house and create an awesome outdoor space?"
Like a lot of families who build a custom home, you may have aspirations for adding more features to your outdoor living space in the future, especially with the weather we have in Texas throughout the year!
Most of our home plans have great potential for expanding or upgrading patio spaces. And as long as you leave enough space on your lot, you could also consider adding some fun features to your backyard, such as:
Learn more in our article: Can You Reduce Custom Home Costs by Removing Features?
Is Building a Home in 2023 a Good Financial Decision?
Even if you realize that building a home is a good option for your family, you may be wondering if it's a good financial decision right now, especially with the supply chain issues, rising material and labor costs, and high interest rates. Will home building costs go down in 2023 or will home building prices/costs continue to go up?
We address these concerns below to help you determine if building a home in 2023 is a good financial decision for you and your family.
1. Supply Chain Issues
You may have heard from friends and family who have been through the home building process in the last few years that supply chain issues caused them delay after delay when building a new home. Some Texas homebuyers had to wait a year just to get appliances, garage doors or windows!
The majority of this was due to the setbacks we faced during the pandemic with workers out of office for weeks at a time. Suppliers had to reduce their availability of products and customizations, as a result. The good news is that as the pandemic has started to wind down and things have returned to normal, suppliers and manufacturers are catching up, which means we aren't seeing as many supply chain issues.
Another important thing to note here is that if you find the right home builder, they can anticipate most supply chain issues because they have been in the thick of things the last couple of years. They know when you'll need to order appliances, garage doors and windows so they arrive at the correct time.
At Hedgefield Homes, when our buyers choose one of our portfolio floor plans over a custom design, we know the exact amount of materials needed to build that plan, as well as how much it will cost. We can order the correct amount of materials early enough to combat supply chain issues.
2. Rising Material & Labor Costs
Over the past couple of years, construction costs have also seen an increase of nearly 20% year over year. From inflated material costs due to shortages to increased labor rates. Thankfully, this is finally beginning to slow down as supply chain issues get better.
As you look for a custom home builder, keep in mind that with some home builders you always run a risk of fluctuation in material and labor costs. Most production and semi-custom home builders, like Hedgefield Homes, will lock in these prices for you as soon as construction begins, so you won't run the risk of going over budget for construction materials and labor by the end of the home building process.
3. High Interest Rates
Interest rates more than doubled in 2022, which means higher mortgage payments. That's bad news for Texas homebuyers and home builders alike. However, there is good news on the horizon: Interest rates are expected to drop to 5.4% by the end of 2023, according to the Mortgage Bankers Association. And with the average house taking 10-12 months to build, starting the home building process in January could set you up for success when it's time to close if you opt into a two-time close versus a one-time close.
Please keep in mind this is just a projection. Interest rates could remain the same or increase by the end of 2023. No one really knows for certain.
Another option if you don't want to risk interest rates increasing even more is to opt into a one-time close to lock in your rate and then refinance 6 months after closing. The timeline you have to wait to refinance depends entirely on the type of loan and lender you choose. This will allow you to build a home in Texas that you want at the price you can afford.
There are lots of options when it comes to custom home building. Speak with a New Home Specialist at Hedgefield Homes for more information.