Top 10 Landscapers in North Texas
At Hedgefield Homes, landscaping is not usually included in the cost to build a custom home. However, we offer our customers a few different options for the landscaping portion of their home:
1) They can add on this service for an additional cost and we will complete this at the end of home construction;
2) They can choose from one of the many landscaping companies in North Texas for landscaping around their new custom home.
Because we want to help our customers make the best decision for their family when it comes to building a custom home, we have provided a list of companies that we believe to be the Top 10 Landscapers in North Texas.
Many, if not all, of these landscapers also provide regular lawn care services if that's something of interest to you and your family for your new home.
Top 10 Landscapers in North Texas
---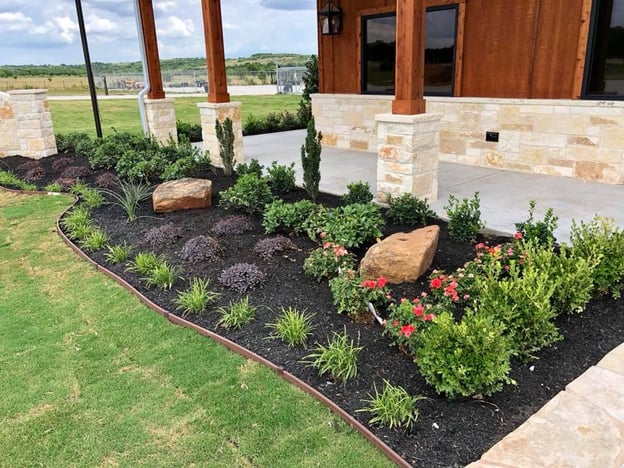 MDM Landscapes is a full-service landscape and lawn care service company in Dallas-Fort Worth. They can help design your new landscaping in line with your vision and budget.
Some of the services MDM offers includes:
Mowing

Fertilizing

Installing Sod

Soil Aeration

Drainage

Flower Bed Installation

Mulch

Stonework/Flagstone Installation

Retaining Walls

Dirt Work

Tree Removal

Outdoor Lighting
MDM Landscapes Review
"I highly recommend MDM landscaping to anyone with a big job. I used them for my 2-acre front yard. They installed 17 zones and a pond fill. They installed rocks and barriers underneath my driveway to keep it from washing out. The water system works great. Comes with an anti-freeze system so you don't have blow outs due to frozen lines and rain sensors to take advantage of wet weather. They were quick and made sure there was quality control all along the way. Ask for Jeff."
- Matthew Vincent
Follow MDM Landscapes on Facebook.
---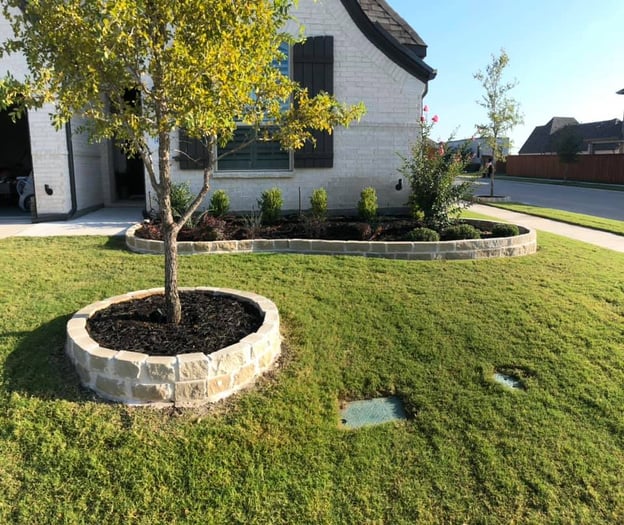 Magnolia Landscape services Parker and Tarrant Counties on new landscaping and landscape maintenance. Specific services include:
Irrigation

Sod Installation

Flower Bed Installation

Planting Trees and Plants

Erosion Control

Installing Retaining Walls

Fertilizer Treatments

Weed Control

Weekly or Bi-Weekly Mowing, Edging, Trimming and Cleanup
Magnolia Landscape Review
"Magnolia did an amazing job designing our space! Michelle was very creative and clever with her designs and came up with a beautiful design for our property, which we love. We can't speak highly enough about Michelle and highly recommend Magnolia for any landscape design."
- Lynette McClatchy
Follow Magnolia Landscape & Design on Facebook.
---
Cody Landscape helps new Fort Worth homeowners create a beautiful outdoor space. They believe a thoughtful, artistically designed landscape extends your living space, adds value to your property and provides priceless enjoyment for you and your family for years afterward.
They offer design, installation and lawn maintenance. You can learn more on their website and see some of their previous work in their online gallery.
Cody Landscape Review
"This is a family-owned business dedicated to exceptional design and service. They showed us a vision of what our home could look like and brought it to life. Cody and Shelly are terrific to work with. They were responsive and thorough. The crews were very courteous and conscientious. We highly recommend them!"
- Marc
Follow Cody Landscape on Facebook.
---
Bryan's Landscaping wants to make your outdoor visions a reality. Servicing the Fort Worth area, Bryan's Landscaping offers the following services:
Artificial Turf Installation

Garden Installation

Irrigation Installation

Landscape Design

Lawn Seeding

Outdoor Lighting Installation

Sustainable Landscaping

Tree Removal

Garden Design

Hardscape Construction

Landscape Construction

Landscape Grading & Resloping

Virtual Consultations

Shrubs, Hedges & Bushes

Tree Planting

Tree Transplanting
Bryan's Landscaping Review
"I purchased a new home and the landscaping was passable at best. After trying to do my own work in the Texas heat, I looked for help. Bryan did an excellent job for a last-minute request and was willing to come on a Sunday! He was efficient, thorough, and fair in pricing. I explained what I was looking for and he designed it exactly as I wanted. He took extra care and was very professional. Would recommend him!"
- Dominicua T.
Follow Bryan's Landscaping on Facebook.
---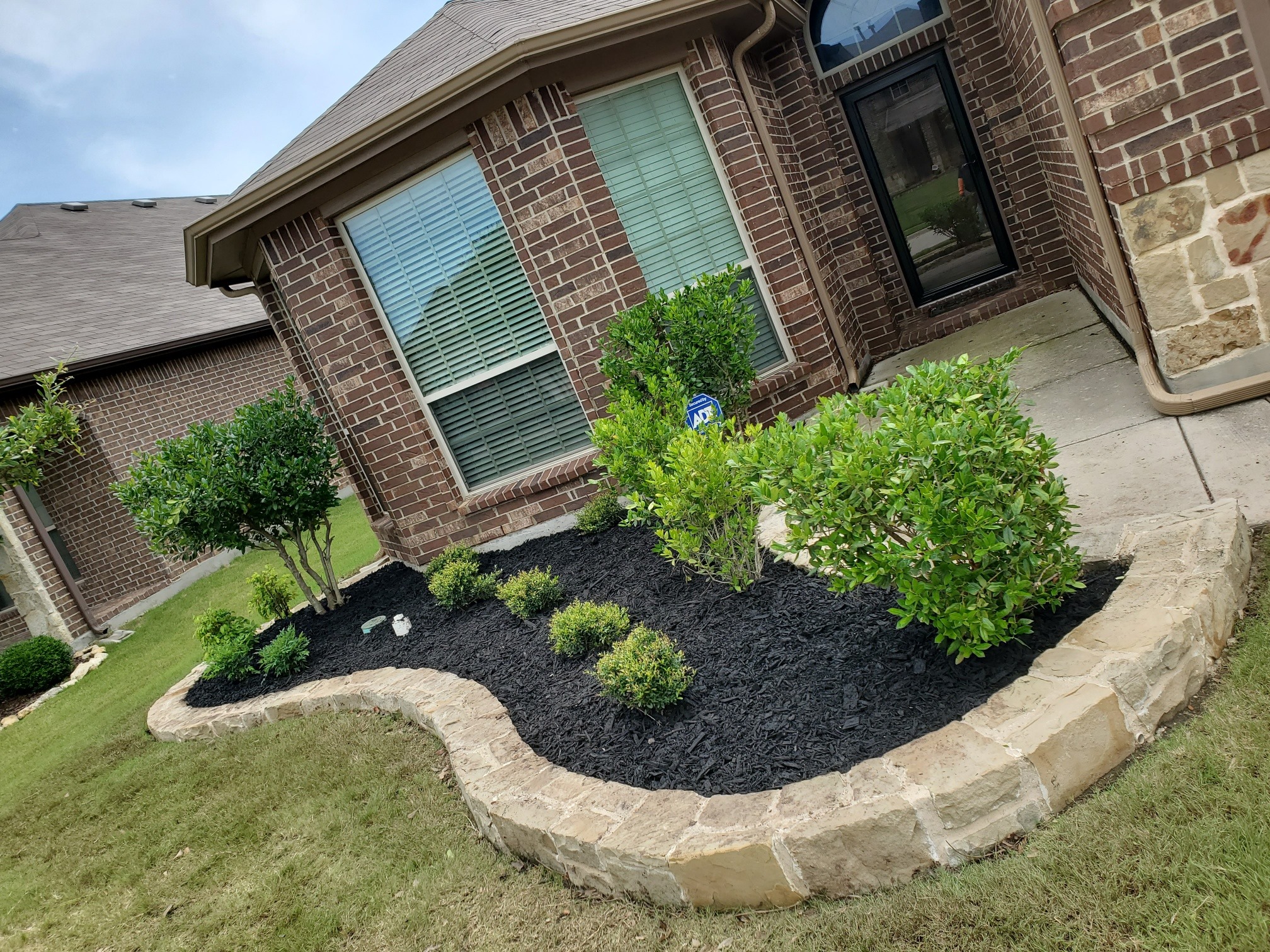 Cleaner Greens Lawn and Landscape is a Veteran & Minority-Owned business in North Richland Hills, Texas. They offer top-level professional precision in their work. They are always detail-oriented and comprehensive, no matter the project size, and personally guarantee your complete satisfaction.
They offer the following services in the Dallas-Fort Worth area:
Landscape Services

Lawn Care

Irrigation & Sprinkler Services

Flagstone Installation

Pavers

Decks

Fencing

Pruning

Tree Removal

Sod

French Drains
You can request a free estimate on their website.
Cleaner Greens Lawn and Landscape Review
"Charlie and his crew installed a new sprinkler system, made some minor landscape improvements and built me a deck in the backyard. He was very punctual, was responsive and answered any questions before, during and after the install. Anyone looking to get an irrigation system installed, call him! Very reasonably priced, as well!"
- Justin Jacobson
Follow Cleaner Greens Lawn and Landscape on Facebook.
---
Ideal Landscape Services is a full-service landscape design and build company in Fort Worth that specializes in custom design and installation of residential and commercial landscapes. The company is family-owned and serves Fort Worth and surrounding cities.
Available landscaping services include:
Landscape Design/Building

Landscape Consultation

Waterfalls

Ponds & Fountains

Patios & Pathways

Boulders & Rock Design

Rockspaces

Concrete

Arbors & Trellises

Masonry

Planting/Tree Installation

Pergolas & Structures

Low Maintenance Landscaping

Native Landscapes

Xeriscape

Sod & Hydroseeding

Outdoor Lighting Systems

BBQ Pits/Outdoor Kitchens

Erosion Control

Site Work & Grading

Drainage

Professional Lawn Care/Maintenance

Retaining Walls

French Drains

Hardscapes

Swimming Pools
Ideal Landscape Services Review
"I have used Ideal Landscape Services for several years. Ideal does weekly mowing in my yard. I have used Ideal on large and small landscaping projects. The projects have been completed on time and to my expectations. Ideal did an excellent job on all projects, including the weekly mowing. I certainly would recommend Ideal Landscape Services for any project you may have."
- Garry Hamilton
Follow Ideal Landscape Services on Facebook.
---
Purple Care may be a good option if you are looking for more than just landscaping. Along with their landscaping services, they also offer pest control and fencing construction.
Their list of services are long, and include:
Pest Control (bedbugs, cockroaches, fire ants, mosquitoes, fleas, ticks, moles, rodents, termites, tree disease)

Drainage Installation

Fence Repair & Services

Flowerbed Services (Including seasonal changes)

Fungus Control

Grubs

Holiday Lighting

Landscape Design & Services

Lawn Aeration

Lawn Fertilization

Lawn Services

Leaf Cleanup Removal

Lighting

Mulch

Outdoor Kitchen Patio

Overhead Garage Doors

Ornamental Tree Program

Sod Installation

Sprinkler Repair & Installation

Stonework

Stump Grinding

Top Dressing Soil Amendments

Tree Fertilization

Tree Installation & Removal

Tree Pruning, Trimming & Other Services

Weed Control

Welding Services
Purple Care Review
"Purple Care has helped us grow a lush yard. The attention to how our grass flourished, reasonable recommendations for special care (aeration), tips on watering, and tips on removal of invasive grass or individual weeds gives us a wonderful lawn to look at and play on. Well done! Special thanks to Cass, our long-time technician."
- Ron Orr
Follow Purple Care on Facebook.
---
Premier Oaks Landscape Management provides full-service landscape solutions for residential and commercial properties in the greater Dallas and Fort Worth area. They offer many lawn care services, including:
Irrigation and Sprinkler Repair

Full-Service Home Landscaping

Maintenance Packages

Lawn Maintenance Services

Customized Landscape Design
If you're looking for a year-round lawn care service, Premier Oaks Landscape Management offers that, as well.
Premier Oaks Landscape Management Review
"Premier Oaks is a fantastic landscape company. The owner, Anthony, is one of the most honest and hard-working people I've ever had the pleasure of doing business with! They will go above and beyond to make sure their clients are taken care of. When things don't go as planned, Anthony is there to answer and resolve the situation to the best of his ability, and oftentimes, more than what is fair."
- Tyler McClure
Follow Premier Oaks Landscape Management on Facebook.
---
Landscape by Design puts a lot of thought into the design of each customer's landscape based on a number of factors:
Architecture of the home

Drainage

Traffic flow

Handicap needs

Lifestyle of your family, children, friends and pets

Landscape environment for certain plants
The lawn services they offer include:
Landscape Design

New Construction

Renovations

Patios & Decks

Tradiitonal Landscapes

Native Landscapes

Arbors & Pergolas

Fireplaces & Fire Pits

Stone Work

Landscape Lighting

Water Features
Landscape by Design Review
"Landscapes by Design offers unique landscaping ideas to fit the client and yard vs repeating cookie cutter plans from previous clients. John listens to and incorproates the client's ideas, also offering suggestions to make the ideas amazing. John only uses top notch employees who are professional, experienced and experts in their field and who have worked with him for many years. When the job is completed, workers remove all debris, leave the yard clean and John does a final overview to ensure the client is satisfied with the job. I've hired John for several projects over the years and each job exceeded my expectations. I recommend Landscapes by Design to anyone wanting an exceptional outcome."
- Nancy Schaefer
Follow Landscape by Design on Facebook.
---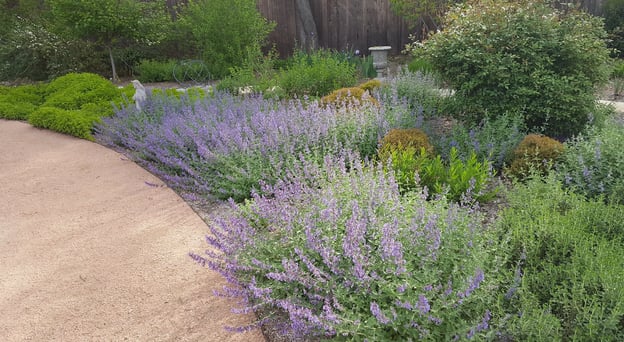 Happy Gardens Organic Landscaping is a full-service organic landscaping company in Fort Worth, Texas, that offers landscape design, builds and maintenance. They specailize in healthy, practical and environmentally responsible North Texas landscapes that are suited to the climate, topography, soil type and shade profile of your property.
They also work to minimize your needed water usage and avoid the use of pesticides, herbicides and fertilizers.
The design options they offer include plant choices that attract birds and butterflies to your property and complements your home and personal tastes.
Happy Gardens Organic Landscaping Review
"We recently relocated to Fort Worth and I found Happy Gardens through an internet search. The gardening philosophy of drought tolerant and native and adaptive plants appealed to me, as well as the photos of their work that are shown on the website.
Anna's response to my inquiry was prompt and professional. After our first meeting, she developed multiple design options and different plant groupings that allowed me to have input and a voice in the design. There was never a "take it or leave it" design solution, and I feel as though I learned something about North Texas gardening each time we spoke.
Anna's crew impressed me, as well. They arrived at the scheduled time and always left the job site tidy, swept, and well-organized. The crew's attention to detail and precision in the implementation of the design was a new experience for me. Careful positioning of hardscape elements to work with several grade changes on the site made all the difference in the design outcome.
The job was started and completed on time and came in slightly under budget. We couldn't be more pleased with the end result and we look forward to working with Happy Gardens on a second phase of work at a future date."
- Dan Hardin
Follow Happy Gardens Landscaping on Facebook.
---