Top 10 Pool Builders in North Texas
It's Texas. It's summer. It's hot. And if you don't have a pool already, you're probably thinking about one - especially if you just finished or are about to close on your new custom home.
If that sounds like you, finding a pool builder is probably top of your list! That's why we decided to help you with the search.
Below, we take a look at some of the best pool builders in North Texas (in no particular order) so you can find a pool contractor that's right for you and get started on the pool building process.
Best Pool Builders by City
Weatherford | Fort Worth | Saginaw | Mansfield | North Richland Hills | Southlake | Grapevine | Denton | Dallas
---
Weatherford Pool Builders
Parker County Pools has been in business since 1999. They provide quality pool services at affordable prices. Their services include: repairs, remodeling, cleaning and custom builds. They are also fully stocked for any of your pool supply needs.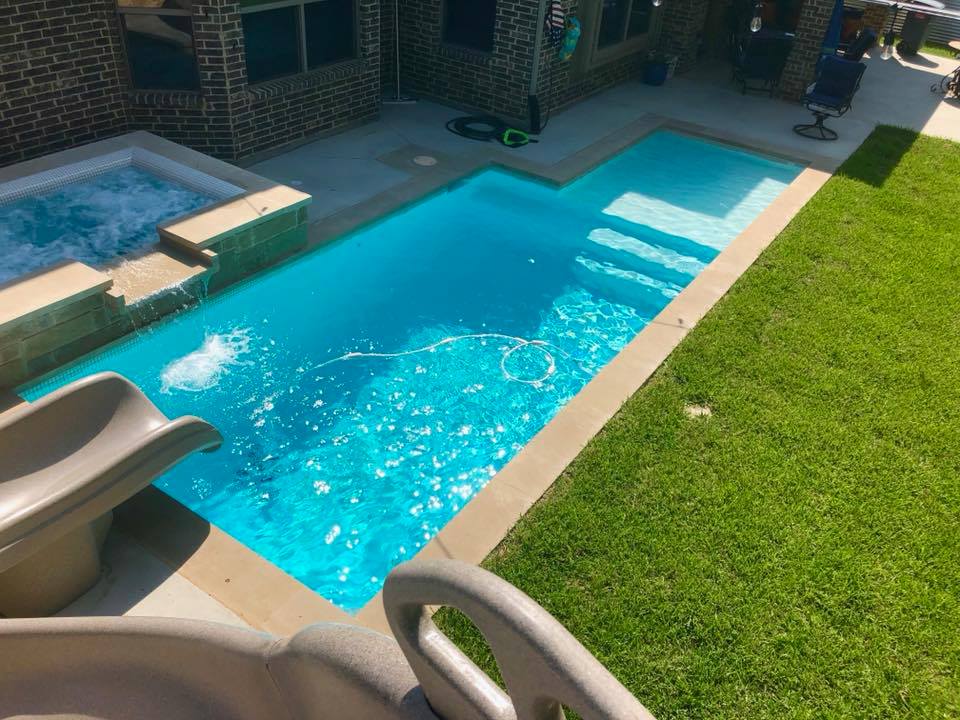 What Customers Have to Say About Parker County Pools
"Parker County Pools did an amazing job on our pool. It was completed well ahead of schedule; communication with our project manager was fantastic; and cleanup was thorough as well. Looking forward to enjoying this for many years!"
- Shawn Irish
"This is the second house that Donny has put a pool in for our family. Both times, everything went completely smooth and workmanship was great. You won't find an easier company to deal with or more pool for your money. There is no sales pitch, no presentation, 100% built how you want it for your budget."
- Jeff Simmons
---
Fort Worth Pool Builders
Westside Pool & Services is a premier custom pool builder in Fort Worth. They serve Aledo, Benbrook and surrounding areas and have been in business since 1979. They love constructing beautiful, high-end, outdoor living spaces for their clients to share with family and friends.
They are dedicated to their customer service, quality construction and reliable pool service and maintenance.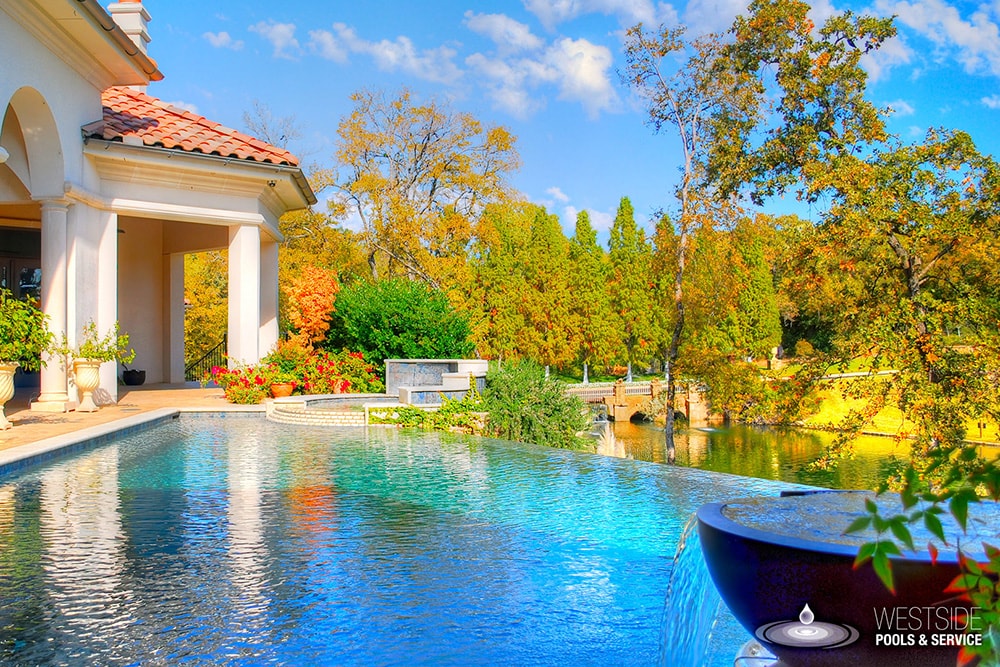 What Customers Have to Say About Westside Pool & Services
"If you want a personal touch, endless options, expert recommendations, and a team that works hard everyday to make sure you're happy with your project then Westside is the place to go! The owner, Guy, and everyone on his team is completely professional and available to make sure that you're getting exactly what you want. If there was a way to give more than 5 stars, I would choose 10!"
- Bridget Karr
"Great company building amazing pools!"
- Vincent Hoss
Puryear Custom Pools has been in the business since 1997, delivering their clients first-class design, attention to detail and professional service from start to finish. They hope to help you build an award-winning pool that you can maintain and enjoy for years to come.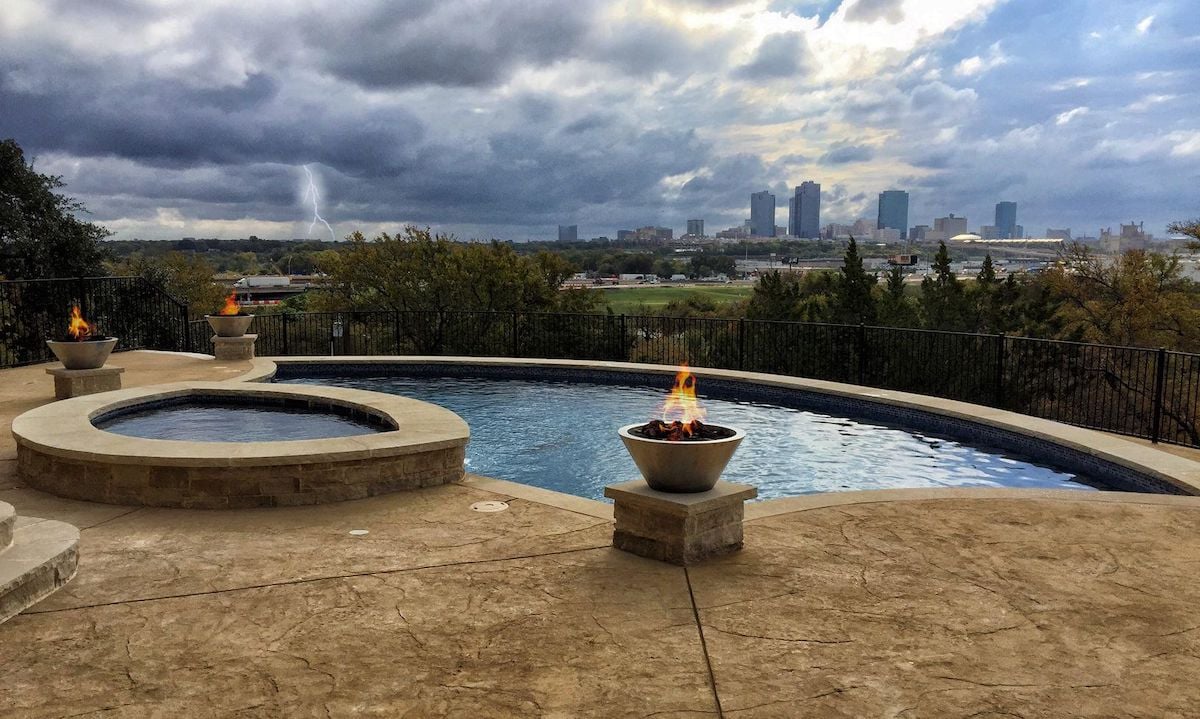 What Customers Have to Say About Puryear Custom Pools
"We absolutely love our pool built by Puryear Custom Pools. We've owned a pool before but had never built one before this year, so we really didn't know what to expect. There were 3 phases of the process - each with a designated point person to walk you through everything.
Derek helped us with the design and he was awesome. We have a small backyard and so our options were limited and we wanted to maximize the space. He was patient when he needed to be patient, took the lead when we asked him to take the lead, and took guidance from us when we asked him to.
Once construction kicked off, Chris took over and he came to our house the first day to introduce himself and, most importantly, set proper expectations on the build. He gave us his cell number and from then on was in constant contact all the way through the end of the build.
Finally, when the build was complete and we had a beautiful pool, Austin stepped in for some finishing touches and to walk us through Pool School. He taught us what we needed to know to maintain the pool, but honestly, I'd been so impressed with Puryear up to that point that I immediately signed up for their service, which has been stellar and cost-effective to this point."
- Ron Clarkson
---
Saginaw Pool Builders
Whether you are looking for Straight Line, Free Form or Infinity Pools, Spas & Hot Tubs, Water Features, Fire Features, Pergolas/Cabanas, Outdoor Kitchens or Pool Remodeling, Emerald Custom Pools advertises it all. You can view all of their work on their website.
They are a family-owned and operated business servicing Dallas-Fort Worth and surrounding areas. They pride themselves in the quality of pool build, efficiency of crews, great communication and nothing less than 100% customer satisfaction.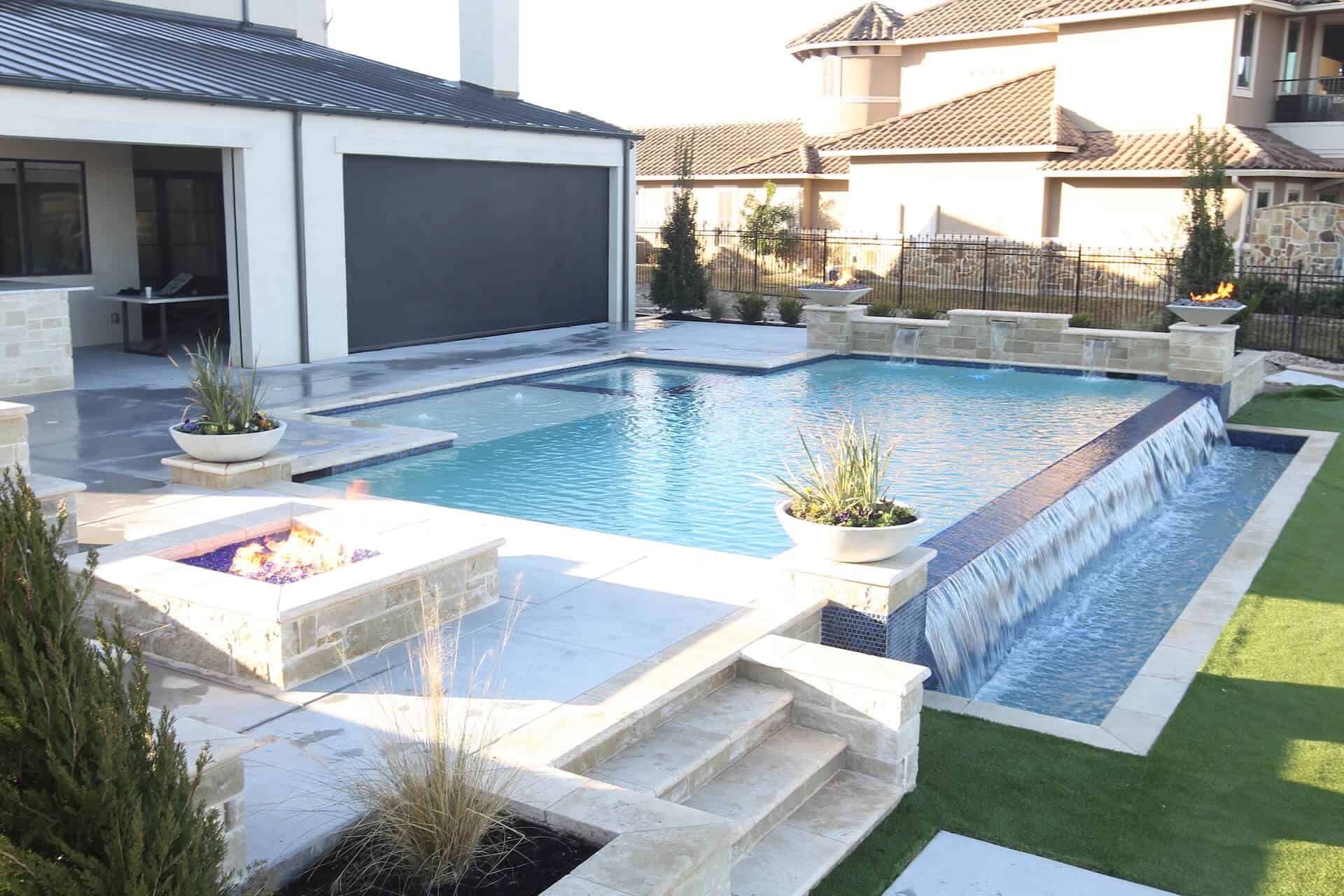 What Customers Have to Say About Emerald Custom Pools
"If you are currently shopping around for a pool, give Emerald an opportunity. They have been great to work with. They use all in-house crews, which is a big deal. They were friendly and hard working, while explaining the process from start to finish. Very competitive in price and easy to work with when I wanted to change something. Most importantly, they did everything they said they would do in the time they said they would. Again, huge!"
- Rob Lemons
"After a not-so-pleasant experience with another pool company, we hired Emerald. So glad we did! From day 1, both Jason and Austen have been upfront and honest about the process, pricing, best design features, etc. We have been kept informed every step of the way. And the crews, AMAZING! Very knowledgeable and professional! Can't wait for the final results (about 3 weeks away). Highly recommend Emerald Custom Pools!"
- Andrea Surles
---
Mansfield Pool Builders
Dolce Pools has been building swimming pools in Dallas-Fort Worth since 1996. They have been involved with the design or construction and renovation of over 2,600 swimming pools in the area. They are committed to client satisfaction and their creative and innovative solutions to each client's needs or concerns.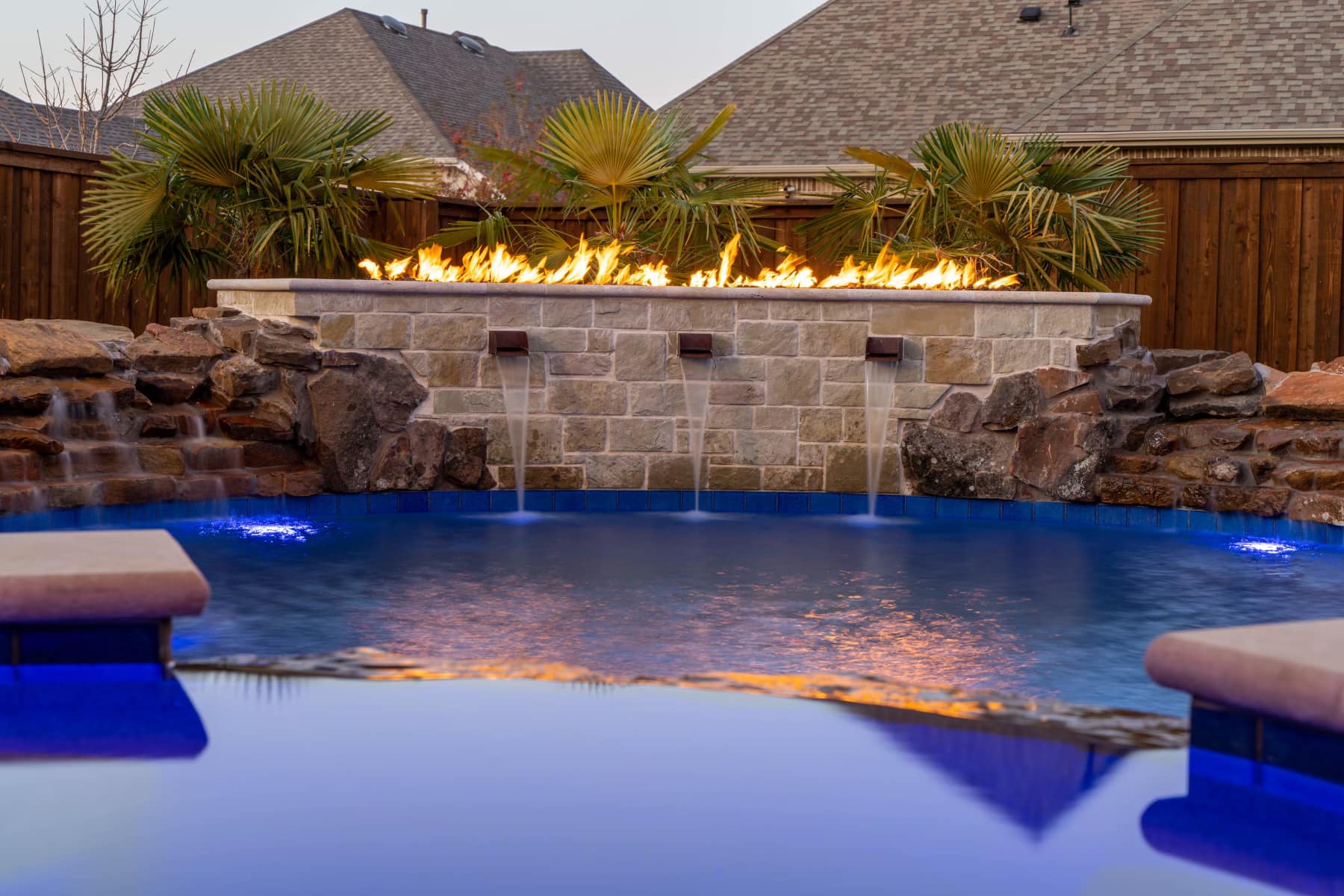 What Customers Have to Say About Dolce Pools
"I spent 18 months researching pool builders in Tarrant County and finally decided on Dolce Pools in mid-2019. From my first conversation with Tyler, all the way through the recent winter storm/freeze in February 2021, Tyler and his staff have been very responsive to every question and concern I've had. This was my first pool so I had a lot of questions.
Tyler took the time to explain the steps of pool design, what to expect during the building process and the ongoing maintenance to keep everything operating properly. The pool, arbor and deck all exceeded my expectations. Everything looks fantastic and we all enjoyed the pool last summer.
But, what I think speaks volumes about the professionalism and integrity of Tyler and everyone at Dolce Pools is how they handled the deep freeze we had in mid-February. When my house - like many others - lost power for multiple days - Tyler walked me through how to protect the pool and pumps from freezing, potentially saving me thousands of dollars in damage.
Building a pool is a major investment. Working with Tyler and Dolce Pools made the entire process totally worthwhile. I definitely recommend them to anyone looking for a top-notch, custom pool building experience."
- Scott Wicke
---
North Richland Hills Pool Builders
Watercrest Pools strives to bring you superior quality construction with an exclusive pool design. They create and build fewer than 50 projects per year to accommodate their customers. That way they can form lasting relationships with their clients and provide high-end personalized service.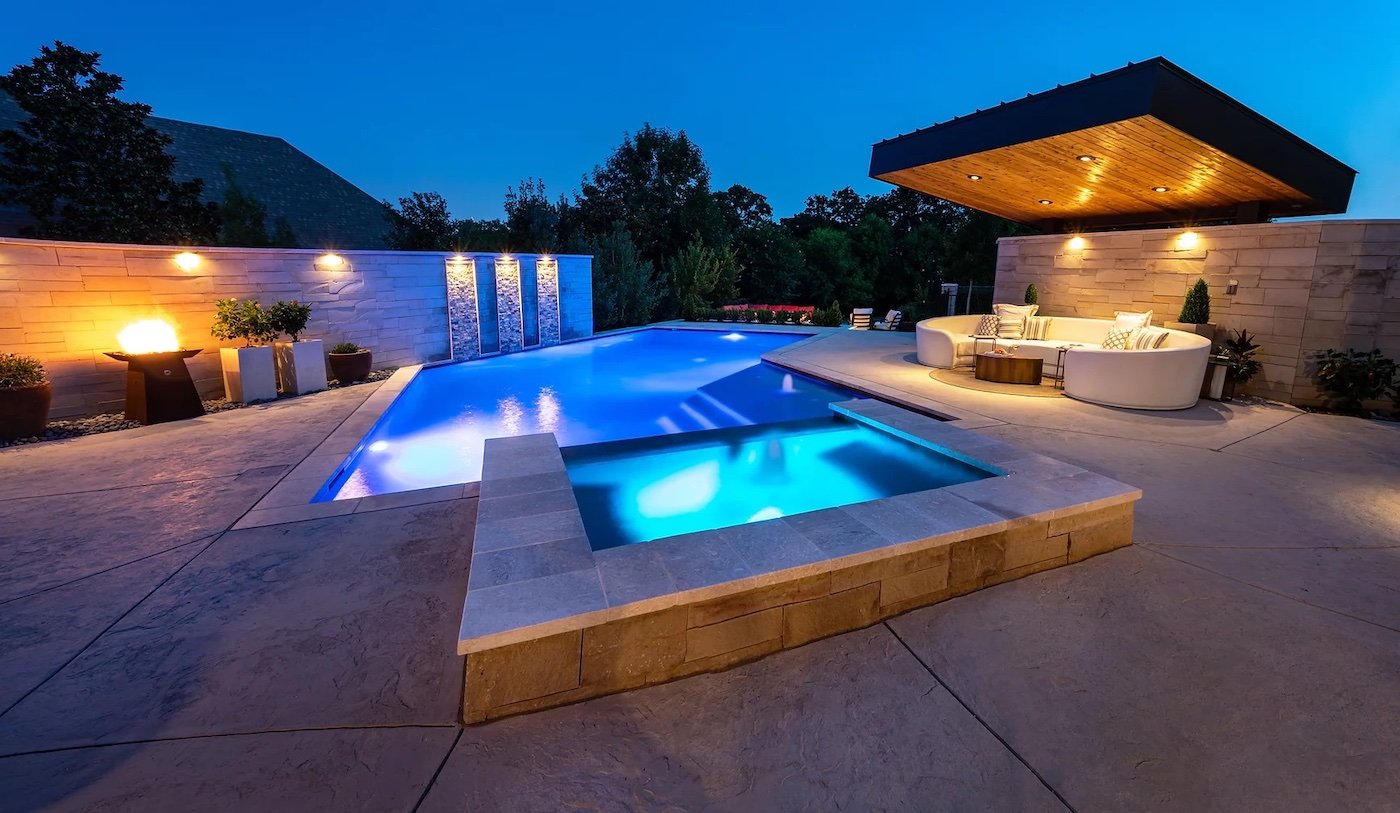 What Customers Have to Say About Watercrest Pools
"Watercrest pools did an awesome job with our new pool. They did a great job of communicating throughout the process even with experiencing material shortages. We worked with Chris Pucci and Brian Pucci throughout and I could not recommend them enough. We enjoyed the process of keeping us informed, and the final results of our pool and outdoor living space exceeded all expectations. Great company and highly recommend them for your next Pool or Outdoor project."
- Josh Jones
"Watercrest pools was absolutely amazing from start to finish with our pool. Brian, our project manager, made sure everything was done correctly and fixed anything that went wrong, quickly and efficiently. We LOVE our backyard now thanks to them! You will not regret picking this company to build your dream pool!"
- Chelsee Smith
---
Southlake Pool Builders
Claffey Pools prides itself on being able to build pools for people at every stage of life, whether you have just bought your first home, welcomed new members to the family or are ready to enjoy retirement. They aim to create a pool that suits your lifestyle.
What Customers Have to Say About Claffey Pools
"Claffey has just completed the 4th pool they have built for us over the last 20 years. As always, the design is exactly what I had envisioned. Their staff was courteous and professional throughout the entire process. This was for a new house we were building. They worked well with our building contractor and despite a lot of rain at the start of the summer, the pool was finished on time. I highly recommend them."
- Sandy Olsen
"Quality, value and communication - that's what comes to my mind when I think of our overall experience with Claffey Pools. Starting in the design phase, we were given incredible assistance in knowing what current trends were and what would match our property the best. The level of communication between Claffey employees and my wife and I was impeccable. We had 3 large, outdoor dogs and it was very important to know when employees would be at our property so that we could put them in.
The job site was always clean and orderly. The stages of construction were clearly laid out and followed and we were told of any changes well in advance.
The finished product was well above what I was expecting and that's a rarity in today's world. This is our second Claffey Pool and we would never use another pool company… It's amazing how many of our friends look at our pool and say, 'I wish we would have used Claffey.' I HIGHLY recommend them!"
- Glen Christensen
---
Grapevine Pool Builders
Looking for a staycation in your own backyard? That's what Merlux Pools wants to give you. They work with their clients to deliver high-quality, custom pool designs and construction services that fit each client's needs and vision.
They offer new pool and spa construction, remodeling and custom design for luxury swimming pools and spas.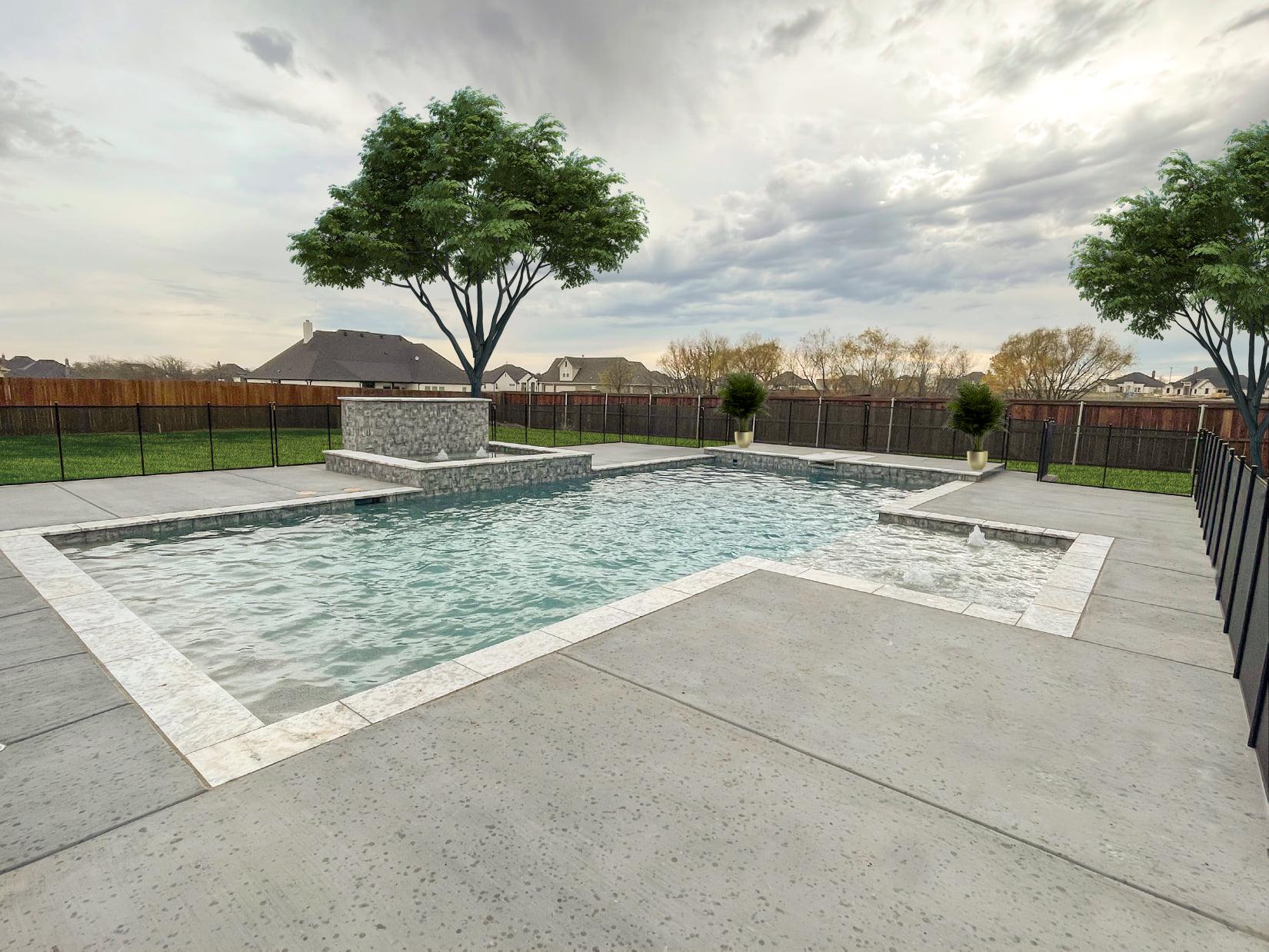 What Customers Have to Say About Merlux Pools
"We absolutely loved our pool! Melux Pools did a fantastic job and were so easy to work with. The finished product was even more beautiful than we could have imagined and everyone who sees it asks who did the beautiful job. We couldn't be happier with the entire experience and would highly recommend Merlux Pools to anyone looking for a luxurious pool for their home."
- Sidney Sampson
"From start to finish, Merlux Pools was fantastic! They were able to take our vague concept and turn it into a luxurious pool that our whole neighborhood is talking about. The entire process was easy and stress-free. We would absolutely recommend them to anyone looking for a pool!"
- Sarah Clayton
---
Denton Pool Builders
Swan Custom Pools works with you on delivering your ideal pool while also offering industry input. They build pools, spas, water features, arbors, patio covers, fire pits, fire places and entire outdoor living spaces.
What Customers Have to Say About Swan Custom Pools
"We used Swan Custom Pools to design and build our pool, which was completed in March. Russell and Eleata were very responsive and always willing to answer any questions we had throughout the process. We were kept informed each step of the process and always knew ahead of time when the contractors were going to arrive. Even after completion, they have both been exceptional with helping us work through the learning curve of running equipment and balancing chemicals. Our pool is beautiful and we are very excited for summer!"
- Misty White
"We recently had our pool/outdoor kitchen built by Swan Custom Pools and couldn't be happier. Our project manager and designer (Shane) did an outstanding job and walked us through every step of the process. Project management was on-site during all major phases of construction to ensure things were going as planned. Communication was very good and if we had a question or concern during the process, it was quickly addressed. Great pool builder, and I highly recommend!"
- Paul K
---
Dallas Pool Builders
Dallas Cool Pools wants to help you create more than a pool for your backyard; they want to create a pool that matches your home, your lifestyle and your dreams. Whether you are looking to build a new pool, remodel an old one or transform your backyard, Dallas Cool Pools offers its services to help you do just that.
What Customers Have to Say About Dallas Cool Pools
"I highly recommend Dallas Cool Pools. The owner, Ricardo, recently built our pool and spa, and my family has been enjoying it daily ever since. He was willing to work with our design ideas and budget, while also suggesting some great features we hadn't thought of. He communicated with us regularly, was well-informed, and always went the extra mile to make sure everything was just right."
- Stephen Nanney
"Dallas Cool Pools was and still is great to work with. They came up with the best design and were very flexible during construction when we wanted to make modifications to the small details. They are very honest and walk you through all of the options, not trying to oversell you on anything. DCP listens to your wants, needs, and desires and creates an oasis based on your budget. We have had our pool for over two years and DCP always answers the phone and helps us with any pool questions we may have. I have recommended them to numerous neighbors and they all have chosen Dallas Cool Pools to build their pools after comparing them against other companies. Highly recommend Dallas Cool Pools."
- Jonathan Tran
---
Frequently Asked Questions About Pool Building
While we'd love to answer all of your questions about pool building, this isn't really our area of expertise, which is why we have decided to rely on the experts. Below you'll find a few frequently asked questions about pool building, along with some awesome resources we'd recommend you check out.
1. How Long Does It Take to Build a Pool?
There are a lot of factors that go into building a pool and an estimated timeline, but Sahara Construction & Custom Pools in Katy, Texas, says pools can take anywhere from 6 to 14 weeks to build depending on:
ease of access to where the pool is being constructed

finished size

type of pool being installed

length of design process

number of custom features

lengthe of the permitting process
As we researched this topic, we found several articles from various pool-building experts saying length of the permit process can have the biggest impact on your estimated timeline.
2. How Much Does an Inground Pool Cost?
According to River Pools and Spas, the cost of inground pools will vary depending on the type of pool you build, but they can run anywhere from $35,000 to $85,000 in upfront costs and around $3,000 - $$27,000 in maintenance costs over a 10-year period.
The cost of inground pools by type are as follows:
Vinyl Liner Pools

Upfront Costs: $35,000 - $65,000

10-Year Maintenance Costs: $11,500

Concrete Pools

Upfront Costs: $50,000 - $100,000

10-Year Maintenance Costs: $27,400

Fiberglass Pools

Upfront Costs: $45,000 - $85,000

10-Year Maintenance Costs: $3,760
3. How Hard Is It to Maintain a Pool?
One of the main fears people have when it comes to building a pool is whether or not they will be able to maintain their investment.
Just like with the home building process, knowledge is power. Understanding what goes into this large feat can help you feel more confident moving forward.
Precision Pools & Spas has put together a guide on "New Pool Ownership for Dummies" - don't worry, we all have to start from somewhere - that walks you through a new pool owner's must-haves for pool maintenance.
Also keep in mind that most, if not all, of the pool builders we listed in this article offer pool maintenance services and/or are ready and willing to walk you through what you need to do to maintain and take care of your pool when they're done. You'll also find some helpful insights into Hot Weather Pool Maintenance for our Texas residents by Texas Pools & Patios.


Would you like to learn more about building a new custom home in North Texas before starting a pool, learn more About Us and our Building Process.