Top 10 Best Outdoor Kitchen Builders in North Texas
Once you've built your custom home in Texas, you may want additional features like a swimming pool or outdoor kitchen. After you've closed on your new home, you'll have more of a budget for these add-ons, using instant equity from your house or through financing.
Creating outdoor entertainment spaces like these has many benefits for your new home, including additional space for those backyard Texas bbqs you're going to have!
According to Statewide Remodeling, an outdoor kitchen…
Offers additional entertainment

Makes cooking easier

Is more convenient

Encourages you to eat at home more
How Do I Design My Outdoor Kitchen?
A professional outdoor kitchen builder or contractor can help you decide on a design for your outdoor kitchen based on what you want in the space, but to get some ideas rolling, here are some of the best sources to use for designing an outdoor kitchen space: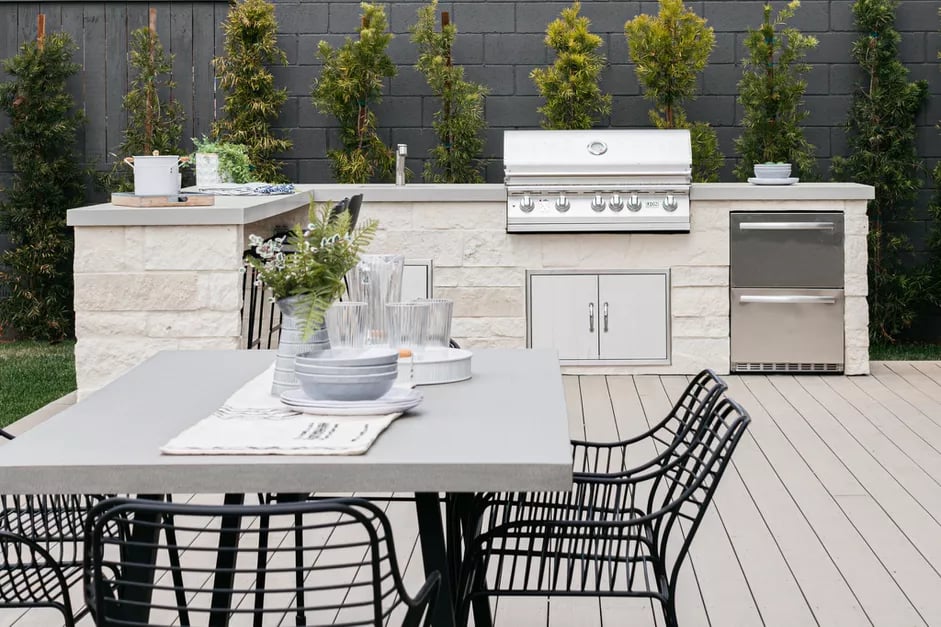 Source: The Spruce/Christopher Lee Foto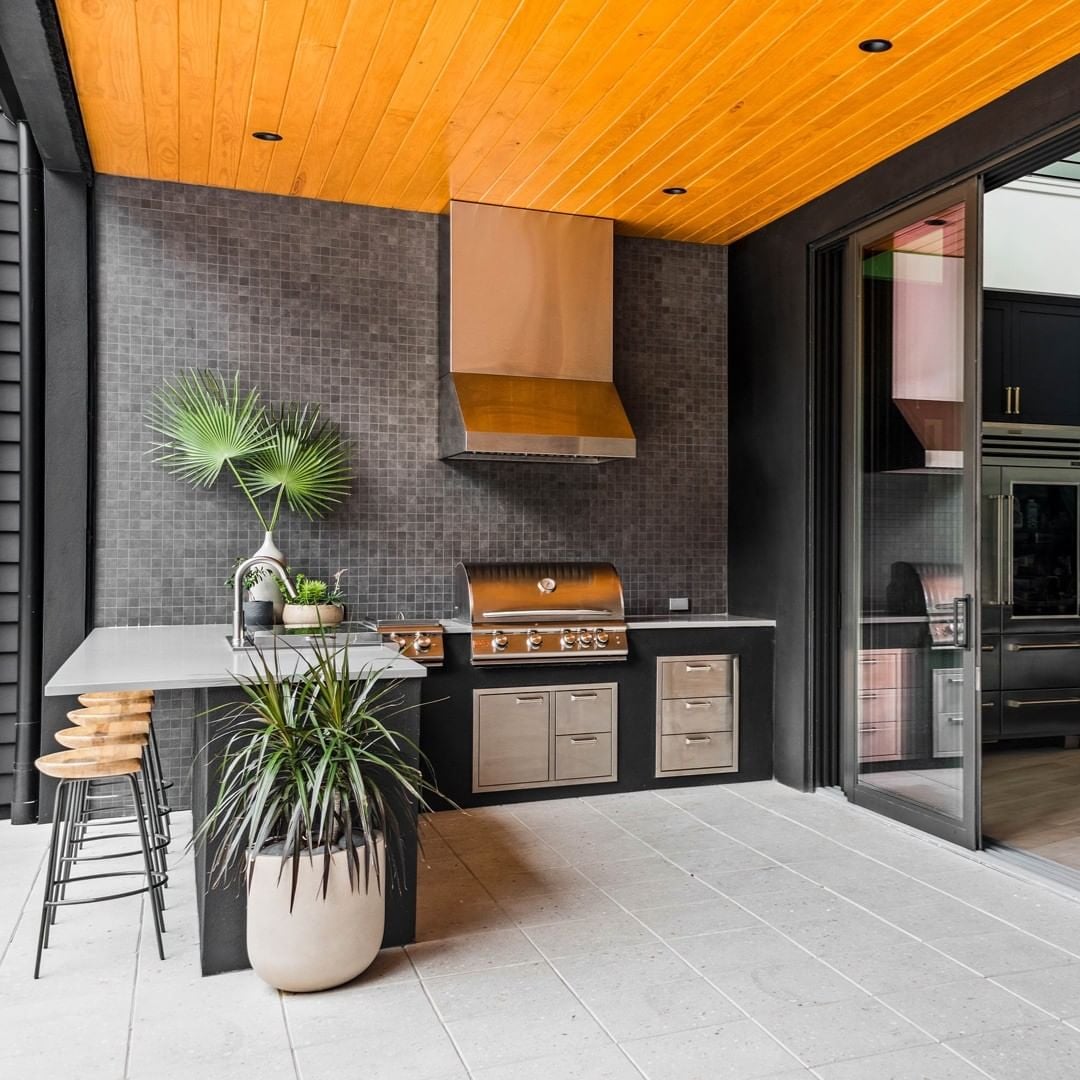 Source: BBQ Guys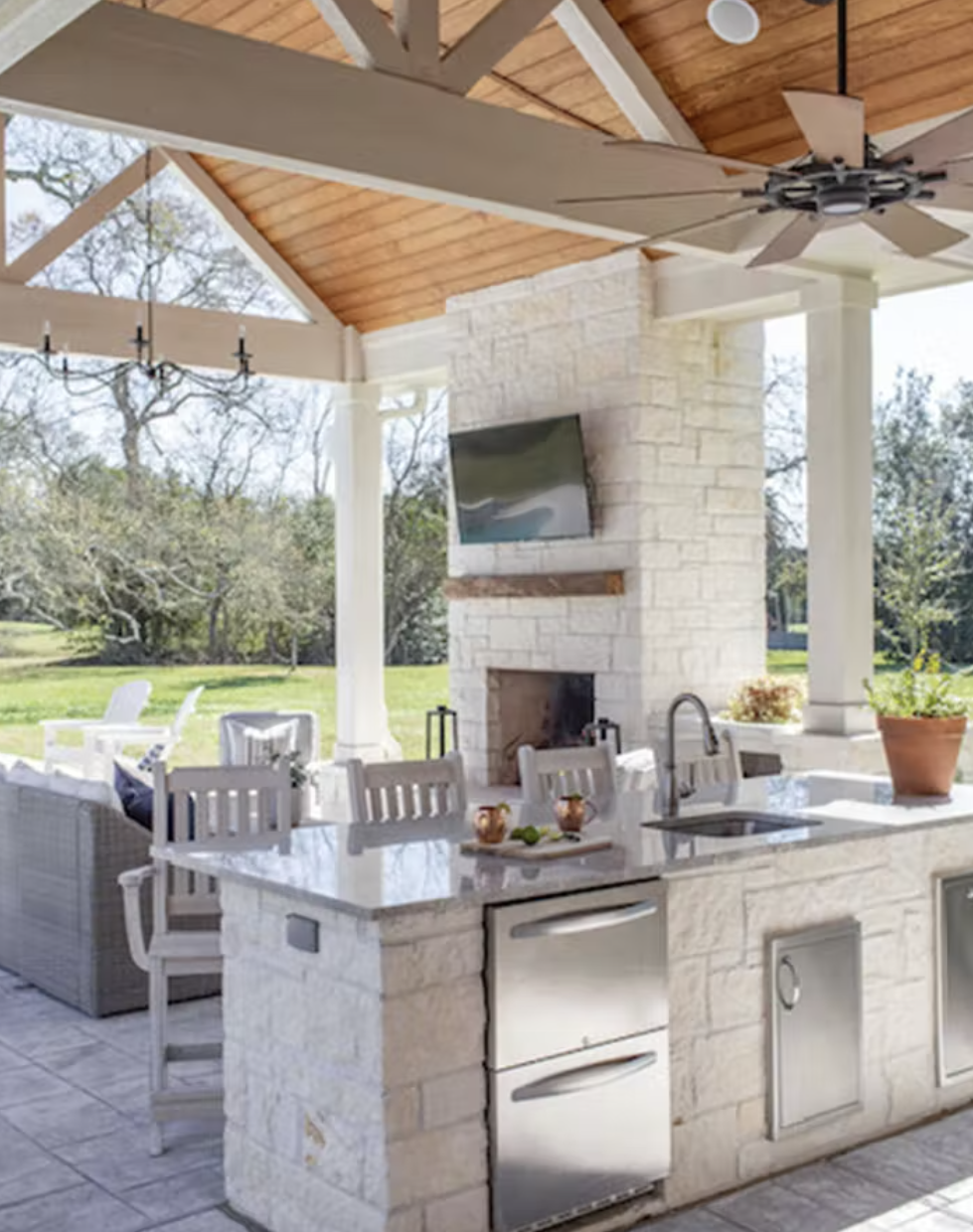 Source: PureWow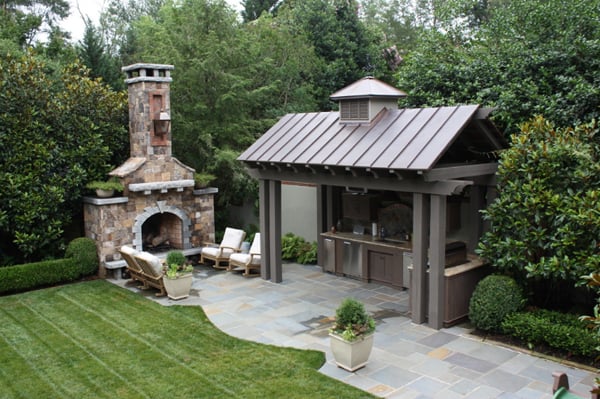 Source: One Kindesign
Who Are the Best Outdoor Kitchen Builders Near Fort Worth?
Because we offer custom home building in the Fort Worth and North Texas area, we wanted to present some of the best outdoor kitchen builders in this area for our clients and local readers.
Here are the best outdoor kitchen builders in and near Fort Worth, Texas: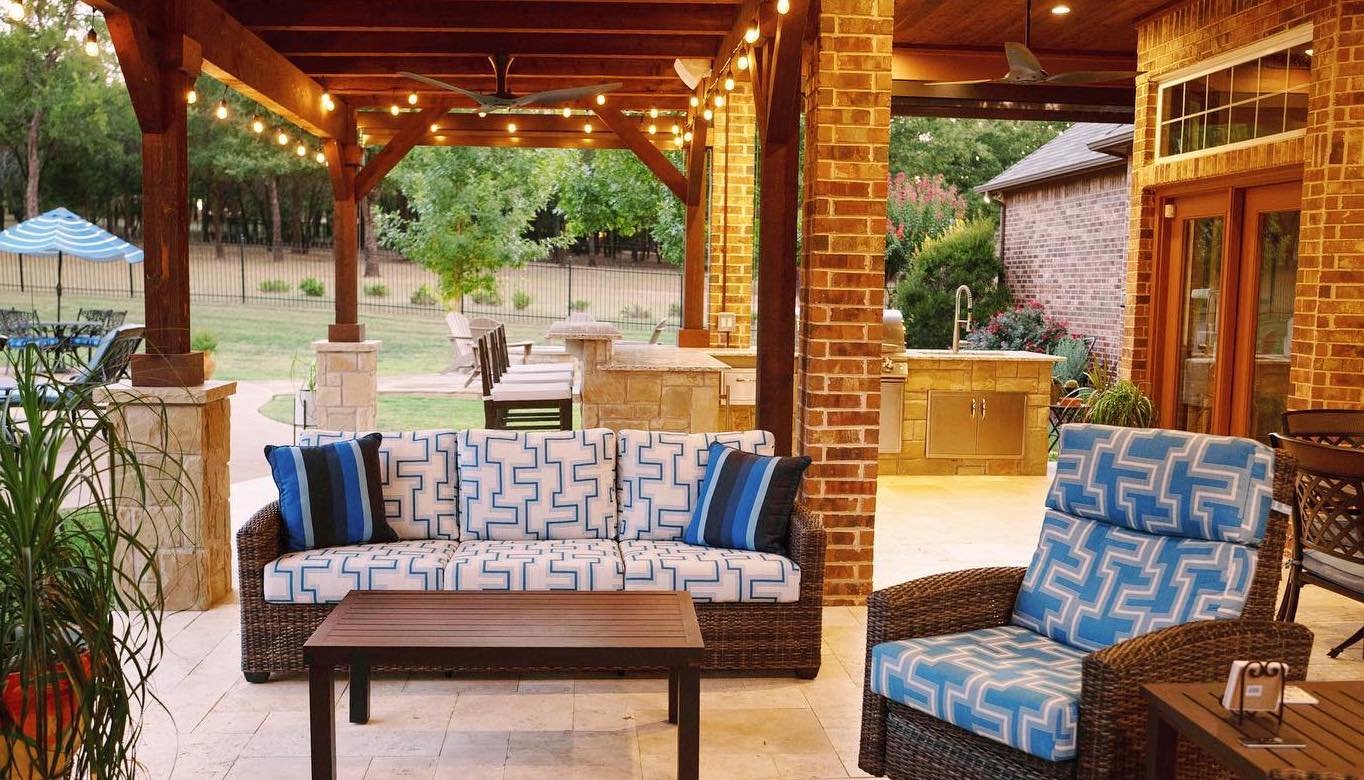 "I have never been so happy to work with a vendor. He made sure he worked with our clients to give them the perfect fireplace and outdoor kitchen. He is organized and his crew is amazing with customer service. 10/10 would recommend!"
- Marea Bartolo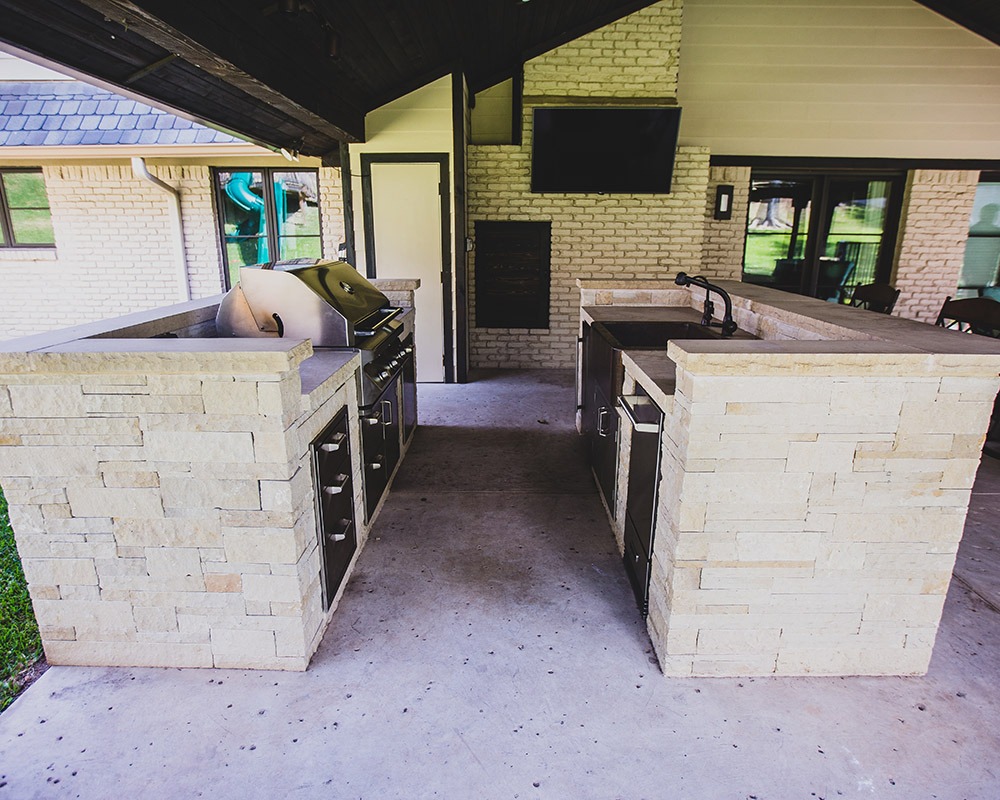 "Great company! Dustin added on a covered patio, pergola and outdoor kitchen for us. Our experience was fantastic. Dustin is honest, dependable and knowledgeable. We would work with him again for any future projects. We highly recommend him. I would also recommend going by his showroom before making any material or appliance selections. It was great to be able to compare the stain colors side by side and actually see appliance and stonework options. The showroom is absolutely worth the trip!"
- Lynley Walker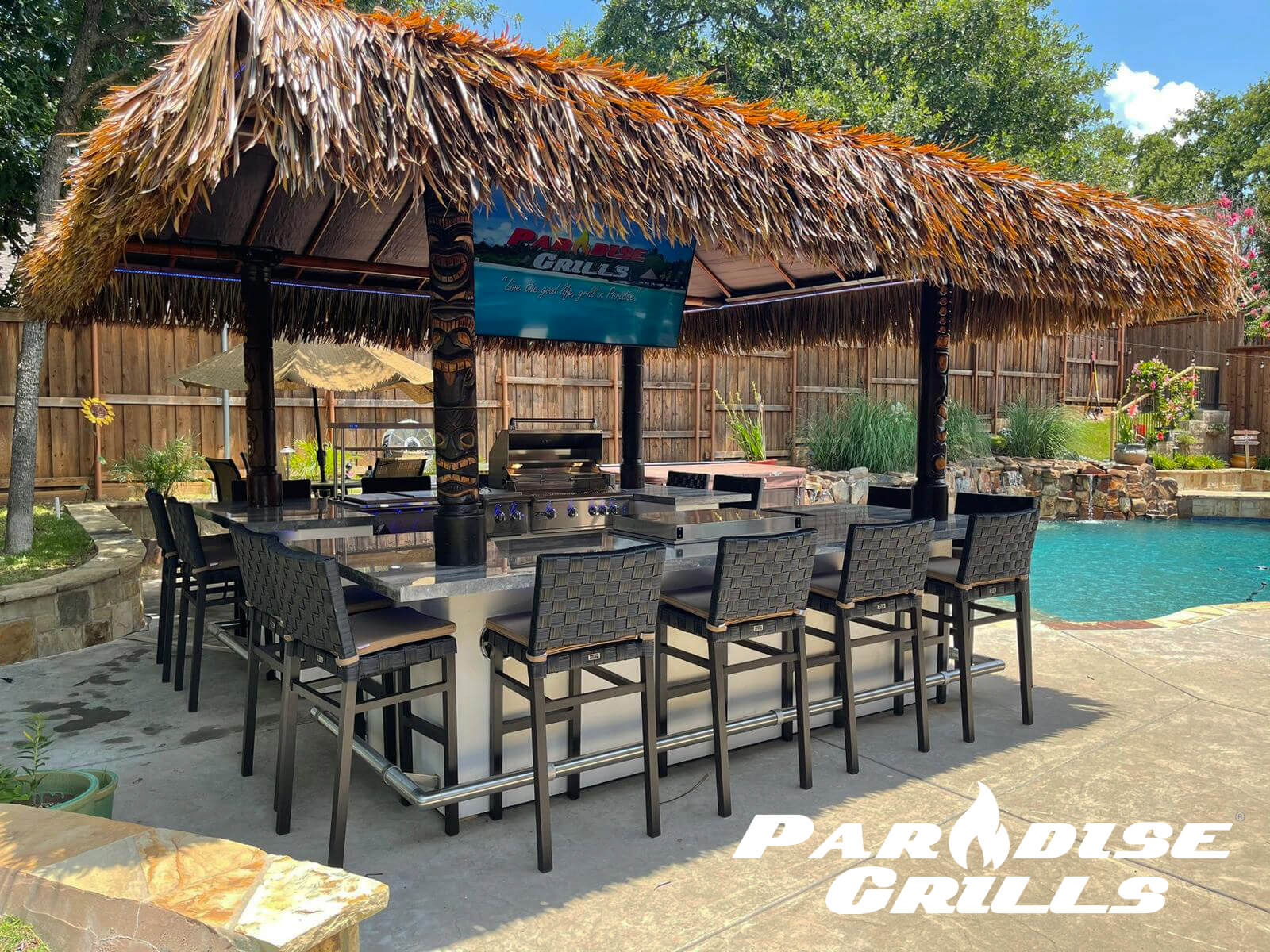 "Great experience with Nick at the Fort Worth location. He was very informative. We were looking for an outdoor kitchen, visited several other outdoor kitchen places and were given contractor information, as well. Paradise Grills beat the others hands down. They eliminated the contractors and exceeded our expectations. We found the perfect, high-quality, outdoor kitchen for us at Paradise Grills. We would highly recommend them."
- Lisa Aquirre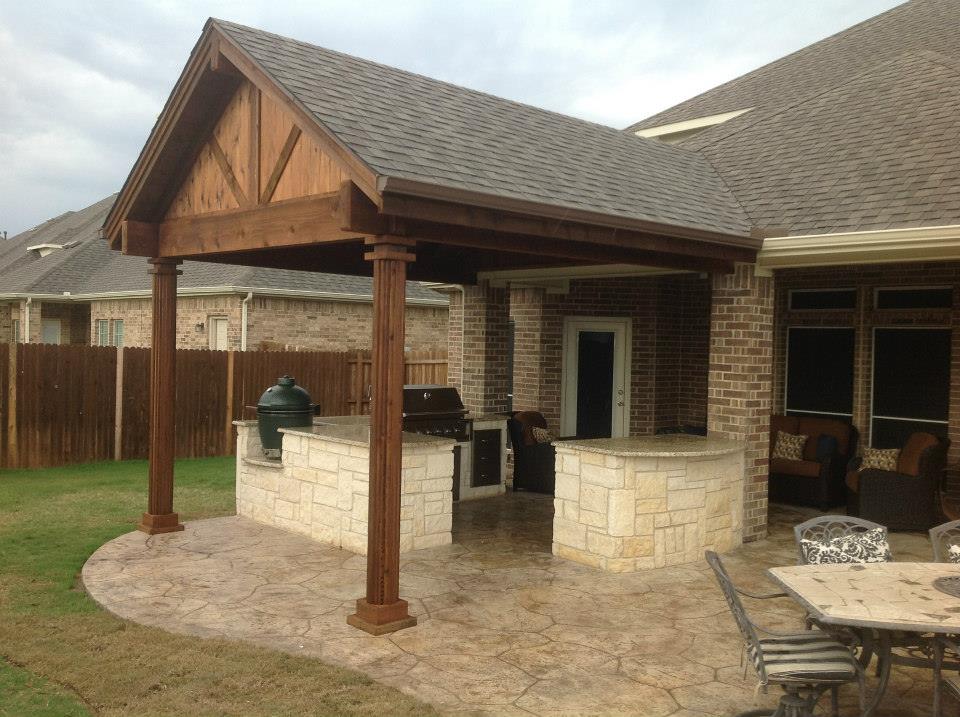 "5+ stars! Professional, reliable, friendly, accommodating, and reasonable. Urban Oasis won't be the cheapest builder out there - but is that what you want? Carl, Andi, Reese, Terry and the rest of the Urban Oasis team designed and executed the backyard of our dreams. They really listened and worked within our budget and space constraints to give us everything we wanted - and more. They handled EVERY aspect of our project: design, demo, excavation, build out (for pool, fireplace, bar and kitchen), landscaping and lighting.
The best part of the whole thing was that they didn't nickel and dime us to death with extras. The original quote was comprehensive and inclusive of everything we wanted. If I had to do it all over again, I wouldn't change a thing. Thanks, Urban Oasis!"
- Bill Katz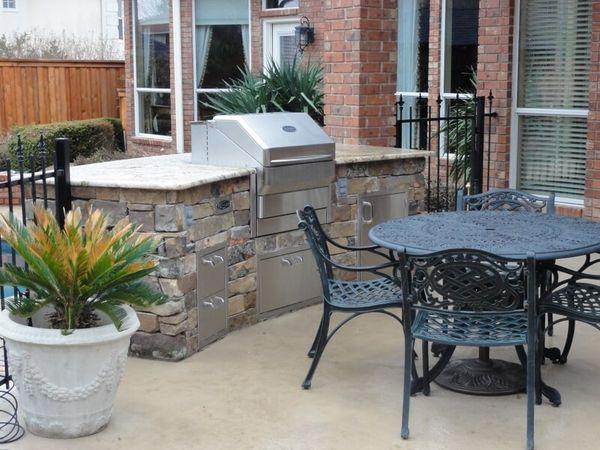 "We had John design and install new landscaping in our backyard. He was so great to work with from start to finish. John was respectful of our budget, listened to our input, and produced a great plan. During installation, our project had his full attention and his crews were great! No detail was overlooked and we are thrilled with the results! I cannot recommend John more highly!"
- Carol King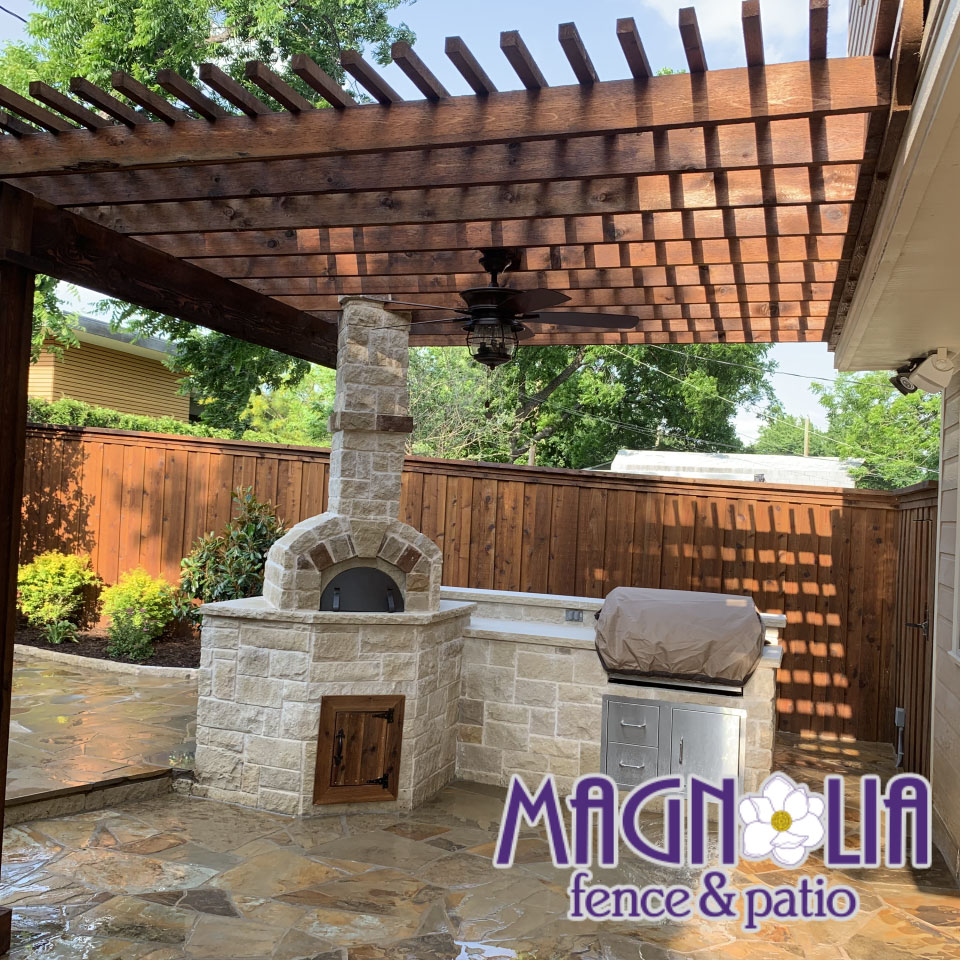 "I highly recommend Magnolia Fence & Patio! Communication was great, super professional, and quality was amazing! We used Magnolia Fence & Patio a couple years ago for our fence and they were first on our list for our patio project. Our backyard gets so much sun and we could only use our old patio in the early spring and fall.
Robert and his team helped us design our dream covered patio, equipped with everything we could have wanted (TV, full built out grill, wireless speakers, and heaters!). Now we use our patio all year long! Can't say enough good things about them!"
- Kristian Tucker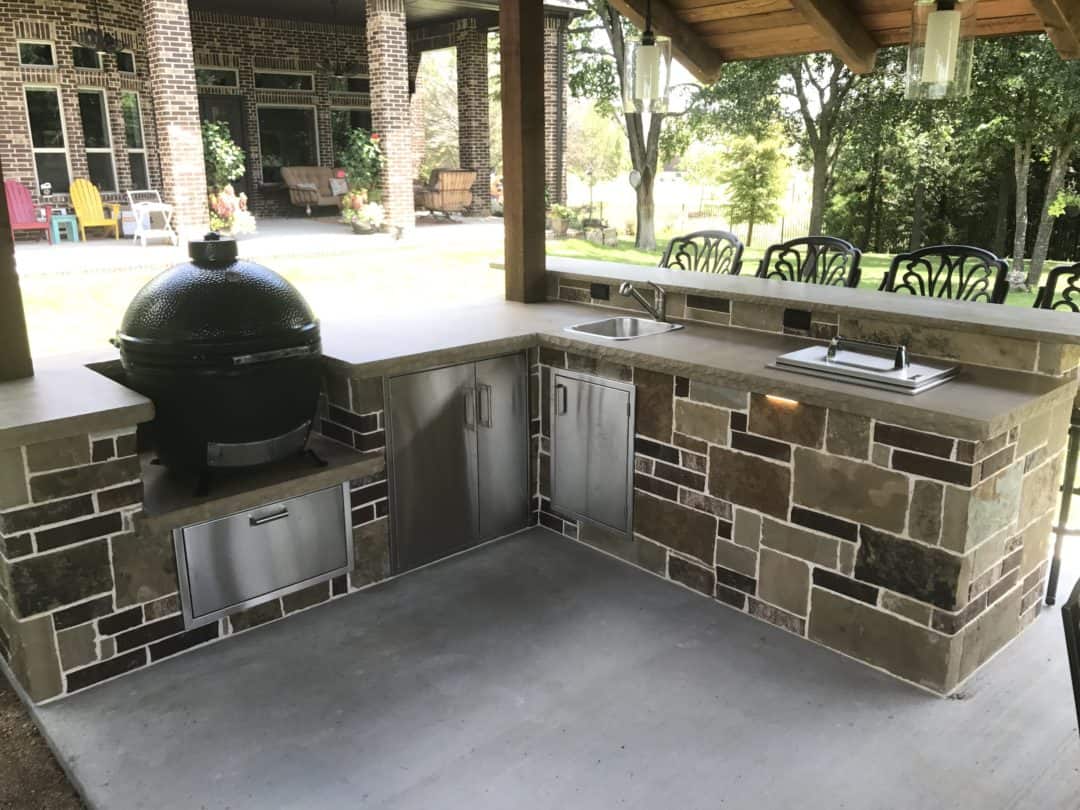 "I contracted with Steele Landscapes & Patios to build an outdoor kitchen, and what a smart decision that turned out to be. Mike Steele took this project from concept to reality and the result is absolutely outstanding. One measurement of success is that I never had to call Mike to ask where his workers were or when they were going to show up. Both his employees, as well as the subcontractor employees, were punctual, polite, friendly, cleaned up the worksite every day before leaving, and were highly skilled and professional in their work, to the point of being perfectionists at their particular skills.
Scheduling could not have been better, as the next subcontractor would appear just as the previous one had finished their portion. This project included concrete work; overhead structure and shingles, stonework, electrical, sprinkler system revisions, staining, ceiling fan installation, gutter revisions and floor stamping and sealing; and appliance installation, among others.
Mike was here constantly, checking on the progress and quality of the work and communicating with me, as well. During the course of the job, he came up with several suggestions, which ultimately improved the outcome of the project, but, at the same time, for very little additional cost to me. Although this was a small job ($20,000 range including appliances), Mike made me feel like I was his most important customer. I would highly recommend Steele Landscapes & Patios without reservation."
- Bob Monaghan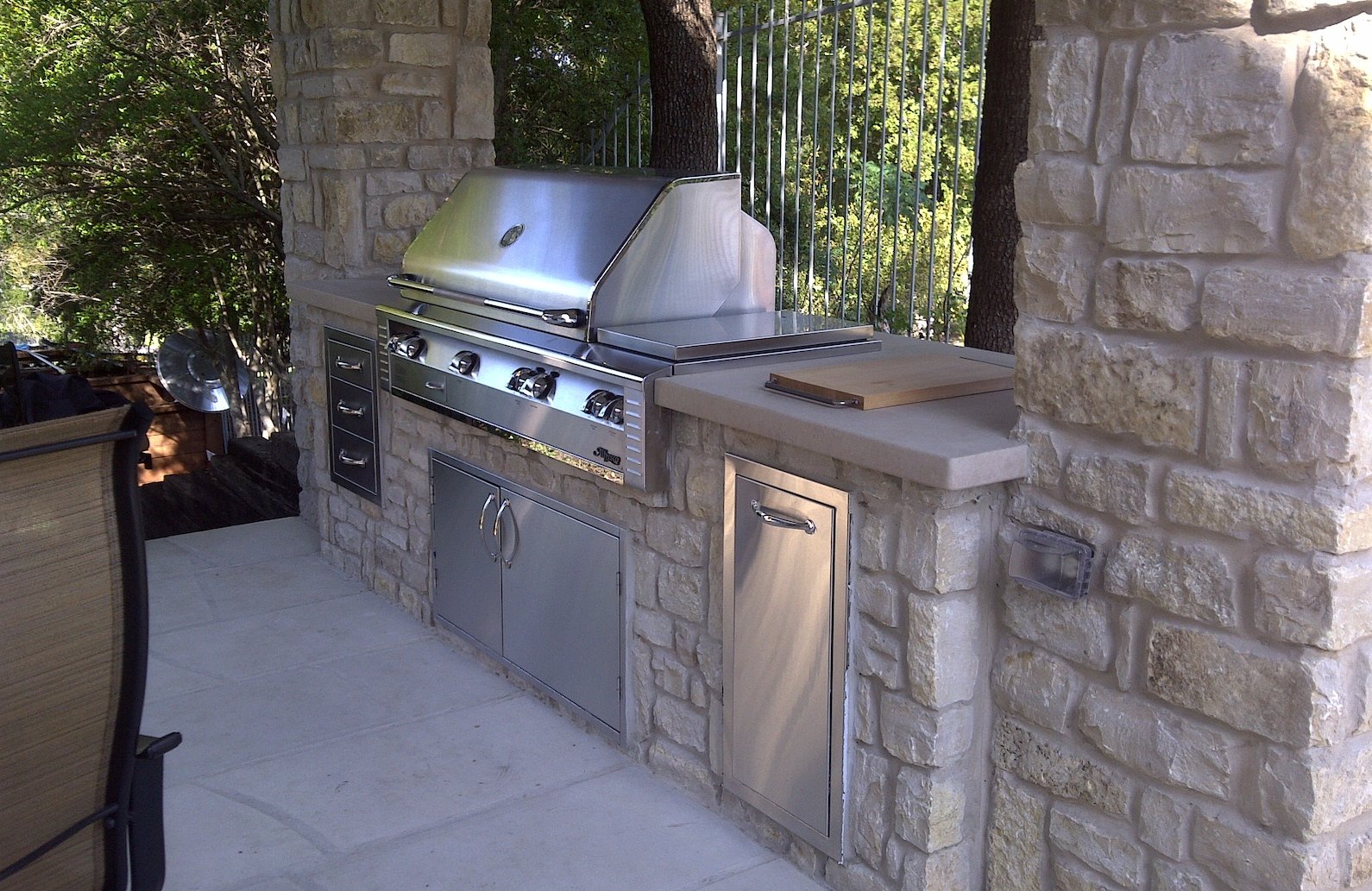 "Rick and company did a complete redo of our kitchen - down to the studs in 2015. Opened up a wall between our eating area and our den and changed the location of 2 doorways to give us more cabinet space and a better "flow" for entertaining. His subs were top notch and cleaned up well at the end of each day. We only had a couple of things that had to be corrected and this was done in a timely fashion.
Our home is 80 years old and the necessary care was taken when needed. Rick listens and makes good suggestions to improve your ideas. Budget was respected and met.
In 2017, he added a large pergola over our patio that extends to our pool area. This is attached to our house so we didn't want just anyone drilling into our home. It is exactly what we wanted. He came highly recommended and did not disappoint. Would recommend him 100%! Can't say enough good things about Rick and his staff!"
- The Wheelers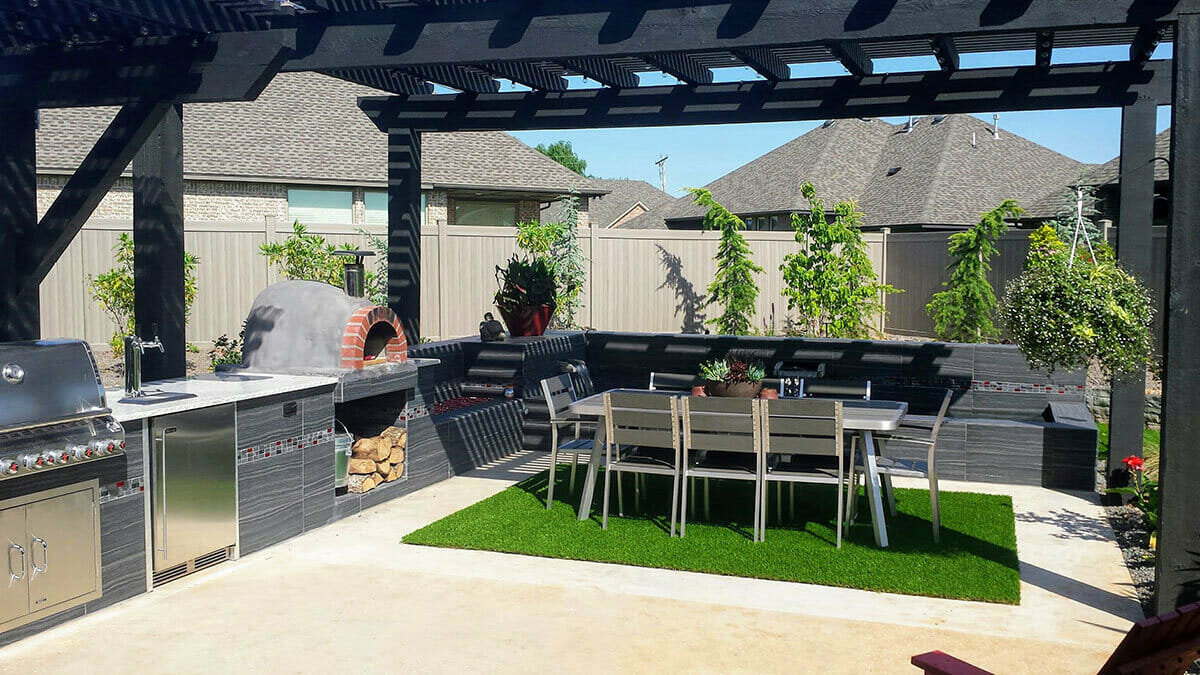 "I cannot say enough good things about the excellent job that Eric and his crew with Peola Outdoor Living did on my outdoor patio. They really take the time to make everything turn out exactly like you envisioned. I felt like they really listened to me and what I wanted, then did everything to make it happen. All of my neighbors are jealous of how great my outdoor space looks."
- Virginia Rudibaugh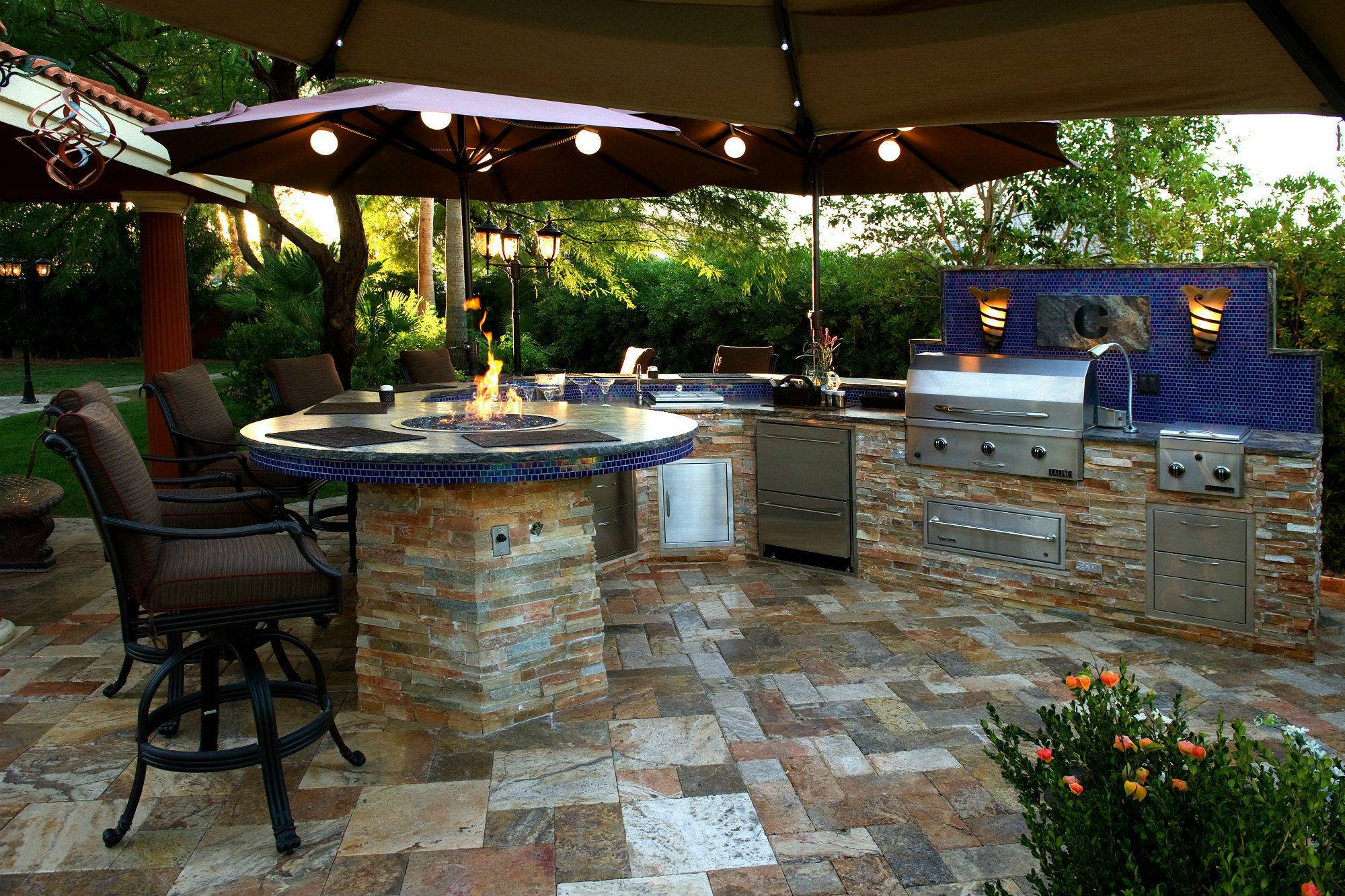 "I highly recommend Lone Star Patio North Texas in Fort Worth. We have used them twice in the last 5 years and are happy with the result both times. They are very professional, knowledgeable on all types of patios, and provide quality workmanship. On the first job, we received two other bids before deciding to use Lone Star Patio. When we bought our new home, they were the first call we made!"
- Leigh Ann Meador
Want to build a custom home before building an outdoor kitchen? We'd love to help you design a plan to build a custom home in North Texas.