How to Create a Hospitable Living Space for the Holidays
As you prepare your home to host family and friends for the holidays, you may be painfully aware of the ways in which your home makes it difficult for you to host:
Not enough space out front for people to park their cars

Kids using the staircase as a playground

Kitchen blocked off from the living room

Living spaces divided between formal living room and other living areas

Not enough windows to see out into the backyard when company is split between inside and outside the home

Bedrooms upstairs and not down, making it difficult for older relatives to come stay
I use these examples because they're part of my own story and what led our family to build a new, custom home.
We love to host people, but living in an older home made this challenging. We could definitely still host, and we were grateful for the space to have people over, but hosting became stressful, trying to juggle the difficulties the layout of our home presented.
After exploring the world of new, custom homes, we realized newer homes were created for hosting and being together with other people. And after coming out of a pandemic where we saw people very little, this was a welcome prospect for us.
In this article, we will share some ways to create a hospital living space in the home you already live in, as well as what to consider if you were to build a custom home for hosting.
Here's what you should consider to create the most hospitable living space for hosting family and friends for the holidays.
How to Create a Hospitable Living Space in the Home You Already Own
Find More Parking
Ask neighbors if they mind if your friends and family park in front of their home for the day. Or, if they're going out of town, see if they would mind if your company parked in their driveway.
In exchange, offer to check their mail for them, water plants or pet sit while they're away.
Create Zones Throughout Your Home
If you live in an older home that is divided by lots of walls, consider creating different zones.
Maybe there is one room that could be designated as the kids' play area? A room where you plan to serve the meal and gather together. A room for opening gifts if you're hosting at Christmas, or playing board games together at Thanksgiving.
Want some company while you work in the kitchen? Leave the hors-d'oeuvres and appetizers on the bar in the kitchen to draw some company in to talk to you while you work!
Divide & Conquer
When the weather allows, it can be helpful to split guests between inside the house and outside. This makes your home feel less crowded while still accommodating a large group of people. If you're worried about entertaining both inside and out, ask your spouse or kids to be in one place while you're in the other.
Make It Cozy
Especially around the holidays, making your house feel warm, cozy and welcoming is a must. Get a basket where you can openly store blankets in case guests get cold. And make sure couches are clear of clutter. While throwpillows are nice, there is such a thing as overdoing it. Make sure there is room for people to sit and be comfortable.
Use Seasonal Smells
With the use of candles and wall flowers, you can easily make your home smell nice for the holidays. Have some of these in the living room and bathrooms and use natural scents in the kitchen based on what you are cooking that day.
Don't Stress
While hosting can feel stressful at times and you may feel the need to handle the messes as they appear, don't stress about them. This will make guests feel uncomfortable.
Take the time to sit and visit with friends and family as they're there. They came to see you, after all.
Added Tip: If you have stairs and are worried about kids playing up and down them, block them off with a baby gate either at the top or the bottom to keep kids in one area and prevent them from getting hurt.
How to Create a Hospitable Living Space When Choosing a New Home
The wonderful thing about new, custom homes is the invention of the open concept. Newer homes are all about open-concept floor plans, which make it easier for families to be together and to help you host more people in your home.
Below, we'll talk about the open concept, as well as other features you might consider as you look for a new, custom home.
We'll also add that Hedgefield Homes currently has a SALE going through November on all of our floor plans! If you think you might be interested in building a home, please give us a call so we can help you choose the floor plan you want for you and your family!
As you think about the floor plan you want, consider some of these home features that make a hospitable living space:
Open Concept
All of our floor plans are open concept, which means the living room, kitchen and dining area are essentially in the same room. They are all open to each other so no matter where you are you can see and speak to guests or family in your home.
See an example of this in The Bosque floor plan:
Guest Room
As your family grows, you may have lost the ability to have a designated guest room. Buying or building a new home can allow your family to expand a bit and add either a 4th bedroom or Flex Room that can act as a permanent guest room when people come to visit.
Consider a floor plan similar to The Clearfork plan: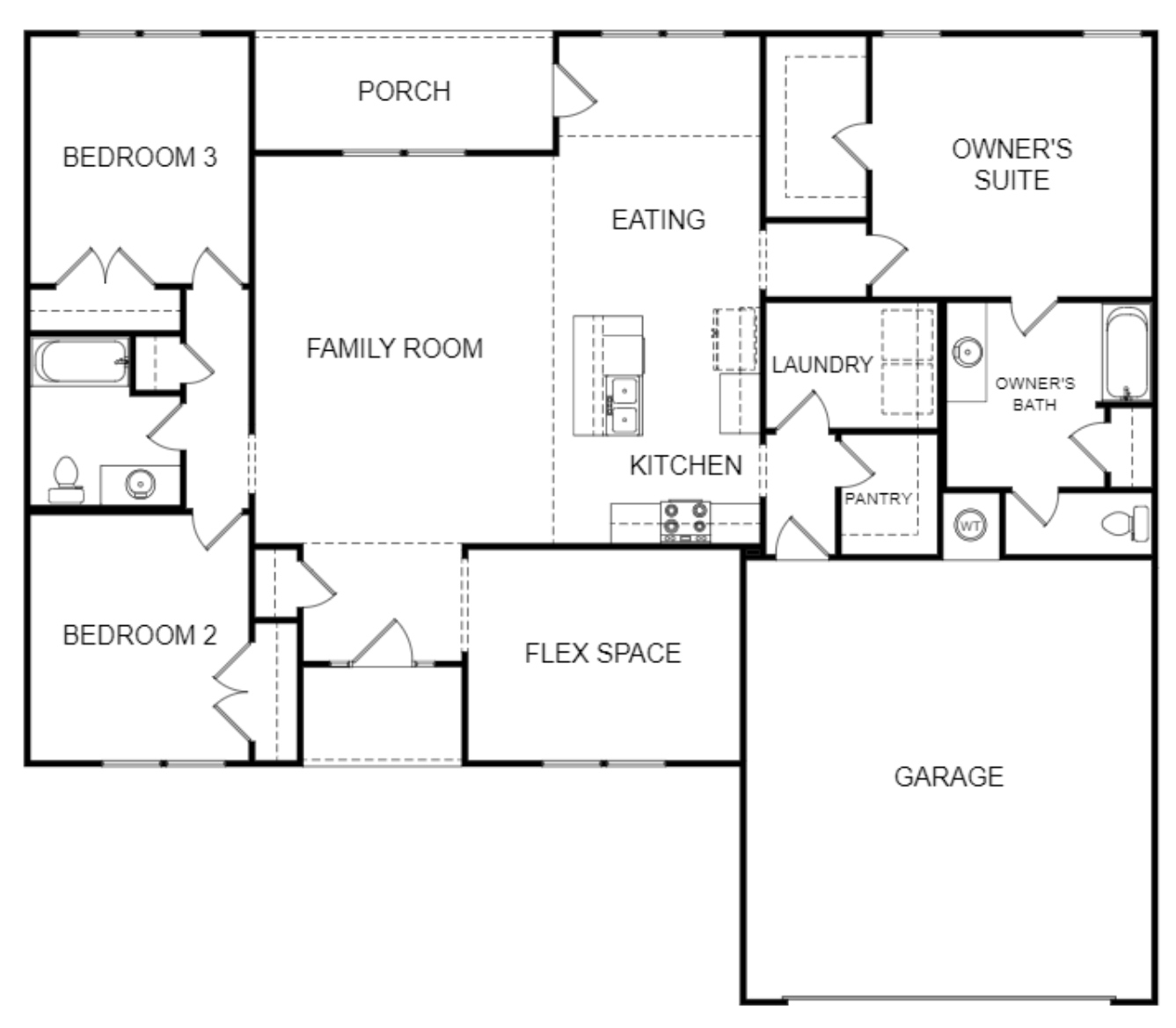 Windows Overlooking Back Porch and Yard
Most of our floor plans have windows off the family and dining room that help connect your inside living space to the outdoor living space. As you search for a new home, consider floor plans that have this feature in them, like our Grandview, for instance.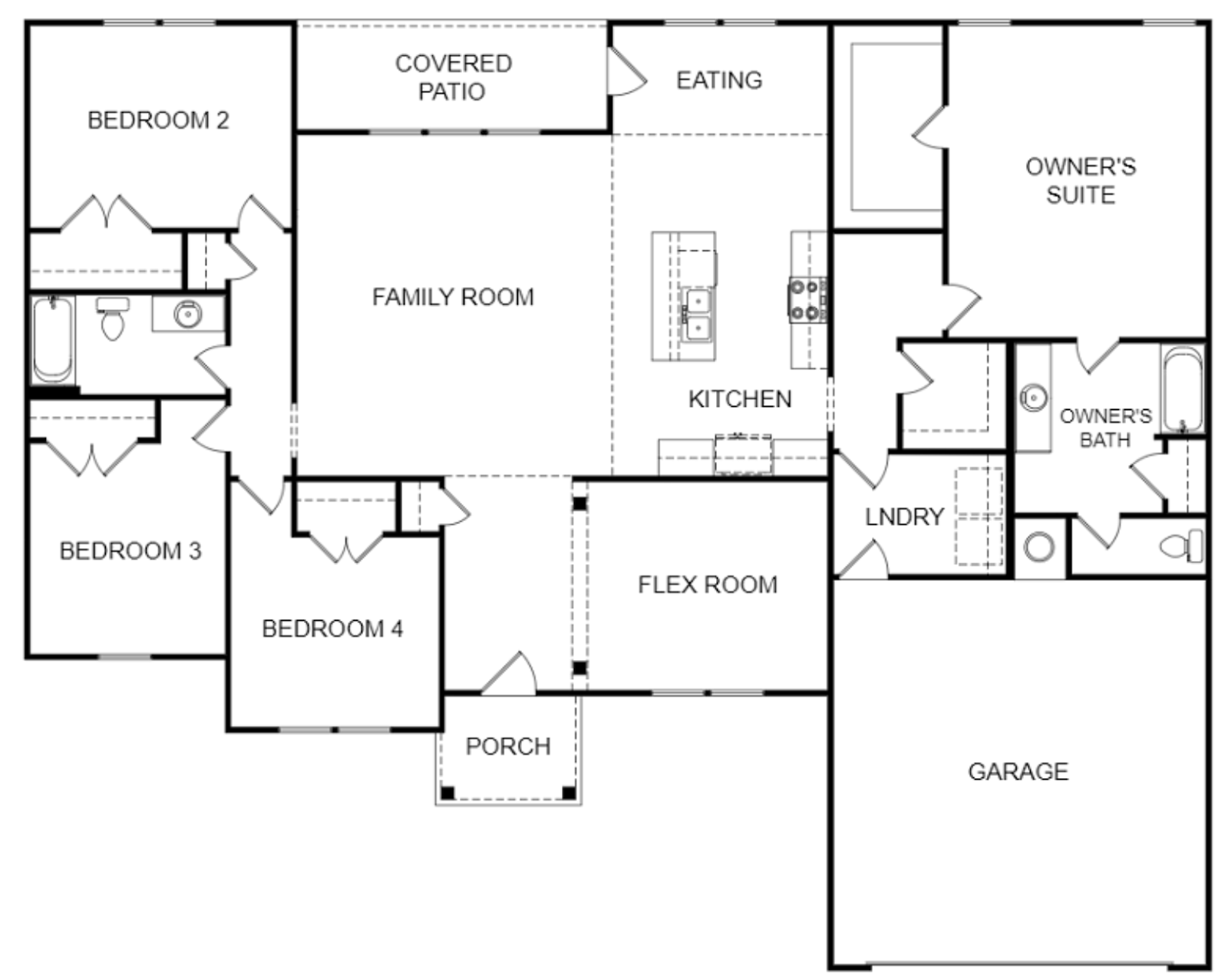 Extra Guest Bathroom
Another challenge to hosting is when guests who come over need to use the kids' bathroom. We all know kids don't always leave a clean space behind them, which means you'll be spending more time cleaning before company comes over to make sure the kids' bathroom is put back together.
By adding an extra bathroom when building a new home or looking to buy a new home, you'll ease some of that burden. You'll have a designated bathroom that can be kept clean and ready for guests when they come over.
Consider a floor plan similar to our Hamilton plan, which has a small half bath off the Family Room.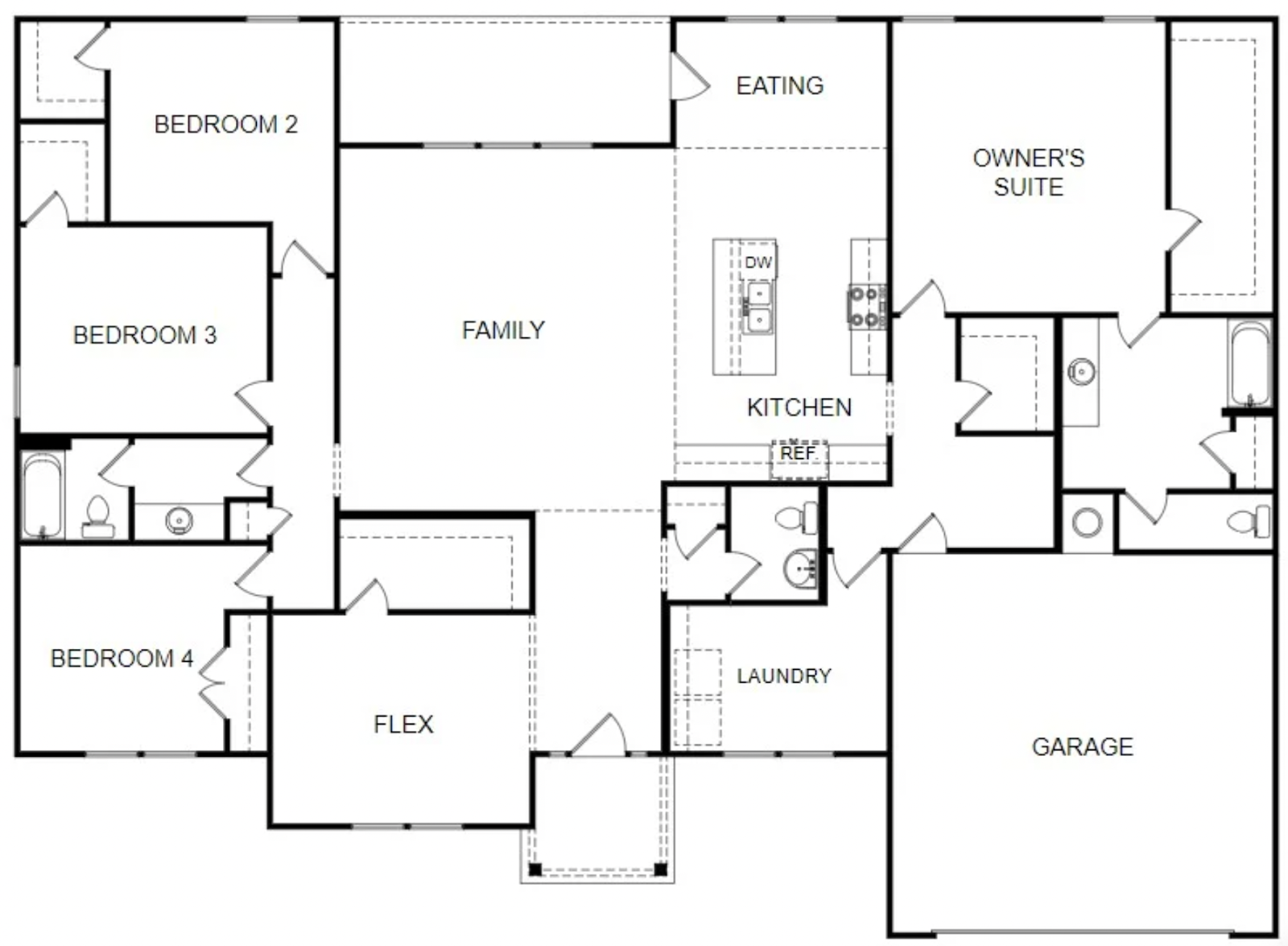 Covered Porches
We're in Texas, which means there are a lot of great times of the year to be outside. Choose a new home or floor plan that includes a covered back porch so you can host friends outside, rain or shine!
We also have the option with some of our plans to add an Extended Covered Patio if you want even more outdoor living space, like our Archer Plan.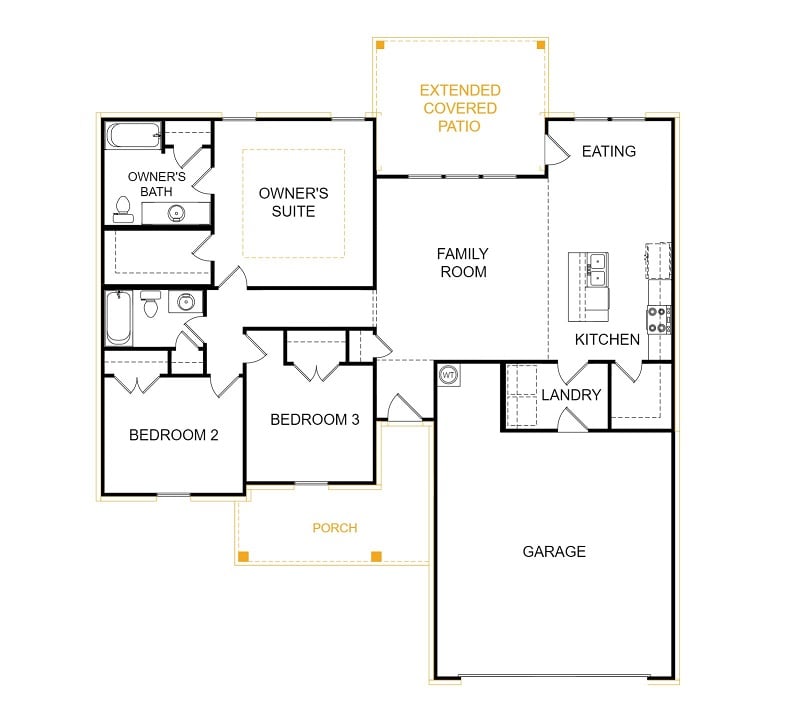 Larger Lot
A lot of our clients choose to build their home on a lot they have purchased outside of Fort Worth, Texas. More families are choosing to move to rural areas because it gives them more space to work with and stretch out. Instead of buying in newer developments that are wall to wall with their neighbors, they can build on land they choose that has more space for company to come and more space for kids to run outside and play.
We hope you enjoy quality time with family and friends this holiday season, knowing you can make any home space work for what you need, but that you also have options if you'd like to consider building a custom home in 2023 that fits you and your family's needs and lifestyle.