How Much Do Custom Home Upgrades Cost?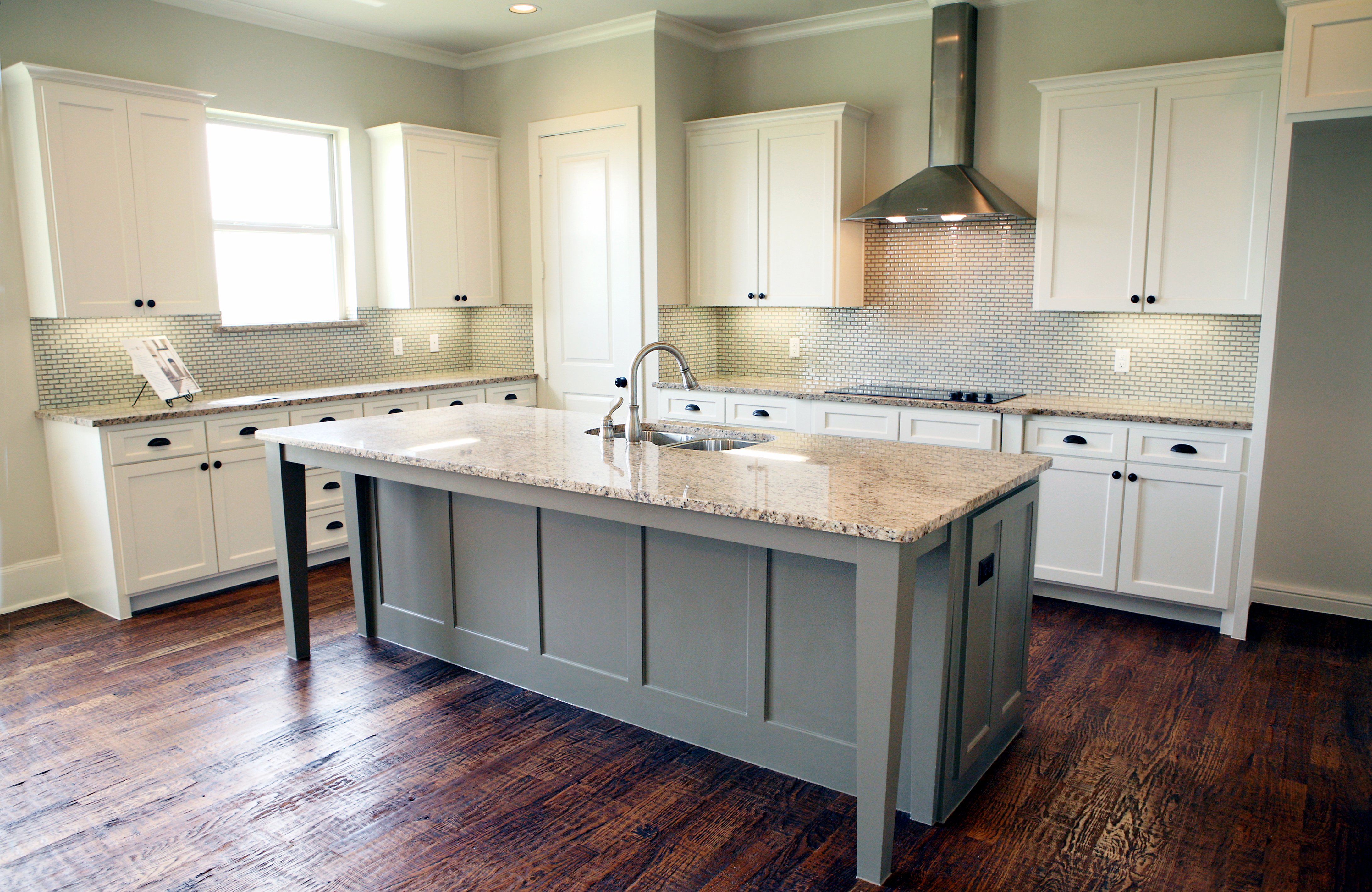 Custom home upgrades can cost anywhere from 10-20% of your total home cost. This includes upgrades like fixtures, flooring, countertops, electrical additions, etc. So if you are building a $250,000 home, you would spend anywhere from $25,000 - $50,000 on home upgrades.
When we talk about new custom home upgrades, the cost is largely determined by the type of home you're building, as well as the number of options and upgrades your Texas home builder allows you to do throughout the home building process. Ask your builder for an upgrade price list so you know ahead of time what each upgrade will cost.
At Hedgefield Homes, we typically build homes in North Texas that value anywhere from $175,000 to $345,000 - not including the cost of land. When we think about new home upgrades and pricing options, we have to put it into that context.
---
How Much Should You Spend on New Construction Upgrades?
For homes up to $275,000, we usually see 10 - 20% of spending for enhancements like fixtures, flooring, countertops, electrical additions, etc. So if we're selling a house that values anywhere from $175,000 to $250,000, most of our clients will spend anywhere from $17,500 to $50,000 on upgrades for their home. These options can include room changes, energy-efficient building choices, design material upgrades, etc.
Once we clarify the value and size of home our clients want, we help them think about their build budget, side budget and design budget to make sure they have a clear picture of how much it will cost to build their home.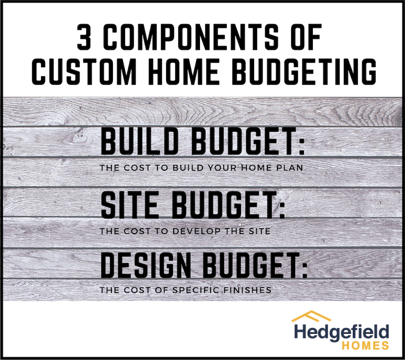 ---
Which Custom Home Upgrades Will I Be Able to Choose?
There are a lot of options when it comes to home upgrades, but it mostly depends on the type of house you're building, the builder you've chosen to build with and your personal design preferences for these upgrades.
Common Upgrades by Home Type


Farmhouse Style
- Black, vinyl windows
- Oversized front doors
- Big porches with wooden columns
- Metal roofs

Craftsman Style
- Trim and siding detailing
- Window and door patterns
You can build very affordable homes that are 2,000 - 4,000 square feet, but it all depends on what's in them. Another common new home upgrade is a tall stone fireplace with a wooden mantel. That may run anywhere from $4,500 - $7,500.
Options Offered by Type of Home Builder
There are 3 types of home builders you have to choose from when pursuing custom home building. The type of home builder you choose will determine the number of options and new home upgrades you can make throughout the home building process.
Production Home Builders
Production home builders offer a set number of new construction upgrades by floor plan. For instance, you may find a 3 bedroom, 2 bath floor plan with a formal dining room. You could upgrade the formal dining room to a study or add a bonus room upstairs for an additional fee.
These home builders will often have model homes for many of their floor plans that you can walk through. On the plan brochure, they will allow you to pick which new home upgrades you'd like for the floor plan you choose.
Then, when it comes to design choice upgrades (i.e. light fixtures, countertops, flooring, etc.), you can choose from a selection of material choices they have. These will go into your home design budget determined at the beginning of your contract.
Semi-Custom Builders
Semi-custom home builders will have a portfolio of home plans you can choose from, but they will be more accommodating in which options and value-added investments you can choose. If you want to move a room to another side of the house, add in a laundry room or extra study, etc., they will usually be able to accommodate such requests - for an additional fee worked out at the beginning of your contract.
You will also be able to choose from a variety of materials (countertops, flooring, tiling, etc.) for the home design.
Fully Custom Builders
Fully custom home builders will allow you to choose whatever options and new home upgrades you want, as long as they make sense with the structural plan of your home. Of course, if it doesn't, you can rework your plan so it does.
These builders are more expensive than other types of builders, so you have to make sure you're aware of the costs associated with your choices and changes to plans.


Custom
Home Material Options
When you think about your home upgrade options, these can also factor into the design of the home. For instance, you may choose granite over quartz countertops. This is a design choice but also an upgrade to your plan. The same can be said of your flooring choices, lighting fixture choices, etc.


---
What Custom Home Upgrades Are Worth Getting in a New Home?
If you're looking for the cheapest type of house to build, be careful about how much you spend on custom home upgrades.
Based on the work that we do and considering a typical custom home we build in Fort Worth, Texas, and surrounding areas is anywhere from 1,500 to 2,500 square feet, here are some of the custom home upgrades that are worth getting in a new home, and their estimated price tag.
We hope this new home upgrades price list will help prepare you for how much you should expect to spend on new construction upgrades.
Most Popular Custom Home Upgrades & Prices for New Construction Homes
Typical home size: 1,500 - 2,500 sq. feet


Home Upgrade

Estimated Price

Paving for a Parking Area
4" reinforced concrete

$3,000 - $6,000
(500 - 1,000 sq. ft.)

Gutters and Downspouts

$2,850 - $4,200
(1,500 - 3,500 sq. ft. homes)

Tile Kitchen Backsplash

$600 - $1,200

(Price varies by tile level and kitchen size)

Convert Porcelain Tub/Tile Shower to a 5' Walk-In Shower

$4,000 - $6,000

Cabinet Upgrades

$3,950 - $5,000

$600 - $1,000 for a kitchen
(Up to $1,500 or more for the whole home)

Additional Laundry Cabinets

$1,000 - $1,500

Mud Area Bench with Cubbies & Hooks

$1,000 - $1,500

Upgraded Front Door

$750 - $2,000

Substitute Quartz in Kitchen for Granite

$1,200 - $2,500

Upgrade to Stainless Appliances

$1,200

Energy-Efficient Upgrades; Foam Encapsulation

$6,000 - $10,000

Radiant Barrier Decking

$800 - $1,600

Upgrade HVAC Seer Rating

$3,000 - $4,000

Add Craftsman Casing Package

(Base, door casing and window sills)

$500 - $2,000

Engineered Flooring in the Main Living Areas

$4,000 - $7,000

Additional Electrical Plugs & Outlets

$50 - $250 per plug/outlet

(Price varies by plug/outlet type and placement)

Generator Plugs

$600

Larger Structural Home Upgrades

Add a Powder Bathroom

$8,000 - $10,000

Separate Walk-In Shower & Master Tub w/ Double Vanity

$7,400 - $9,000

Plumbing Fixture Upgrades

$1,000 - $2,500

Oversized Euro Shower

$7,000 - $8,000

Tiled Shower

$5,500 - 7,000

Covered Porch & Patio

Avg. $5,500 - $11,000 for 100 - 200 sq. ft.

(Price varies by porch size & add'l features)

Add 12" Tray Ceiling to a Room

$1,000 - $1,500
(Price varies depending on the room)

Convert Formal Dining into Enhanced Laundry Room and Mud Room

$4,000 - $6,000

Convert to Legacy Elevation

- From all siding to all brick up to wall plate and stone accents in front





- Includes upgraded garage door, front door and increasing wall plate height to 9' standard

$19,000 - $22,000

Wood-Burning Fireplace

$4,500 - $7,500
(Price varies depending on the hearth and surround type - stone or tile)
---



Should I Make Each Upgrade Now or Are There Some I Could Add to My Home Later?
If you are conscious of your home building budget and your wish list of additional home features is significant, you may be able to make your choices by considering which new home upgrades you could potentially add later with minimum work and interruption and which custom home upgrade choices would add the most value to your home now.
Which Home Upgrades Add the Most Value to Your Home?
Some of the best home upgrades to increase the value of your home include:
- Open floor plan
- Stone veneer for outside curb appeal
- Energy-efficient home features:
- Windows
- Appliances
- Thermostats
- Insulation
- Kitchen cabinets & layout
- Generator plugs
Which Home Upgrades Should I Add to My Home After It's Built?
There are a few ways you can plan for home upgrades later if you are trying to save money on your new home.
Plan unfinished spaces

Buy cheaper fixtures

Forgo outdoor additions
Unfinished Spaces
One way you could save some money but get the option to add your desired upgrade later is asking for some unfinished spaces - i.e. a basement or attic - so you can get the space that will add value to your home but finish out the space at a later time.
Fixtures
Consider choosing cheaper fixtures at the beginning if you are torn between them and more expensive options. Then, once you've moved in and have more of a budget to work with, you can go back and swap out those fixtures for the more expensive ones you had wanted.
Outdoor Upgrades
While you may want that specialty driveway or backyard swimming pool, if you're trying to find ways to save money on your home build or spend your budget on other value-added investments, consider postponing these types of options until later.
---
Conclusion
An important conversation you should have with your custom home builder early on is what is included in their home building price. One of the most common mistakes people make when building a home is not understanding everything that is included in the home building price - and a large part of that comes into play with your new home upgrades. These options have a tendency to push you over your budget unless you are clear from the beginning that these choices are an additional cost.
To help, we have created this Scope of Work Home Planning Tool so you can know from the beginning what you are getting with your money and which options would be an added feature or upgrade.
Want to Learn More About Our Home Upgrade Options? Schedule a Call with Us!