Which Features Do You Want in Your Custom Home?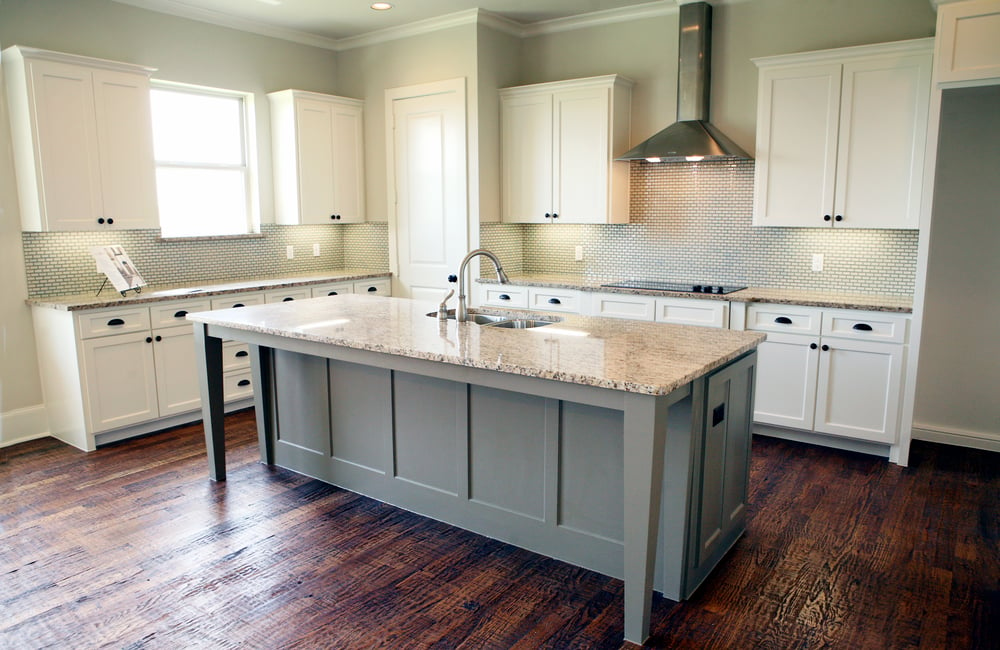 ---
Ranch Plans
Texas has a lot of large lots. Larger lots give you the room to spread out your home plan and arrange your rooms in a way that captures those beautiful views and sunlight.
You can take advantage of that space with one of our ranch home plans. Ranch plans are arranged in a rectangle turned sideways, so the home is wider than it is deep. This means you have more light flooding into your rooms, and more views of the backyard, the trees, the pool...whatever you want to see.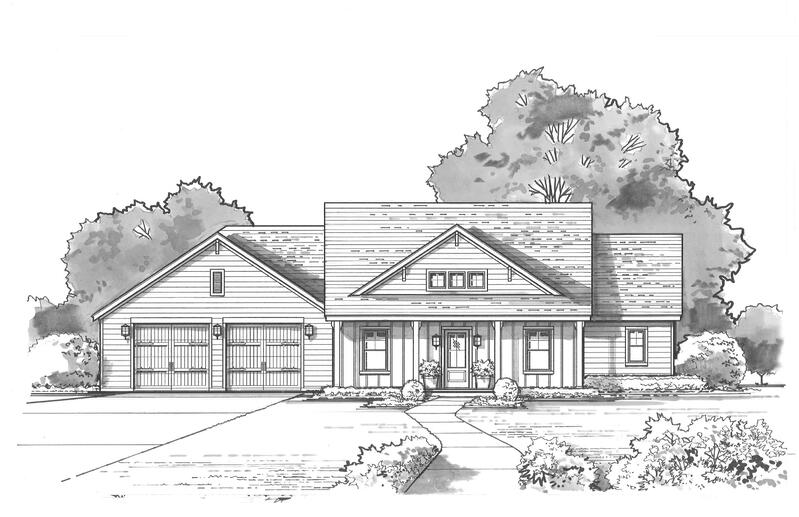 ---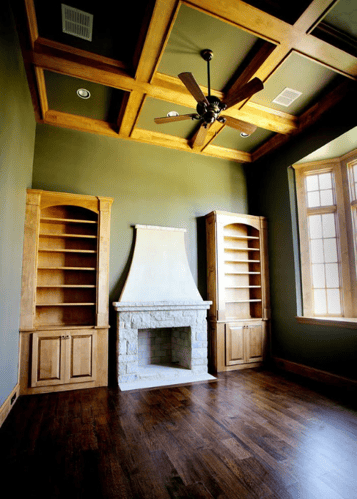 Tall Ceilings (9' - 10' Ceilings)
Taller ceilings are one of the hottest features sought after in a new home. Home shoppers moving from an apartment or an older home want the spacious feel and ample light offered by more height—especially in key rooms you're spending the most time in (i.e. the kitchen, family room and eating area), having the extra room overhead just feels freeing.
Adults don't have to worry about hitting a low-hanging ceiling fan in the family room, and window light can pour in and fill more space with a soft glow.
---
Covered Patio and Porch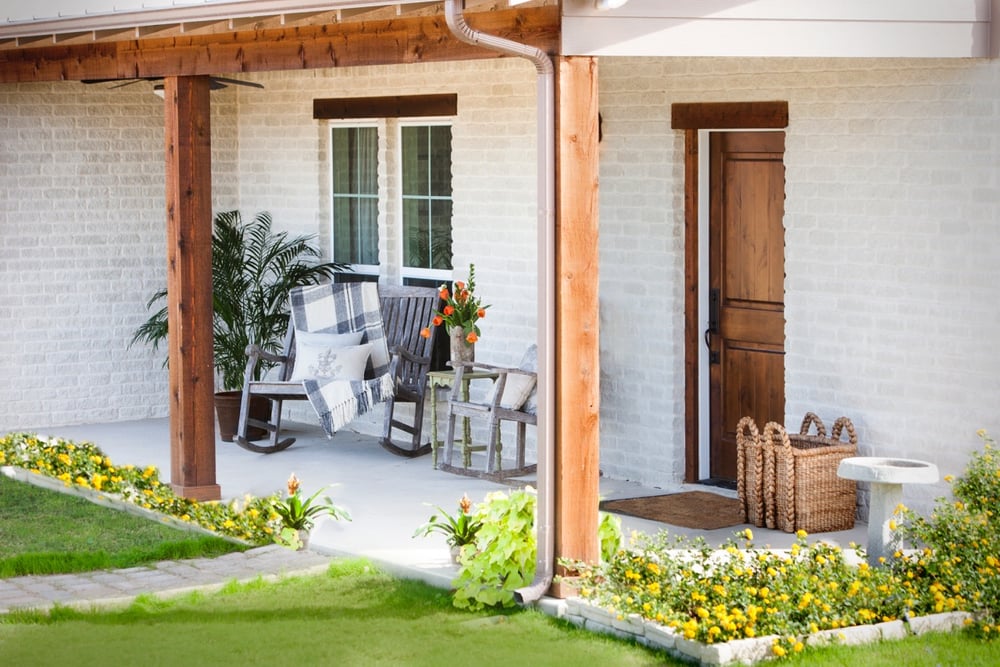 Covered porches and patios are like outdoor living rooms; arranged with the right seating and table placement, they can turn your backyard into an extension of your family room.
A useful patio is no less than 6' deep, and a 12' x 12' patio provides ample space for an outdoor dining set and 6 chairs. When planning patios, don't forget about walkaround space: 36" is typical. Larger sizes, such as: 12' x 15', 12' x 17' and 12' x 19' enable families to add lounge seating.
Imagine sitting on the patio at dusk watching the sunset, or enjoying a meal with friends by lamplight while kids play in the yard.
---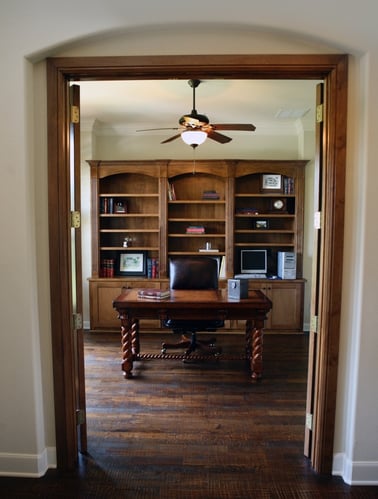 Flex Rooms
Sometimes your needs for your home change over time, and you want space that can change with you. Flex rooms give you that flexibility. Need a home office but want to make sure you have privacy? How about a study for quiet reflection or reading? Maybe you have a hobby or craft with tools or equipment that requires its own room, or a piano or other musical instrument. Maybe the kids need a playroom where their toys can be stored.
Adding flex rooms in the floor plan for your custom home can help accommodate these additional needs for space.
---
Open Kitchen & Dining Area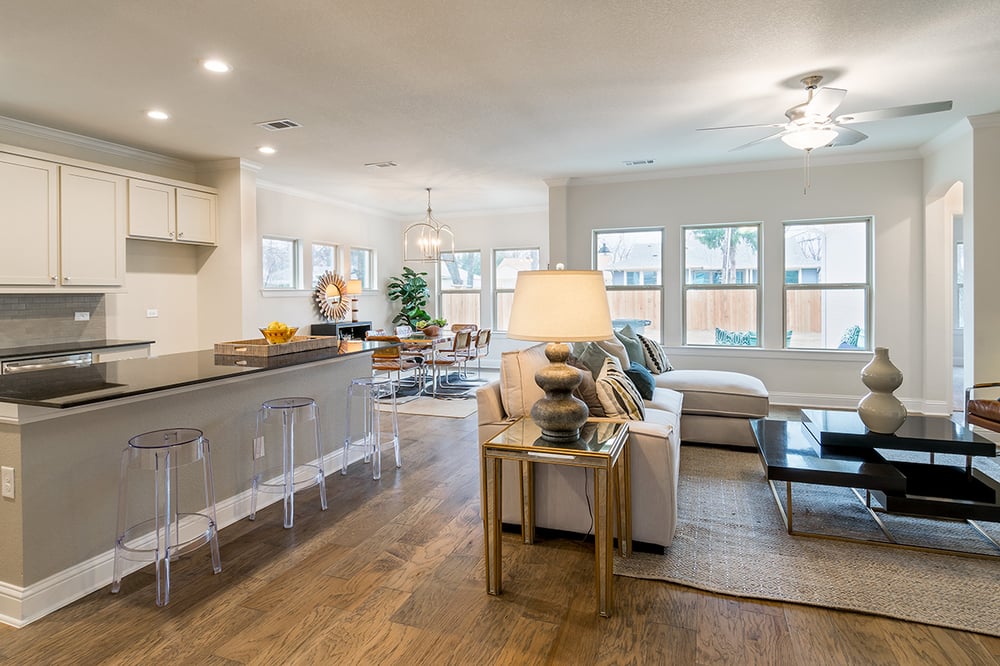 The biggest trend over the past decade has easily been the advent of the open floor plan. Parents can prepare dinner in the kitchen while kids are watching tv, doing homework or playing on the patio.
In about 50% of homes, the formal dining room has been replaced by an enlarged casual eating area off the kitchen. This space is used for everything from board games and homework to Thanksgiving dinner. And it looks onto the kitchen, family room and patio, connecting you to the outside and to family and friends enjoying those spaces.
---
Extra Storage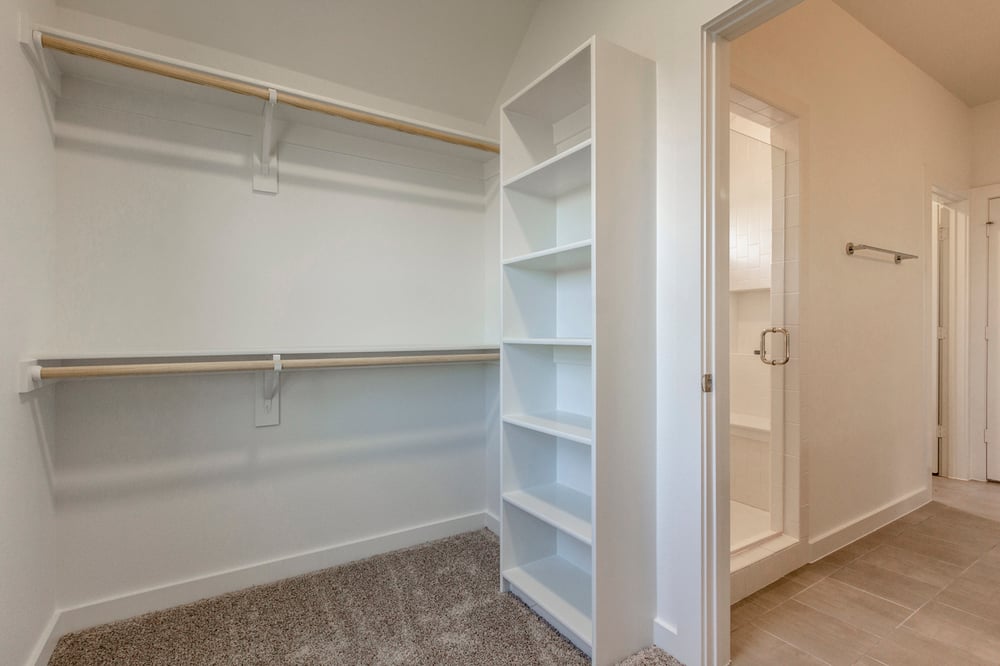 As your household grows, so does your stuff. Spacious master bedroom closets have been popular for a while, but extra linen closets and coat closets (or walk-in secondary bedroom closets in some cases) can really stretch your capacity.
And don't forget about walk-in pantries: one of the most broadly desired features in a new home. Take fewer trips to the grocery store and arrange your dry goods so you can see them all clearly. You can even carve out a space for small appliances.
---
Two or Three-Car Garages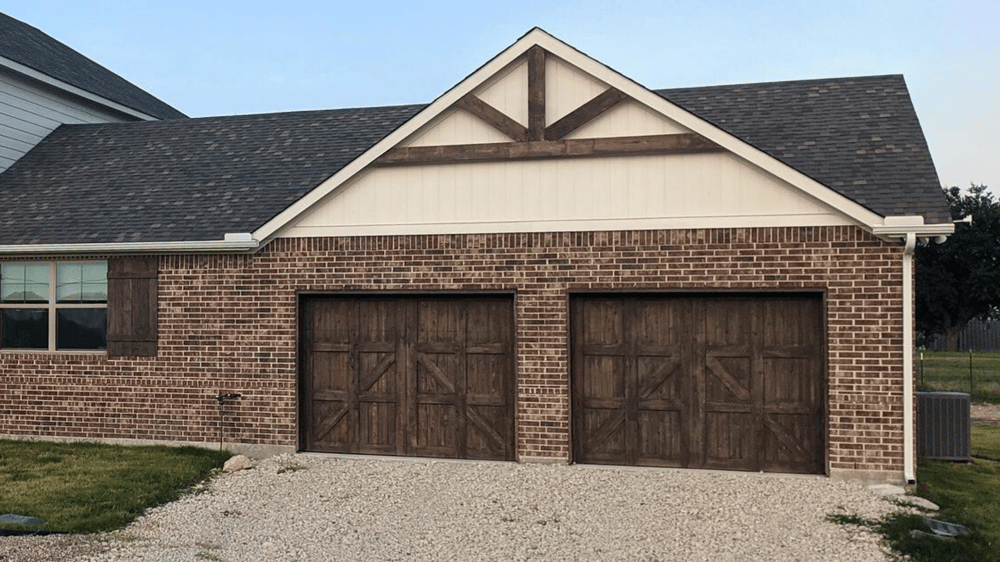 Attached garages are all about convenience: you can get to your car or truck without going out in the rain, and you have quick access to the other items you are storing in your garage. They are also more cost-effective to build since the garage shares walls and a roof area with the house.
Detached garages, on the other hand, are all about flexibility: you choose where you place your garage and you choose when you build your garage. If you prefer windows and sunlight where a garage wall might have been, or your land has certain features like slope or views you want to highlight, then detached may be the best bet.
For families looking to save the most money, not building a garage at all is a big money-saver. You can always build it later on.
Look through our plan portfolio and you'll find we have a garage option that suits every need.
---
Double Vanities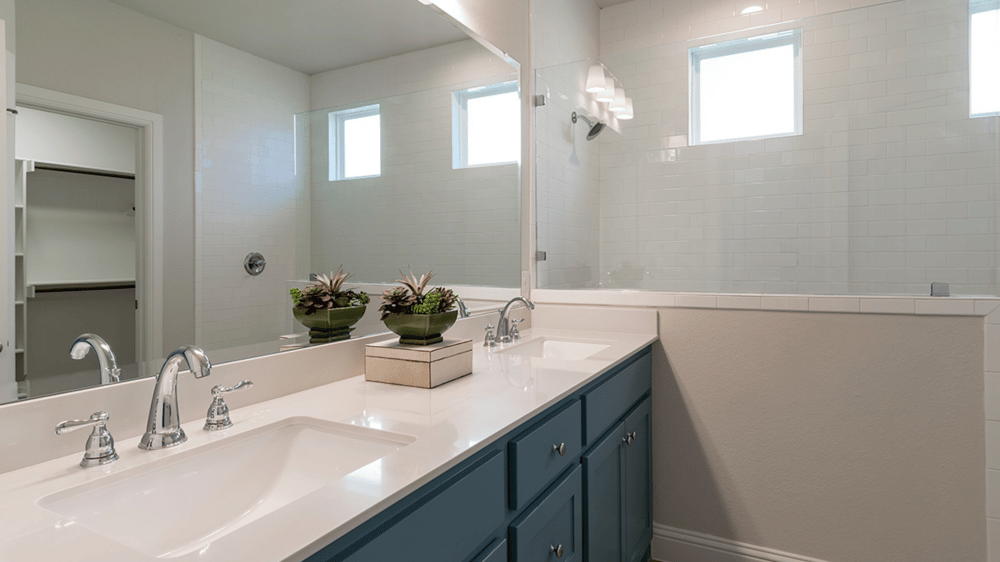 Two sinks in the master bathroom cabinet is a great feature if you use the bathroom to get ready in the morning at the same time as someone else. The cabinet is already there, so the added sink, faucet and plumbing are all that is needed.
---
Spacious Laundry Room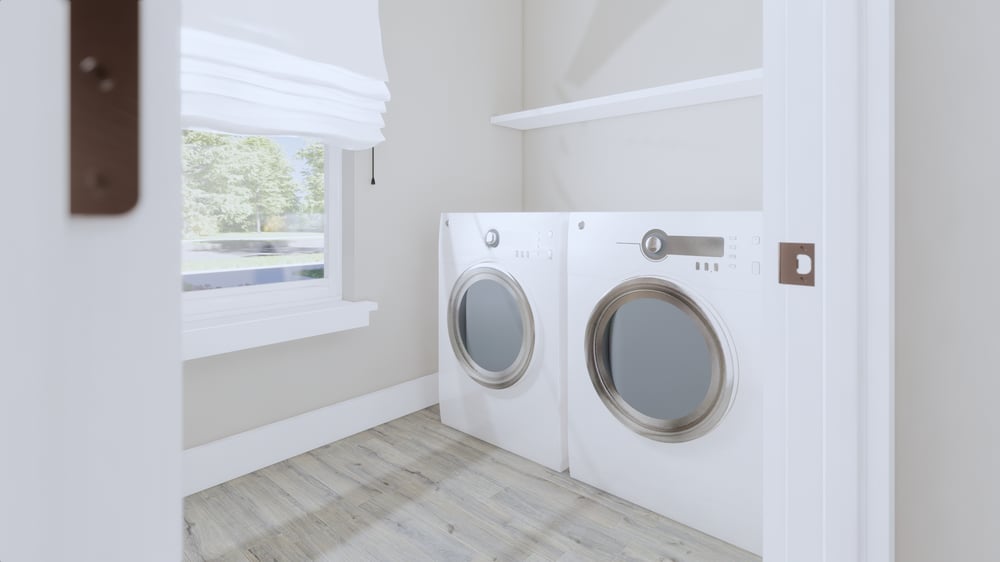 54% of people say that they want a dedicated room for Laundry, as opposed to a laundry closet or alcove. Beyond that, we find that a room big enough for extra storage helps to declutter the house and gives you a place up high (over the washer and dryer) to store dangerous cleaners when little ones are nearby.
Related Articles:
---