14 Most Popular Custom Home Options
Below is a list of 14 most popular custom home options homebuyers really value. These are things you can usually add to an existing new home plan as an added new home feature.
---
1. Extra Storage Space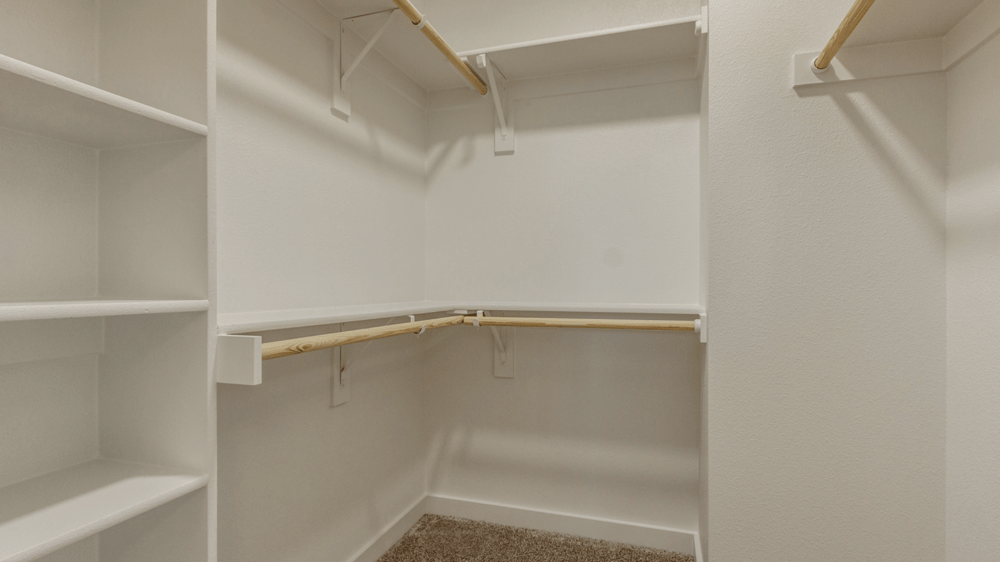 New custom homes offer better storage options than other homes. Here are a few of the most standard and popular options for more storage space:
Add extra coat closets, linen closets or a walk-in pantry to your new custom home

Increase kitchen cabinetry storage by going as high as 48" with full-extension drawers and pull-out trash bins

Enlarge the master closet so you have more room to hang clothes and store shoes. You can even add options like shoe racks, dressers or seasonal storage.
---
2. Open Floor Plan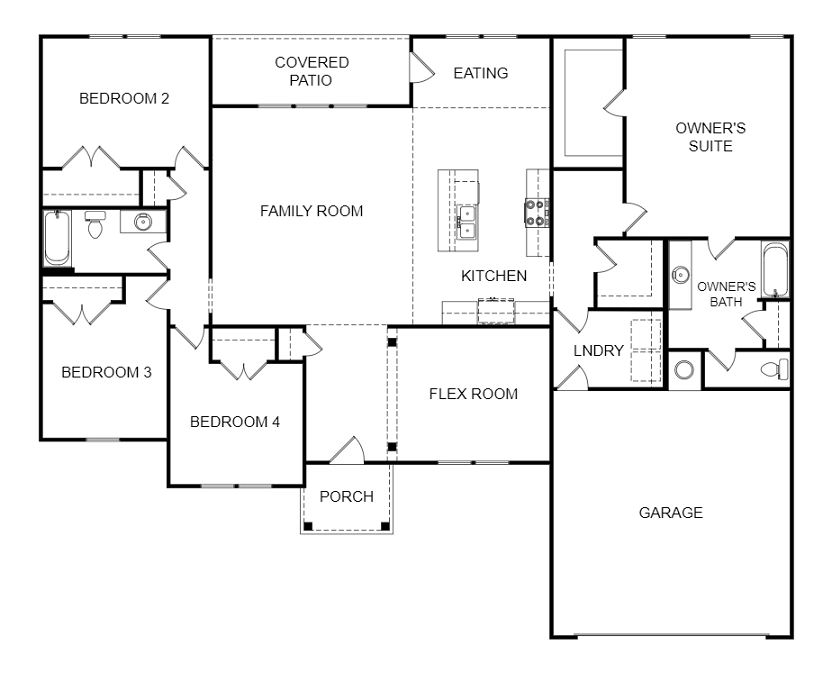 Gathering in the heart of the home is more popular than ever. Open floor plans in new homes enable the person cooking in the kitchen to keep connected with activity in the family room, like movie-watching, or conversations happening in the open dining room.
The views from interior rooms are also enhanced by the removal of walls and doors. It allows sunlight to flood in from the outside through the windows and into the heart of the home.
This is a standard option in most floor plans that buyers love, so not only will it offer you benefits while you live in the house but buyers will also enjoy it if you ever decide to sell.
---
3. Large Master Suite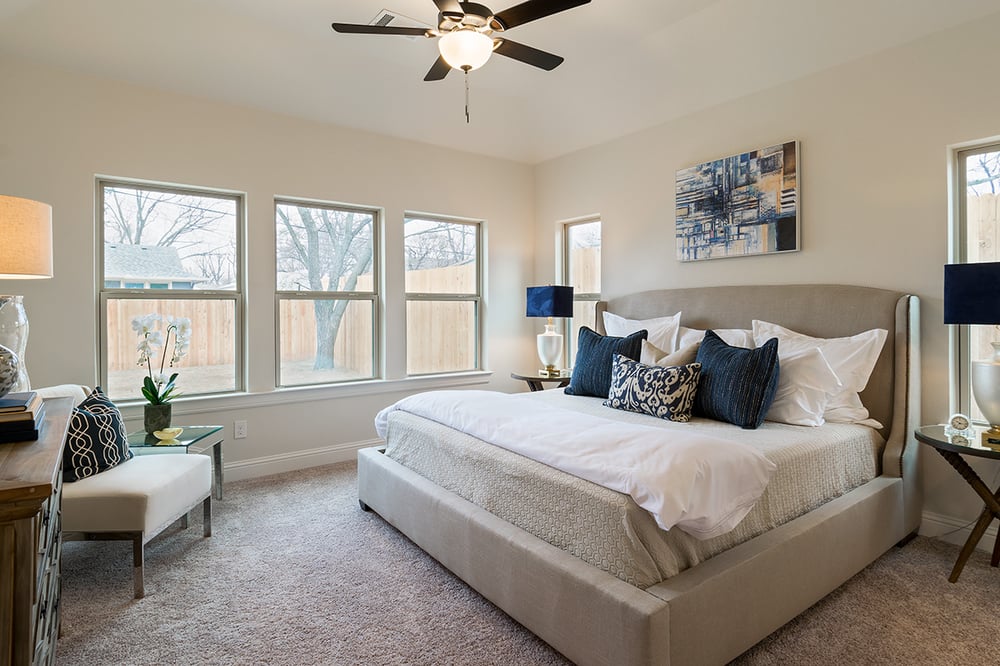 Master Suites are all about privacy and comfort. With new custom homes, you can make the master suite larger than typical bedrooms and fit for a king-sized bed. It can also have more windows than other bedrooms in the house and the connected master bathroom is separated from the rest of the house, allowing for more privacy.


QUICK BUDGET TIP FOR HOMEBUILDING
---

One way you can save money on your master suite is to include a soaking tub/shower combination instead of doing a separate shower and tub. You can also do a single-bowl vanity sink instead of two, finish the bedroom with carpet and use vinyl plank flooring for the bathroom.

Tile is more expensive; you can always do that for a later bathroom remodel.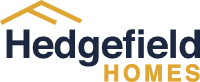 An upgrade you can make to your master bedroom is raise the ceiling in the master bedroom, enabling the sunlight to filter through the room and lend a light and airy feel to the room.
---
4. Open Dining Area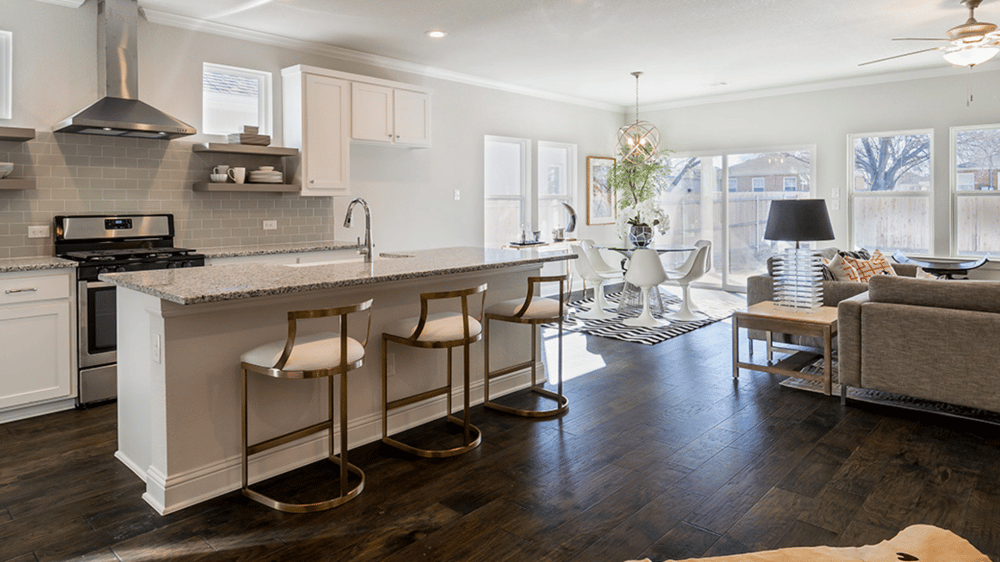 Another standard and popular new home feature are open dining areas. They have become more popular as dining has become more casual. People want to be more connected as they sit at the table.
We are also doing more things at the table these days other than eating, like homework, crafts or playing board games. Now that the dining room is a multi-use space, it has moved into the heart of the home and remains more open to both the kitchen and living room.
Still, some people don't like looking at dirty dishes when they host people for dinner, so the open dining room isn't necessarily for everyone.
---
5. Flexible Space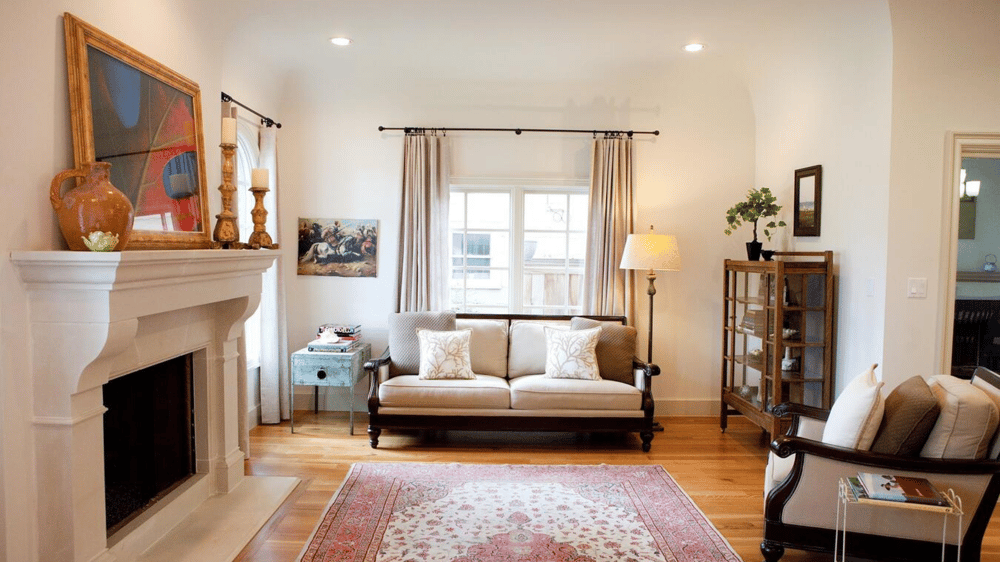 Rooms with flexible uses have become very popular. Flex rooms can be used for home offices, homework and learning spaces, music practice or workout rooms.
More people are working from home now, too, so a home office off the entry is a desirable option.
A nice addition to a flex room might be a french door with glass panes, which gives the occupant a quiet space without shutting them off from the rest of the home.



QUICK BUDGET TIP FOR HOMEBUILDING


---

When selecting doors, consider that French doors will add around $1,100 to $1,400 to the cost of the room.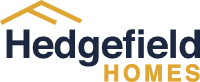 If you've lived in an older home with 8-foot ceilings then you know why taller ceilings as a new home feature is so freeing. You have a couple of options to make this happen:


1) Vaulted Ceilings - vaulted ceilings are a nice house feature and can be dressed up further with a wood-clad ridge beam and additional can lighting.

How Much Do Vaulted Ceilings Cost?
Vaults might run $1,400 to $2,000 depending on the height and trim package you choose.


2) Tray Ceilings - Tray ceilings in the master bedroom are another option. This is where you angle the ceiling up an additional 12 inches.
---
7. Convenient and Spacious Laundry Room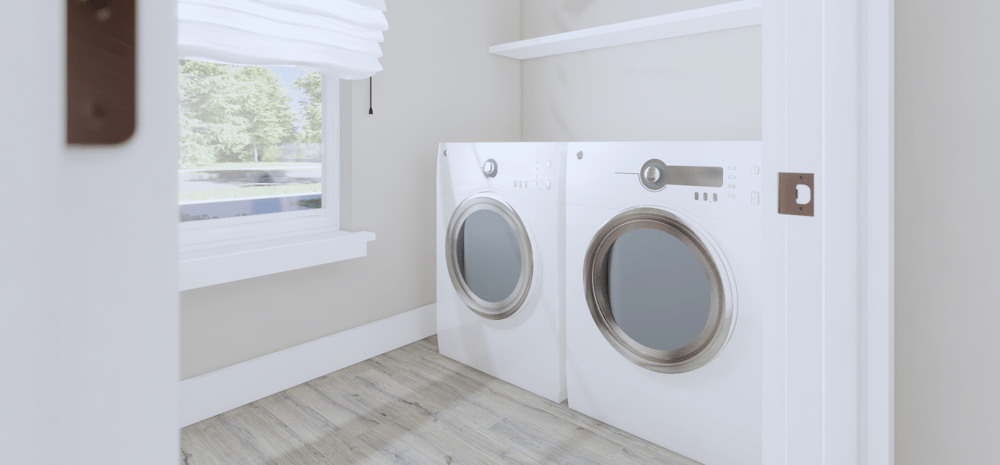 Most people say one of their top new home features is to have a dedicated laundry room that doesn't feel cramped, so they can store their house supplies easily.
Most new laundry rooms have a place to fold and hang clothes, and for another $500 to $1,000 you can add upper cabinets to store laundry supplies and household items.
Some laundry rooms have space for additional counters and even an extra sink and faucet. This new home feature could cost you $1,600 to $2,000 more.


---
8. MudRoom or Mud Bench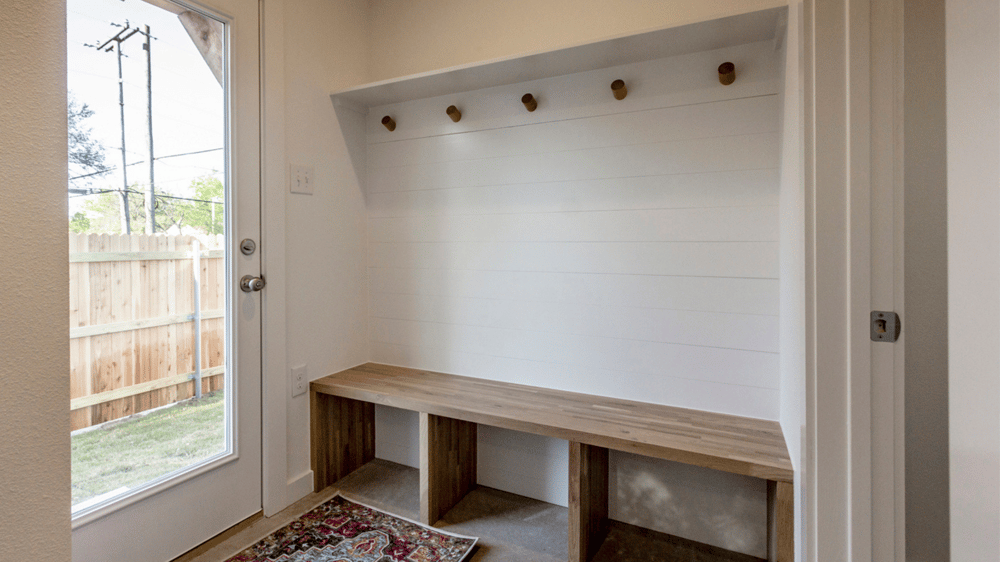 Mud Spaces are nice, new home features that could be as simple as a 3- to 4-foot-wide area for a bench and cubbies, or it could be an alcove off the owner's entry or near the laundry room. They provide a place to sit and take off dirty shoes, coats and bags and store them conveniently in a location that is out of the way.
A mud bench and cubbies might add anywhere from $1,200 to $1,500 to a home depending on its size and configuration. One way to save money on this new home option is to plan for the space but then buy a package from Ikea and install it yourself, which would probably cost more like $300 to $500.
---
9. Luxury Bathroom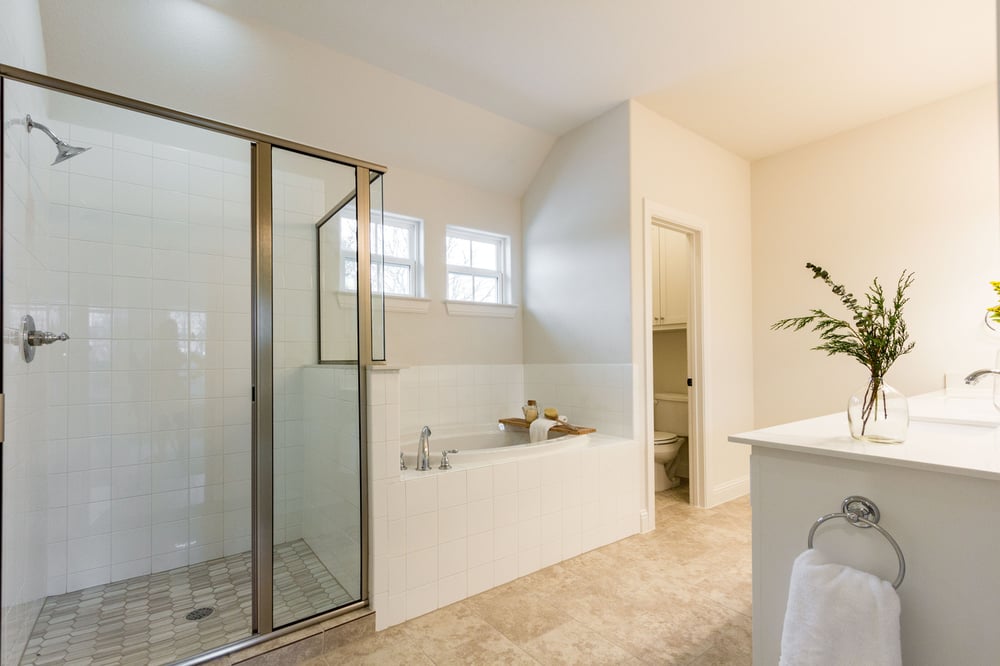 Bathrooms have evolved from utilitarian spaces to comfort spaces. We want master bathrooms, especially, to be bigger, to feel bigger, to have natural light, and to include multiple bathing options like a shower and separate tub.
Upgrading from a typical bath to a luxury bath with a 3- by 4-foot walk-in shower and a separate soaking tub, as well as a double-bowl vanity, could run anywhere from $3,800 to $7,400. The higher end would include the cost for a tiled shower, tub deck and floors.

QUICK BUDGET TIP FOR HOMEBUILDING


---
There are a couple of ways you can have your luxury bathroom while also saving yourself some money on the total cost of your new custom home.
1) Choose to build a 5 foot, walk-in, tiled shower with no tub. This option would cost only $3,200.
2) Forgo the tile for now and stick with an acrylic shower surround for the time being.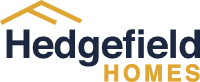 ---
10. Outdoor Living Space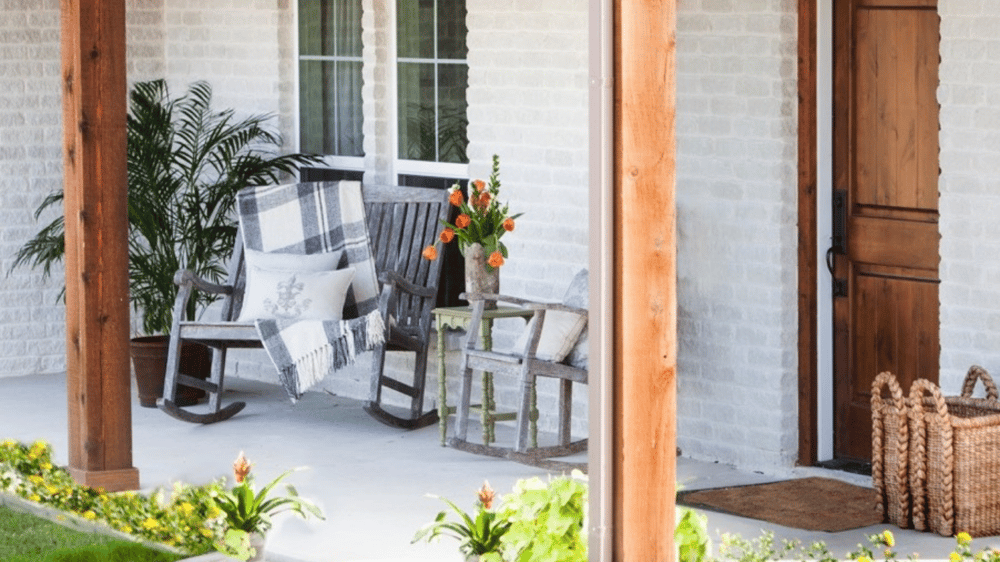 Another popular new home feature, especially in Texas, is creating rooms outdoors to allow families to host and entertain lots of friends and family. It also gives them a place to retreat and stretch out for some reflective time.
Extended covered patios in the rear of the house are one of the most popular new home options for this. Adding a 12' x 12' covered patio would run around $4,500, while a 6' deep x 15' wide extension to a patio would run around $3,500.

QUICK BUDGET TIP FOR HOMEBUILDING


---
One way to save is extend the concrete patio out and wait to build the cover until later. You could add a cedar trellis or a framed roof when the time is right.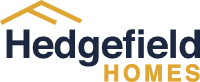 In Texas, the garage may need to be deepened to fully fit an extended cab pickup; or a third-car garage bay may need to be added to fit a third car, boat or UTV. The garage can be used as a shop or place to store tools, as well.
To add a third-car garage bay to a two-car garage plan will add around $12,000 to the cost, while adding an entire two-car garage to a plan that doesn't come with a garage included would be around $21.000.
Garage storage cabinets are another added house feature that can run anywhere from a few hundred to a few thousand dollars. A nice alternative for this is a garage ceiling rack over the garage door for things you don't access very often.
---
12. Fireplace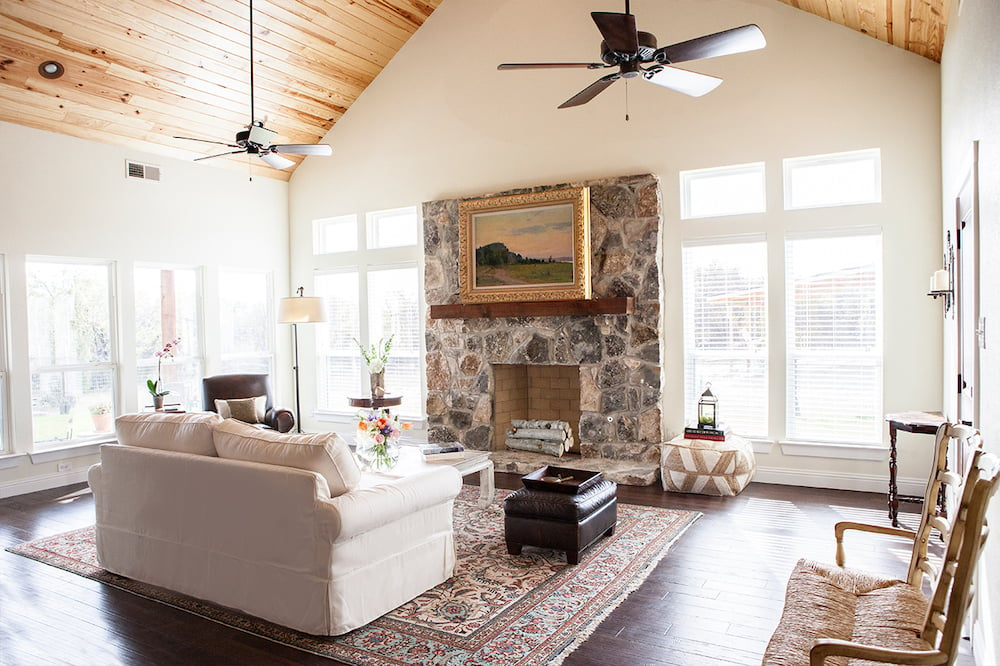 Fireplaces are important to some people, and for them no family room is complete without one. It feels cozy, like a campfire; and the fireside may hold a special place in our hearts. They certainly do give us something to gather around other than the TV, and they help us slow down and ponder.
A 42" wood-burning fireplace with a cedar mantel and 5-foot tall stone surround will run around $2,400. Adding gas and gas logs with a glass door kit will run around $1,000 - $1,200, including the gas.

QUICK BUDGET TIP FOR HOMEBUILDING


---

One way to save on the fireplace is to locate it away from the edge of the house so the chimney can pass through the roof and doesn't need to be finished. A tile surround is also a less expensive option than stone or brick for the fireplace finish.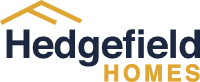 The taxing authority will typically not count a room unless it is conditioned, so one way to build inexpensive space for future expansion is to add an unfinished bonus room upstairs. This requires adding a staircase downstairs and reconfiguring the first floor plan, but you can leave it simply framed and insulated with power run to a junction box and finish it out later.
The cost of an unfinished bonus room might be anywhere from $15,000 to $30,000, depending on the size of the room, the plan and the mechanicals included.


---
14. Architectural Style
Another popular home option you'll have to choose from is the architectural style of your new home. Every floor plan we offer in our base portfolio comes with two standard architectural exterior style options: the Classic and the Legacy.


The Classic Exterior

The Classic Exterior is our standard architectural treatment and our most affordable, with James Hardie siding in different patterns, a roof pitch of 6/12 and 8' tall walls (and ceilings inside) around the outside perimeter. The ceilings in the foyer, family room, kitchen and dining rooms are all 10' tall.
The Legacy Exterior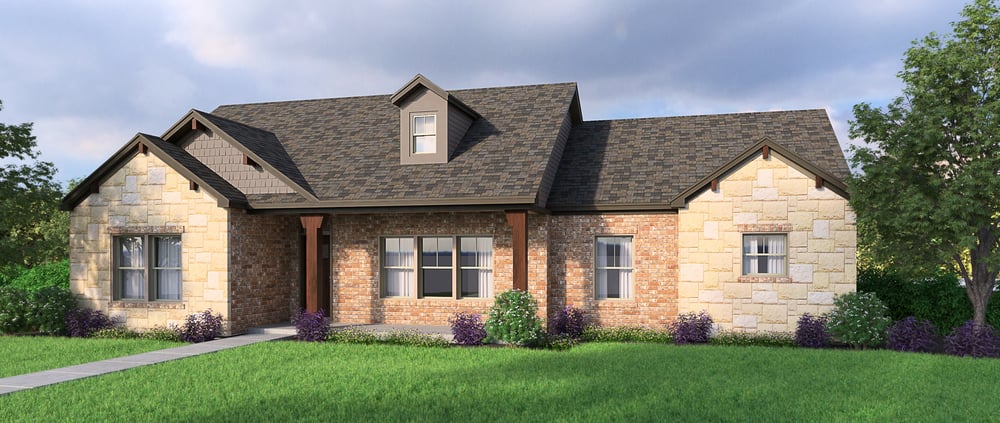 The Legacy Exterior is built of brick with stone accents around the entire first floor, has a steeper roof pitch of 8/12 to give it slightly more mass, and has 9' wall heights around the outside. Some of the Legacy Exteriors also have larger covered front porches.
Want to figure out which new home building features to prioritize with your custom home? Check out popular home bloggers to see what they wish they would have considered for their custom home and what they absolutely love that they chose!
Related Articles:
---