Which Type of Building Material Is Best for My Custom Home?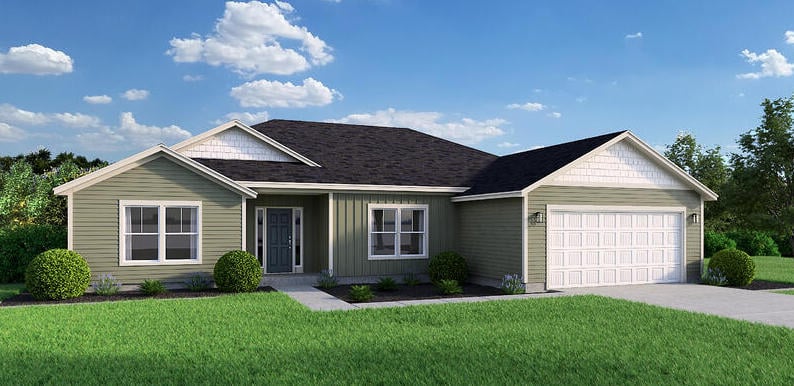 When it comes to choosing the right building material for your home, you want the best and most reliable options. Whether you're looking to optimize aesthetics, have a low-maintenance home or are primarily concerned about durability, we want to work with you to help meet your goals.
Below, you can compare the most popular building material options in North Texas to decide what is ideal for your dream home.
Most Popular Building Material Options in North Texas
There are several building material options for you to choose from when building a custom home. Below, we'll mention briefly the more common options - like brick, lumber or stone - and then we'll share in more detail the latest trend in custom home building: the barndominium.
Lumber
Many people prefer lumber-framed homes because of their classic look. A lumber frame is easy to construct and provides flexibility in interior design while also providing durability. Lumber homes are strong and cheaper to build up front; they just require more upkeep than other options over time.
Barndominiums: Steel & Pole-Barn
(the Latest in Home Building)
Easily the most popular trend in home building in the southern states and increasingly elsewhere is the Barndominium.
They are part "barn" and part "condominium" - although they can really be customized into anything you're looking for. Barndos are aesthetic steel buildings that provide all the benefits of a customized interior home while allowing for unique characteristics, such as long and high open spaces and space for a workshop, storage or even livestock. They are also known for their outstanding durable and low maintenance nature. They offer many perks as they are more structurally sound than traditional wood-framed homes, require less upkeep and are more cost effective over time.
The pros for Barndominiums are many, so it's no wonder they are increasing in number.


Benefits of Barndos
Built to last

Better-equipped to deal with water damage from floods

Fire resistant

Much more likely to resist high winds from storms than traditional builds

Unappealing to termites, so you will never have to worry about termite control

Less maintenance

Convenience: Can be built as a shell and finished out over time

Require only one contractor to supply and erect versus a supplier and framing crew

Eco-friendly because they require no chemical treatments for the preservation of the frame and are often built with recycled steel
As the price of lumber has gone up during the pandemic, steel has become an even more affordable option than before. Barndominiums offer innovative design and are a fantastic option if you're looking for a unique and creative interior. Since steel is strong and lightweight, it makes creative and large open spaces possible. There is no need for support beams in a barndominium.


Downsides to Barndos
There are not many cons to the barndominium concept as it is so innovative and versatile. However, it is not for everyone. One downfall to building a barndo, since it's still a relatively new trend, is that it can be hard to find a builder in your area who is ready to try a steel frame. Barndominiums are often sold as customizable kits, however, making it incredibly easy for builders to begin working with this new design.
Another con to steel is that the upfront cost can be higher than other materials. While steel is more expensive than lumber per square foot, it is cost-saving over time.
It's also important to research where you want to build. They are not allowed in some neighborhood developments by deed restriction or covenants.
The aesthetic of the Barndominium is also not for everyone. While it can be completely customized on the interior, the exterior is by nature, more straightforward. For some, this is appealing while others will opt for a more traditional home. Ultimately what home buyers need to decide is if Barndos are what suit their taste. If so, they are a solid option. Building a barndo for your primary home is a lifestyle decision; if you want low-maintenance and open, utilitarian spaces, it might be the perfect fit for you.


Common Myths About Barndominiums
Below are some of the myths that exist about steel frames:
Steel frames are noisier than timber-framed homes. While steel roofs do expand and contract, the rustling noise is the same as it would be in a traditional home.
Steel homes might corrode or even rust over time. This is not true because steel homes are actually coated with a tough, uniform coating of aluminum, alloy or zinc.
Living in a steel building will inhibit wireless signals. This is a common suspicion from people, but it is simply untrue. High rise buildings are full of steel and are perfectly able to receive signals.
Two Types of Barndominiums
There are two types of Barndominiums to choose from, the typical Steel Barn and the Pole Barn.
Pole Barns are built with steel poles anchored deep into the ground and with a separate foundation. Pole Barns include lower foundation and structure costs and quicker lead times for the delivery of supplies (order to delivery time is 9-12 weeks longer for a pre-engineered steel building than for a pole barn). Perhaps for many, pole barns are especially desirable in that they provide the structure and benefits of a steel barn but they also allow for more design options, as beautiful woodwork can be built into the interior and exterior.


---

Cladding Material Options
While the materials listed above have their own unique style and look, there are other cladding material options to change the look and feel of your home after the structure has been built. These include:
Brick
Brick is the most widely used cladding material in Texas and surrounding states because of the high amounts of clay in the soil, which makes it easy to make and build. It is also one of the most durable materials for home building. A brick veneer home may be right for you if you are wanting to prioritize benefits, such as weather resistance, lower maintenance, energy efficiency and sound insulation.
Stone
Stone homes are timeless and have many benefits, like durability and low maintenance. Stone may be the least used building material because it requires more time and work to build with and has a higher transport cost. However, its durability and beauty is something that makes stone homes leave a lasting impression. Many houses include stone in portions of their exterior, giving them that cut-above aesthetic without increasing the build cost dramatically.
---

How Much Does Each Building Material Cost?
The material you choose, as well as the size of the home you build and the features you include, will cause the cost of siding supplies to vary. The material cost itself can vary based on the size of a project and its market availability in your area. To have an idea of what to expect, here are cost ranges for the siding of a 2,000 sq.ft. home.



Siding Cost Estimates
(2,000 Square Foot home)


Siding Material
Siding Cost
Barndominium Kit & Assembly
$30,000 - $120,000
Brick
$12,000 - $35,000
Wood
$3,000 - $52,500
Steel
$9,000 - $13,500
Stone
$28,500 - $67,500
If you are trying to decide on which material to choose based on cost - particularly when comparing a lumber or steel home - it's worth noting that these prices aren't completely straightforward.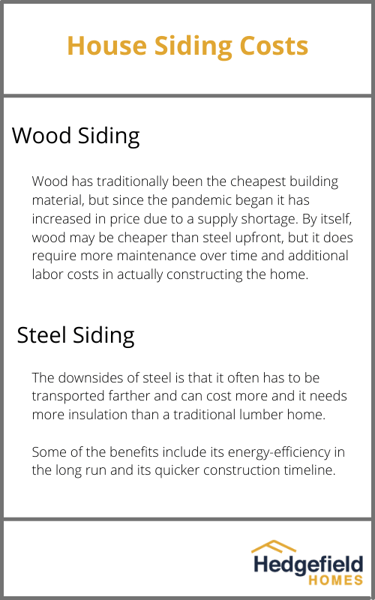 ---

How Do I Decide on the Right Building Material for My Custom Home?
Deciding on the right building material for your new home is a big deal. At Hedgefield, we want to equip you with the information you need to make the decision that's right for you. By learning a little about the benefits of each material, it's our hope that you will be able to feel confident about your decision.
---

Which Type of Building Material Does Hedgefield Homes Use?
At Hedgefield Homes, we build our homes using 2x dimensional lumber. We use engineered roof trusses for the roof system, and we stick-frame the walls (although we are experimenting with wall panels built in a shop and transported to the job). Our exterior styles are offered in brick or James Hardie siding.
Our research tells us that this is the most affordable way to build a custom home on your own lot, while maintaining design flexibility to create the plans our customers love. It seems that once land owners evaluate the barndo option, about 2-3 out of 10 will actually go with a barndominium, and the rest will opt for a traditional stick-framed home - primarily for the reasons stated above.
But for some, the barno option is the best way to go. My dad built a barndo garage and apartment on his ranch; they are perfect options for this use case. When you are remote, and the contractor base is limited, barndos limit the number of trades you need to hire and allow you to get a structure built easily and quickly.
Want to Learn More About Custom Homes with Hedgefield Homes?
Contact Us Today!