What to Consider When Deciding the Square Footage of a Custom Home Build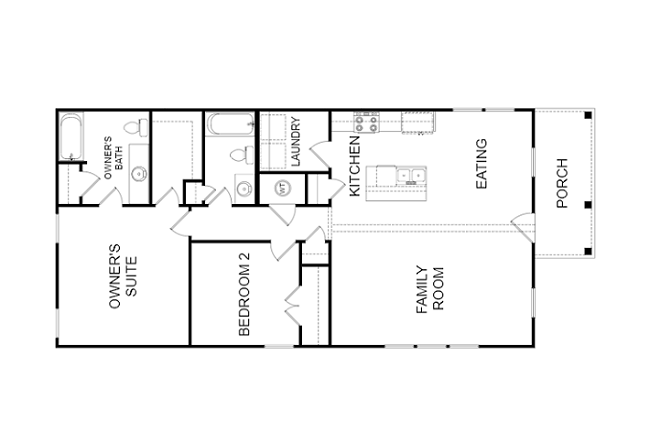 When building a custom home, there are a lot of decisions that are needed, but one of the first decisions you need to make is what square footage you want for your home. Here are a few things to consider when deciding the square footage of your new home:
---
Cost in Your Area: How Much Does a Custom Home in North Texas Typically Cost Per Square Foot?
The cost of a custom home in North Texas can vary greatly depending on the size and what's included, but, below, we offer a few averages for custom homes in some of the areas we service.
Generally speaking, the smaller the home, the more it costs per square foot, and the larger it is, the less per square foot (if all else holds constant); for example, if the kitchen, bathrooms, garages and porches all remain the same between those two houses.
More square footage usually means price per foot decreases.
These price estimates reflect best guesses about the impact additional city fees will have on the price of the home, including: city processes, cost of permitting, water and sewer impact fees, park fees, etc.
Average Cost Per Square Foot of Custom Homes in Fort Worth (Not Including Land)
In Fort Worth, some city code amendments are more stringent than some of the other surrounding cities, which means additional cost in some areas of the home than others.
Fort Worth also has far fewer lots where an owner can purchase a lot for a build job on their own, and when they do, they tend to cost more because lots are expensive.

Fort Worth Home Examples


(Cost Per Square Foot)






3 Bed, 2 Bath
w/Office Space


5 Bed, 3 Bath
w/Office Space & Game Room


$180,000 - $240,000


$270,000 - $350,000


Avg. price per square foot: $119


Avg. price per square foot: $110
Average Cost Per Square Foot of Custom Homes in Burleson (Not Including Land)



Burleson Home Examples




(Cost Per Square Foot)






3 Bed, 2 Bath
w/Office Space


5 Bed, 3 Bath
w/Office Space & Game Room


$167,000 - $223,000


$250,000 - $325,000


Avg. price per square foot: $110


Avg. price per square foot: $102
---
Home Plan: What Are You Needing in a Home?
Here are the rooms you can generally fit into these square footage ranges:



Square Footage for Number of Rooms in a House





# of Rooms

Avg. Square Feet of Home

2 Bedrooms, 2 Bath

1,000 - 1,200

3 Bedrooms, 2 Bath

1,200 - 1,700

3 Bedrooms, 2 Bath, Flex Room

1,700 - 2,000

4 Bedrooms, 2 Bath, Flex Room

2,000 - 2,300

4-5 Bedrooms, 2.5 Bath, Flex/Game Room, Possibly 2nd Dining Room

2,300 - 2,700
It's also possible to build a 1-2 bedroom home that is 1,600 square feet with a large great room.
But generally, these patterns hold true.
---
Lot Size: How Big of a Home Can You Reasonably Build on Your Lot?
The size of the home you can build on your lot depends on a few factors:
Your neighborhood or lot deed restrictions, which may limit the size of the home you can build.
City requirements for maximum lot coverage. Cities often limit the percentage of the lot you can cover with the home, and with paving.
The side front and rear setbacks.
For example, on a 50' x 125 lot in A-5 zoning within the city limits of Fort Worth, Texas, you could build somewhere between 5,000 - 5,500 square feet of living space. On a one-acre property in Johnson County, you could build that big or bigger.
In many developments, there are minimum home sizes. You can verify this in your deed restriction document by searching "minimum" in the pdf.
---
Cost of Utilities: How Much Can You Spend Each Month on Utilities?
The cost of utilities will vary depending on the size of your home. The larger the house and greater the number of people living there, the higher your utilities will be. However, you can also consider some energy-efficient ways of constructing your home, such as:
Energy-efficient windows
Low-flow showerheads and faucet heads
Proper insulation
Smart thermostats
Fan installations
---
Options & Upgrades: What Extra Features Are You Wanting in Your Home?
Consider the options and upgrades you are wanting for your house. If you want a large master bathroom with two closets, a stand-alone tub and a shower, you will need to factor that into the square footage of your house.
Here are a few upgrades and features that add some square footage to your home:
Walk-in master shower
Double-bowl master vanity
Covered patios and porches
Three-car garage
Wood-burning fireplace
Enhanced laundry and mud rooms
Kitchen cabinet upgrades
See more upgrades and options available. Most of these will not add much more square footage though.
---
Your Budget: How Much Can You Afford?
The price of most homes is directly related to the size...at least up to a point. You can use quick math to back into the rough square footage you can afford. For example, if your construction budget is $200,000, and homes in that price range typically start around $100 per square foot, then you can afford roughly 2,000 square feet.
Don't forget about options and upgrades! Base prices include the standard features, but be sure to leave room in the budget for items you might want to add or upgrade, like a luxury master bath, a bigger covered patio, tile or wood flooring. It is not uncommon for a buyer of a $150,000 - $250,000 home to include 10%-15% in options or upgrades. In that case, if your budget is $200,000, and you include 10% in options & upgrades, your base house price would need to be $180,000.
Start with your budget, then look at plans offered by builders in that price point. This will tell you quickly what size home you can afford.
If you really need to stretch your budget, there is a way to get more square footage...buy a two-story home (a stacked floor plan). This style of home is very efficient to build because it saves on material and labor due to its economical shape. All bedrooms are typically located upstairs and downstairs you have the kitchen, living, family, dining, ½ bath and garage. If a family needs more bedrooms, or a second living or play area, but the budget is tight, this is the way to go.