Best Texas Home Stores & Design Inspirations for Your New Home
For many homeowners, the best part about building a house in Texas comes at the end of the home building process when you're actually moving in and shopping for furniture and home decor for your new space. Everything has been leading up to this day - from the initial budget planning for your home to choosing the floor plan to the home selections meeting - you have been thinking about how you and your family will be using your new space.
To help you, we've compiled a list of the best home design bloggers and interior designers in North Texas to offer you inspiration for your new home, as well as a list of the best local home stores to shop at in and near Dallas-Fort Worth. You can shop for furniture and home decor for your new home at these Texas home stores.
Best Home Design Resources & Interior Designers in Texas
We've already shared our picks for the Top 10 Texas Home Bloggers to Inspire Your New Home Design, which you can check out on our blog, but below you'll find a list of a few of the best interior designers in Dallas-Fort Worth who offer interior design services, as well as additional home design inspiration through their blogs and social pages.
4 Best Interior Home Designers In North Texas
Full Disclosure: We compiled this list by searching for the best interior designers located near the Dallas-Fort Worth area, and, from there, chose businesses with Google and Facebook reviews of 4 stars or higher. Hedgefield Homes is not affiliated with any of these businesses, nor were we offered monetary incentives to list them here.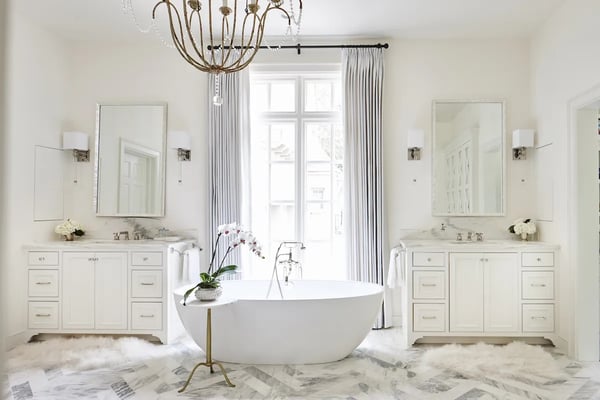 If you need additional help designing your space, consider hiring Living Beautifully - an interior design company based out of Crowley, Texas. Michelle offers design ideas and tips on her blog, as well as interior design plans that can be purchased by room.
Learn more on her website.




Living Beautifully Review
"We hired Michelle to do a refresh of an under-utilized 'flex' room and our master bedroom and she was simply amazing. She gave us multiple options for a new layout for the flex room, and then once we decided on one, she made up boards with different furniture and design options for us to pick from. Similarly, she helped us execute a design for an accent wall in our bedroom and selected beautiful linens and accents. She made the design process so simple and let us be involved exactly as much as we wanted to be. She also worked within a budget. I highly recommend her for any project."
- Rebecca Rice Fike
---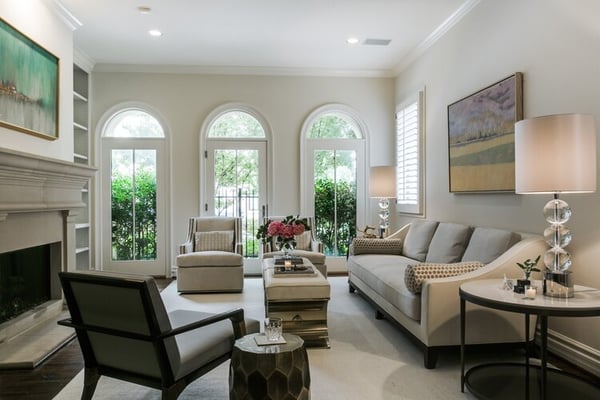 Paxton Place Design has locations in Fort Worth and Dallas, Texas. They offer their clients interior design plans with an emphasis on functionality, attention to detail and aesthetic sophistication.
Learn more on their website and gain interior design insights from their blog.
Paxton Place Design Review
"Paxton Place designs did an amazing job with my living room design. It is an odd-shaped room that has always had a lot of dead space. They were able to take furniture pieces I had and use them in different ways that I love. All of their recommendations fit my taste perfectly. They were extremely polite and so easy to work with. I am looking forward to working with them in the future."
- Ginger Baker
---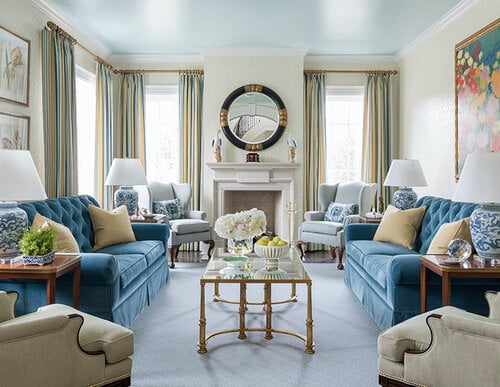 Margaret Chambers and her team love to collaborate with their clients to come up with the perfect, professional design for their household needs. She offers a number of design style options to her clients - from modern high-rise living to charming Hill Country escapes to Country French Homes.
Learn more about her on her website and get design ideas from her blog.
Chambers Interiors & Associates Review
"Margaret and Allen helped me decorate a music room, family room, dining space, master bedroom, guest room and halls. I love the final product! Margaret took the time to listen to me. She looked at pictures of what I liked and directed me to other pictures when I didn't have any ideas. Together, we were able to blend my style with my husband's and ended with a home that feels comfortable and child-friendly, while still holding quality pieces and a classic style.
I am particularly impressed with Margaret's abilities to remember spaces and colors, visualize pieces as parts of a whole, and then put it all together as an artist!
Allen is also a gifted designer and was able to add details that really give the space some pizzazz. Overall, I find that everyone at Chambers Interiors is kind, professional and responsive. Pricing in our project was always upfront and straightforward; phone calls were always answered and returned immediately. I would definitely use Chambers Interiors for another project in the future."
- K Petersen
---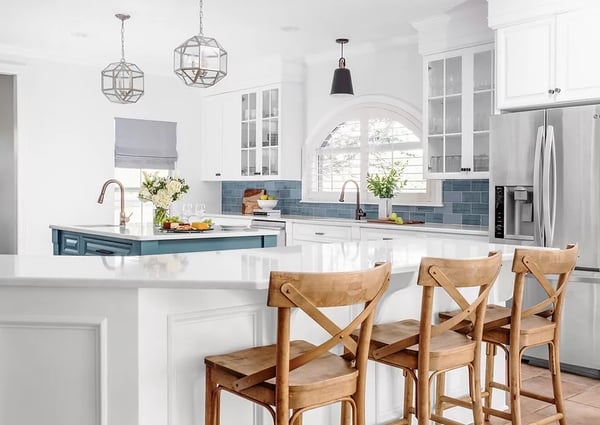 Starting out as a home stager, Lindsey Murillo transitioned into interior design, now offering clients in the Dallas-Fort Worth area Full-Service Design, or a Designer for a Day, to help them transform their space.
You can learn more about her on her website and see her design boards and tips for more ideas and inspiration for your home!
Lindsey Murillo Interiors Review
"Lindsey has been great to work with. She listens to our suggestions and, when appropriate, works them into the design or shows us a better solution. This is the first time I have worked with a designer and it has definitely helped open my eyes to designs I would not have appreciated before. I am very pleased with our new kitchen and master suite. Lindsey is very responsive to any emails or phone calls and is very professional. I would highly suggest her to anyone looking for design advice or help with a remodel."
- Shari Adam
---
11 Best Local Home Stores in Dallas-Fort Worth
If you've already been inspired using our home design inspiration resources listed above, you're ready to fill your home with new furniture and home decor to liven up your space.
Below is a list of the top 11 local home stores in North Texas - specifically found in the Dallas-Fort Worth metro and beyond:
Full Disclosure: We compiled this list by searching for home stores located near the Dallas-Fort Worth area and, from there, chose businesses with Google and Facebook reviews of 4 stars or higher. Hedgefield Homes is not affiliated with any of these businesses, nor were we offered monetary incentives to list them here.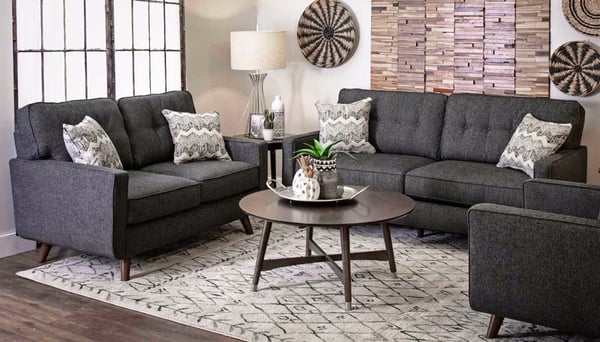 HomeZone furniture is a family-owned business that can be found across Texas and Oklahoma. The company was founded by Bree Barber, who saw an opportunity to bring the personal touch back into the customer experience in the furniture industry.
They strive to provide furniture that is stylish, durable and affordable. You can learn more about Home Zone on their website or visit one of their locations in DFW. They are located in Fort Worth and Hudson Oaks.
Home Zone Furniture Review
"Had an amazing experience with Andrew! He helped us sort out deals and pricing to get our best option for our family. 11/10! I highly recommend this store. It's been by far the best experience when trying to move forward as young adults with a famly - it's been affordable and will help us build credit. Andrew genuinely cared about our goals and went above and beyond to help us achieve them. Quality store. Quality items. Non-commissioned Quality workers who love their job. Thank you, Andrew."
- Kodie Dunn
---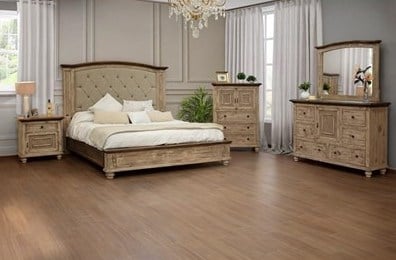 Ryan Home Furnishings opened in July of 2019 by Richard and Renee Stacy. They provide quality furniture at an affordable price. You can even ask them about their design services as you work to furnish and decorate your new home.
You'll find Ryan Home Furnishings in Hudson Oaks, Texas.
Ryan Home Furnishings Review
"Had a terrific experience with Renee and Richard at Ryan. Renee helped me find the perfect seating for my kitchen and dining and I can't wait to get back there to shop for my next pieces. Great quality, great service and delivery. Highly recommend it!"
- Lori Stevens
---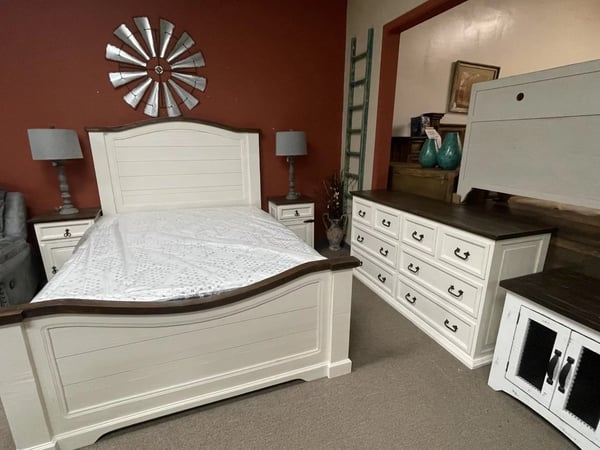 Waldrop's Furniture can be found in Azle, Texas. It is a family-owned and operated business that has been around since 2009. They offer a wide selection of furniture for every budget. You'll also find easy layaway and financing options available.
Waldrop's Furniture Review
"If you want a good hometown feel from good people, y'all need to check this place out. Awesome people, awesome product, and awesome prices! 5 stars all around!"
- Beth Cherry
---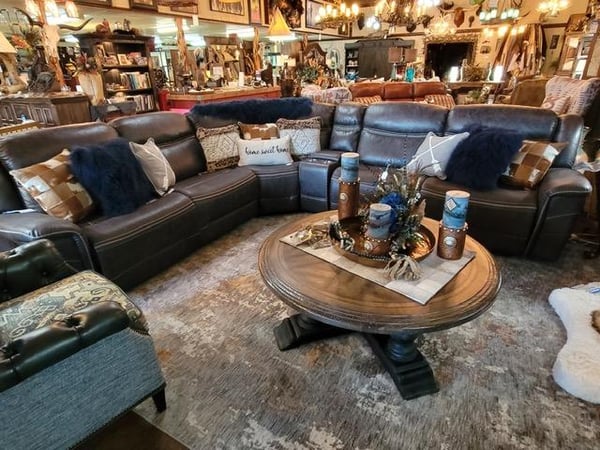 Western Heritage Furniture & The Design Center is a family-owned company - two stores side by side in Weatherford, Texas. You can find all styles of furniture - Western Rustic, Traditional, Old World, Contemporary and Modern - and other home furnishings like lighting, rugs, art and accessories.
Western Heritage Furniture & Design Center Review
"This place has the most unique and amazing furniture around! They have the neatest pieces of handmade furniture and decor I have ever seen! We love Western Heritage and all their stuff!"
- Mary Doss
---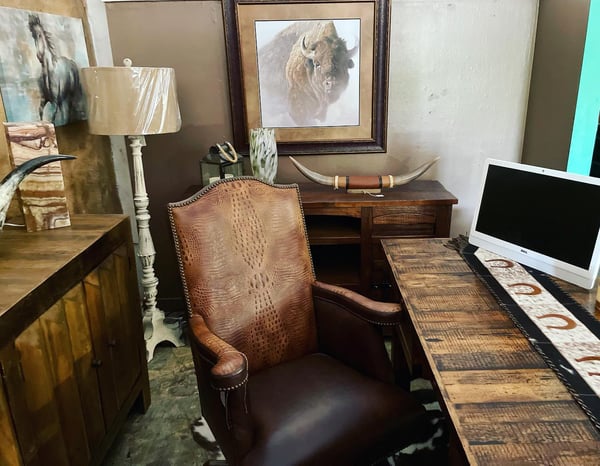 Santa Fe Terra offers Western, Rustic and Hacienda-Style Art and Furnishings in Weatherford, Texas. Their items are imported and created to meet the needs of their customers. You'll find a variety of tables, bedroom sets, sofas and sectionals.
Santa Fe Terra Review
"The owner is simply the nicest person and she helps you create the furniture and space you want! Even if it's not in stock. She'll have it made, and the quality is exceptional!"
- Heidi Haynes
---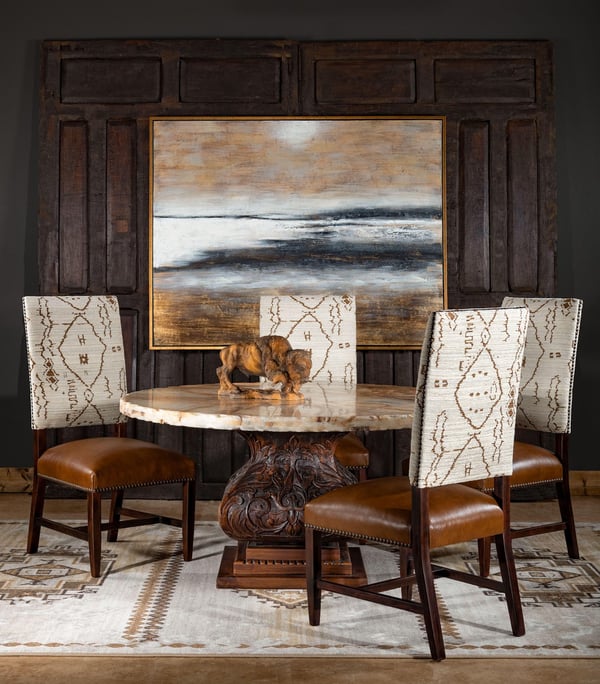 Adobe Interiors is located in Fort Worth, Texas, and offers high-quality leather home furnishings in a range of styles. You can see the products in store or request something custom.
Adobe Interiors Review
"Adobe Interiors deserves five out of five stars. This is high-end quality and they deliver on the price tag. I look forward to seeing this furniture for years to come wherever I live. Heidi was my go-to in the buying process. She did much more than sell, but helped me decide on ways to maximize the space in my own home.
Originally, I was drawn to the Urban Architect Sofa (which is amazing!), and she helped me build the room around that piece. There were hundreds of texts and pictures, measurements, and other communications to make this the best it could have been. The Ivena Sofa Table sitting across the sofa is a beautiful piece that ties the whole living room together. The chest coffee table and rug underneath all outstanding pieces. Thanks to Adobe for an amazing product and service!"
- Robert Gonzalez
---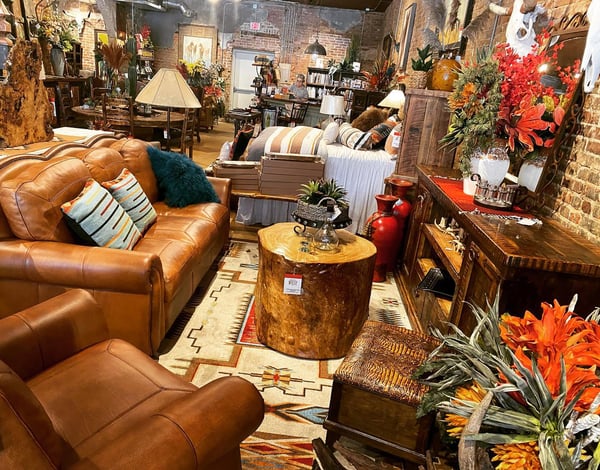 Into the West is located in Fort Worth. They are a family-owned and operated boutique store selling unique, hand-crafted furniture.You'll find custom pieces made to your specifications, design services, nationwide delivery, layaway and financing.
Into the West Review
"Shopped around and definitely had the best pricing in FW. Didn't find exactly what I was looking for on their showroom floor so they custom built it exactly to my specifications. They also offered complimentary wine/beer while you shop which was a nice touch. Great customer service."
---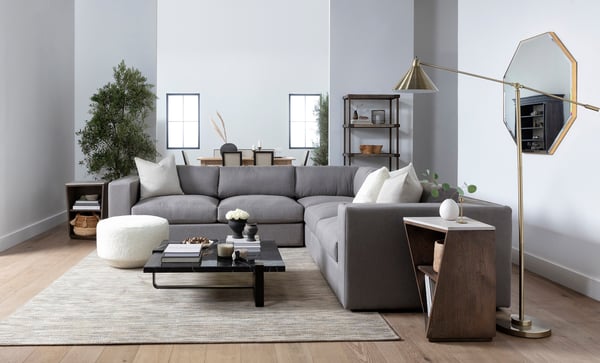 Living Space has locations throughout Dallas-Fort Worth. You can visit one of their stores in Frisco, Grand Prairie and Fort Worth - to name a few. They have a huge selection of furniture to view in their showrooms. They also offer same-day delivery.
Living Spaces Review
"Great prices for great quality of furniture. I was able to fully furnish a new build at an affordable price. Associate Jill is amazing! We came back a second time because we love her insight. She is very honest and will work with you until you are fully satisfied. What a great experience…"
- Nadia Ruiz
---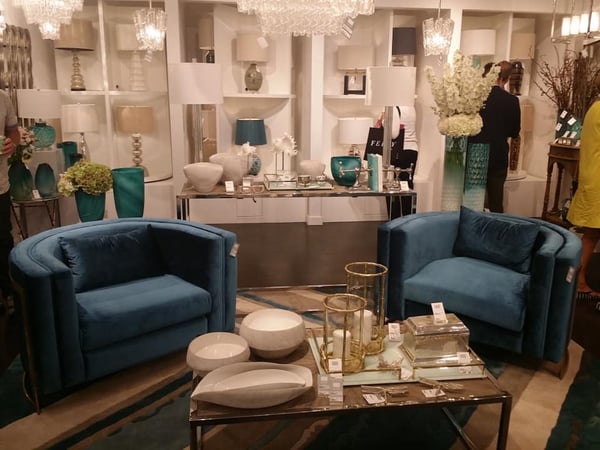 Abby Slayton opened There's No Place Like Home in Fort Worth, Texas, with the homeowner in mind. After buying a home herself and realizing all of the furniture she wanted was overpriced, she decided to open up her own furniture store to offer quality, affordable furniture to her customers.
There's No Place Like Home helps its customers place their furniture orders directly with the manufacturers so there are no inventory costs, no elaborate showroom expenses and the savings are passed down to the customer.
There's No Place Like Home Review
"If you're looking for the perfect addition to your home decor, something that has class and showcases your unique personality and swag, you found it. My wife and I always get the royal treatment when we stop in - not because we're special - just because that's the way Abby and her hard working staff treat EVERY customer that walks through the doors. We love it!"
- Saul David
---
While many furniture stores have a few customization options when it comes to the furniture you find in their showroom, Interior Define says instead of offering only a few customization options, they offer thousands - still at an affordable price, too.
You can visit their Define Studio in Dallas, Texas.
Interior Define Review
"I was so impressed with everything at Interior Define! The showroom was gorgeous and everyone was so helpful. We worked with Monica and she was the absolute sweetest - so patient and knowledgeable about everything. The process for making my selections and getting my sofa ordered was super smooth. Love that everything is customizable!"
- Alexa Mason
---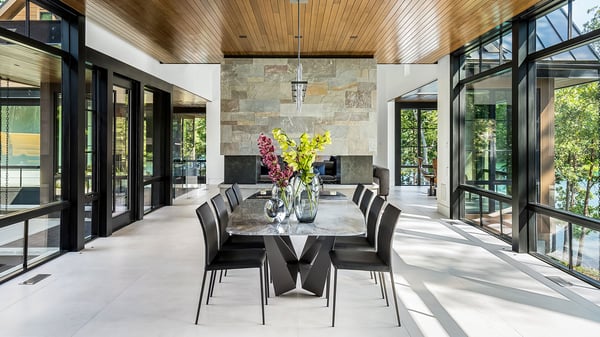 If you love modern and contemporary designs, be sure to visit Cantoni in Dallas, Texas. They opened in 1984 to offer modern and contemporary furniture designs to their customers. They work with leading design houses and emerging designers when selecting furniture and accessories to offer customers who walk through their doors. Not only can you find furniture at Cantoni, but they also offer lighting options, artwork, kitchen cabinetry and even closet systems.
Cantoni Review
"We've made a few purchases from Cantoni and have always been satisfied with the service, and especially the quality of their furniture. The showroom is inviting, and well-thought-out. I, especially, love the kitchen design area. Granted, the prices are on the higher end, but the quality is phenomenal (If you have to move, be sure you have VERY strong movers, because the furniture is HEAVY). You can also customize certain pieces, particularly sofas. Salespeople are always knowledgeable, friendly, and will spend as much (or as little) time as you would like - definitely not aggressive or pushy. We're not rich or wealthy, so shopping here can't be a regular event. But, when the budget allows, we will certainly purchase our furniture at Cantoni."
- Ms. Tyra
---
8 Popular Home Stores in Texas
We definitely wanted to feature our local home stores first to help support these smaller businesses. They have a lot of pieces you won't see in other places, which will offer something unique to your home.
However, we would be remiss to not mention some of these other more popular home stores that can be found throughout the U.S., including the Dallas-Fort Worth area. The furniture and decor you'll find here you will likely see in other homes around Texas, but their products are also usually of great quality at affordable prices.
Visit your local HomeGoods store in Fort Worth or Dallas for furniture and decor for the whole house. Consider signing up for their rewards card for an additional discount on your purchases.
If you want more of an around-the-world, modern look for your home, check out your local World Market in Fort Worth or Dallas. Become a rewards member for additional discounts around the holiday and your birthday.
While you won't necessarily find home furniture or home decor at the Container Store, they have a lot of great products to help you organize your home - from your kitchen to closets and bathrooms to the kids' toys and games. You can visit your local Fort Worth or Dallas Container Store for more ideas.
At Home in Fort Worth and Dallas have vast amounts of home furniture and home decor options for you to choose from. If you have a particular theme in mind for your home, they are likely to have it.
Don't forget your 20% off coupon when you visit Bed Bath & Beyond. This is a great place to go for new bedding, towels, kitchenware and more to help furnish your new home. You can visit your local Fort Worth or Dallas store.
Target has some great, affordable furniture and home decor, and while you can find most of their stuff in stores across the United States, enjoy shopping the designs and products of Texas's local Fix and Flip experts - Chip & Joanna - in their Hearth & Hand with Magnolia line at Target.
You can shop at your local target in and around the Fort Worth and Dallas area.
Even more affordable than shopping for furniture at Target is Walmart, where you can also support a local Texas business when you shop the My Texas House line. You might remember My Texas House from our best Home Bloggers article.
My Texas House offers some great home design tips and advice on their website and Instagram pages. They have recently produced a furniture line that you can shop online or in stores at Walmart. Be sure to check it out at your local Fort Worth and Dallas stores.
You can also shop The Home Edit at Walmart for home organization products at affordable prices!
IKEA is another very affordable home design and furniture store option. It has lots of home furniture and home decor options that are great for home owners on a budget - especially after building a custom home.
You'll find rugs, couches, chairs, desks, dining room tables and chairs, kids furniture, plants and more.
Visit your local IKEA in Grand Prairie or Frisco.
Start Building Your New Home