Where Do Builders Build Custom Homes?
Every home builder will have certain locations they do and do not build. This could be due to logistical considerations, property ownership, or subcontractor limitations.
When you decide on a home builder, knowing where they will and will not build is likely an important consideration for you.
In this post, we'll talk about how to know where your builder builds, why they have those limitations and more about where we build our custom homes.
Why Do Home Builders Not Build Homes in Certain Areas?
When you're searching for a custom home builder for your lot, you need to understand why a custom home builder might not be a good fit for your project and they may tell you they can't build on your lot.
Logistical Considerations
Travel to and from the home site - Most home builders will visit your home site to monitor the progress of your custom home build. This is why some of them have set parameters for how far they are willing to drive to build a custom home, since they need to be there frequently to monitor how things are going.
Transporting materials - They also consider how difficult it will be to get the materials they need to your home site. If it's farther away or doesn't have a great place to store the material while they work, then your lot may not be the best site for them to build on.
Site problems - There are some problems that can arise with your particular plot of land. Some examples include:

The site does not have water underground so there is no way to get you water to the house
There is water underground but it's too deep and they are not able to get to it
The site is located on a flood plain, which can make it difficult and riskier to build on

Property Ownership
Another challenge that can arise for your builder is the lot you've chosen. If you find a nice lot in a subdivision, your builder may not be able to build there based on who owns that subdivision. If it's another building company, you may have to work with that builder exclusively to build on that lot.



Subcontractor Limitations
Similar to when we talked about the builder not being able to drive as far to monitor your build, it may also be out of your builder's subcontractor's area of service. They also need to be able to make the drive to your lot site to build your home.


How Do I Know Where My Home Builder Builds and if They Will Build a Home on My Lot?
As you research and decide on a home builder, there are a couple of ways you can find out where they build.
On their website, they will likely have a "Where We Build" or "Locations" page listed in the main navigation or footer of their website. This gives you some insights into where they build.
After looking at that - or if they don't offer that information to you - you can reach out by phone or email to find out if they build in the area you want to build.
If not, and if you are set on where you want to build your home, you may want to find another home builder to build your home.


Where Does Hedgefield Homes Build Custom Homes?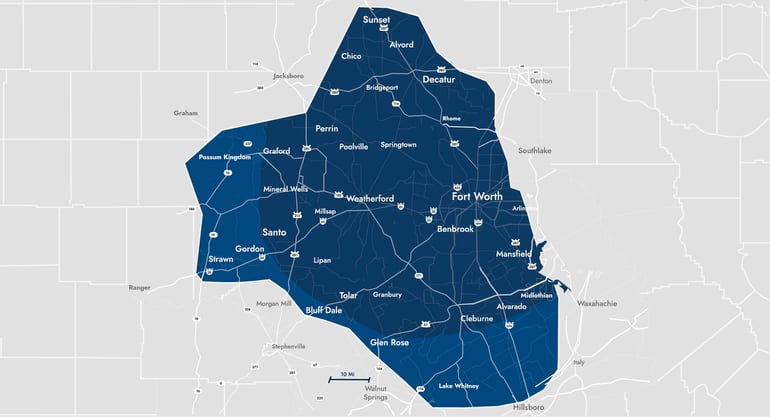 Hedgefield Homes is a Fort Worth custom home builder. We have been building custom homes in the Fort Worth area for over 20 years. We focus mostly on Fort Worth, Texas, and its surrounding western, northern and southern counties because most of our customers are moving to these areas and it's in good proximity to our main Willow Park office and the subcontractors we work with regularly.
Fort Worth is a great place to live because it's a large city with lots of things to do and places to work, while it also has great rural and urban areas to live in nearby.
Many of our customers have been building custom homes in more rural areas surrounding Fort Worth. They can still work in the city, as needed, but they are able to find more affordable land for their custom home, a more peaceful setting, and wide-open spaces, for less!
There's also less traffic in these areas, lower crime rates and smaller school districts for families looking to settle down.
Learn more about each of the counties we build in below:
Where We Build in the Fort Worth Area
Parker County
We build custom homes in the following cities:
Weatherford
Willow Park
Hudson Oaks
Springtown
Poolville
Peaster
Brock
Aledo
Millsap
Garner
Learn More About Parker County
Johnson County
We build custom homes in the following cities:
Burleson

Godley

Cleburne

Keene

Joshua

Grandview

Alvarado

Venus
Learn More About Johnson County
Wise County
We build custom homes in the following cities:
Briar

Boyd

Paradise

Rhome

Bridgeport

Runaway Bay

Decatur

Chico

Alvord

Sunset



Tarrant County
We build custom homes in the following cities:
Fort Worth

Azle

White Settlement

River Oaks

Crowley

Benbrook

Haslet

Keller

North Richland Hills

Mansfield
Learn More About Tarrant County
Hood County
We build custom homes in the following cities:
Granbury

Pecan Plantation

Tolar

Lipan

Cresson
Erath County
We build custom homes in the following cities:
Palo Pinto County
We build custom homes in the following cities:
Mineral Wells

Graford

Gordon

Strawn

Santo

Possum Kingdom

Salesville

Mingus
Learn More About Palo Pinto County
Somervell County
We build custom homes in the following cities:
Learn More About Somervell County
Ready to Get Started or Have More Questions for Us?
Fill Out the Contact Form Below!