Please tell us a little bit about yourselves as home buyers?
I am a mechanical engineer working in new construction and renovations, specifically, HVAC design. My wife is a master planner who helps setup plans for construction projects including infrastructure and campus layouts for large projects.
We have seen lots of different construction projects and seen what happens when they go well and when they go very poorly. Typically, it ends up costing the customer more money when it goes poorly. Things can go south for many reasons but a lot of it has to do with who is running the project.
Before going with Hedgefield, what were you looking for in a builder?
For at least a year we looked at floor plans and could never find something that met our requirements. We looked at tract homes, plans online, pictures on Pinterest and anywhere we could find something to look at. We would find aspects of what we wanted but always there was something that we did not like about the plan.
We realized to get what we wanted, we would have to build a custom home. Being an engineer, I was full of ideas on how this could be done but little experience in residential construction. My wife and I started to move this direction. My plan was to contract the job myself and also design the house. I started to take all the parts and pieces of what we liked and put it together and came up with a plan that was close to what we wanted.
What I did not have was any sense of what it would cost. I used some general rules of thumb but still did not feel confident I was even in the ballpark.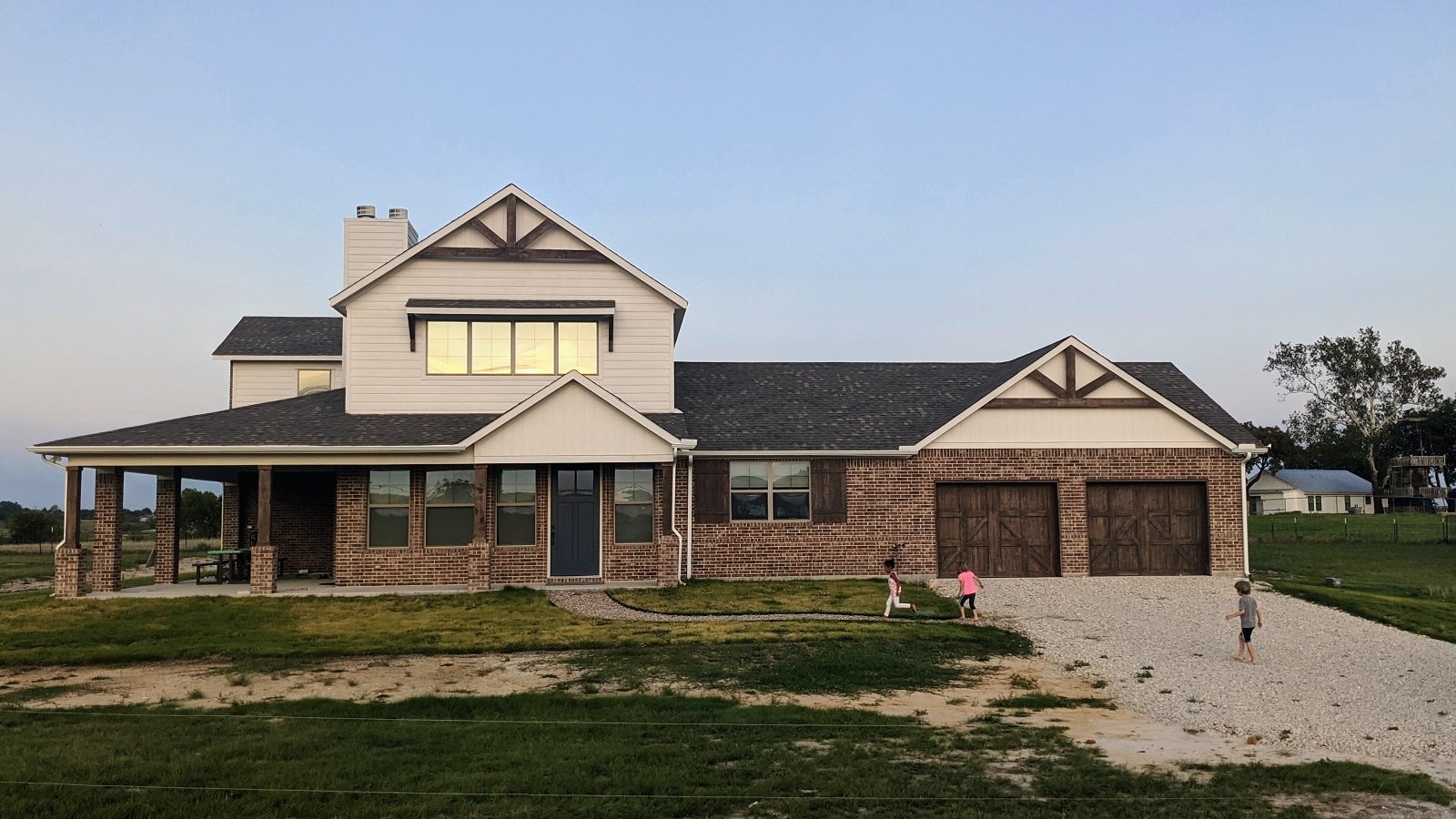 Why did you choose Hedgefield Homes?
I had spoken with others who used Brian to build a house and they had good things to say about the experience.
Brian and the Hedgefield team are not there to just build house. They strive to build houses with excellence.
Brian was always looking for ways to provide the best value for his clients. He was not just recommending cool trendy things but providing intelligent features that will benefit the homeowner.
In talking with him I also saw that Brian is not satisfied with a status quo. Brian is always looking for ways to improve methods, materials, and processes. This requires constant time, money and energy for his business but seemed to be a priority for him.
I had another experience prior to picking a builder that was pretty influential in my final decision. I had a small project on the property where we would eventually build our new home. All I wanted was to add electrical to a small shop on the property. I picked an electrician that gave a decent price and let them start. The project moved slow and had issues. I pointed several things out that were really not done correctly and was given excuses and it was never really fixed in the end. This really helped me appreciate paying someone to handle those issues for me.
How did working with Hedgefield make building your dream home easier, or save you money?
In construction projects, the builder is required to comply with codes. Typically, a municipality enforces those requirements on the builder. My project was not in the city so if I did not choose the right builder, I could have huge problem on my hands and most of those problems would not be discovered for years to come.
I found out that Hedgefield performs checks during construction for code compliance and uses a third party inspector above and beyond what the city would do if I were in their jurisdiction. This provided another safety net for the customer.
Hedgefield gave us lots of good recommendations on how to make our project more affordable but still made sure we were getting the vision of what we were going for. This showed us how deep of an understanding they have from start to finish.
I am convinced that many decisions made during this phase saved us lots of money and headaches because with his experience, he was able to steer us away from some decisions that in hindsight would have caused problems in real world application.
At the end of this, Hedgefield gave us a fixed price for our house. He went through every aspect of the design to help us understand what the finished product would be and would met our expectation.
Hedgefield also identified several things we could be responsible for to make the project cheaper and would only require a few phone calls to coordinate. They provided us the contacts and provided us guidance on what it should cost.
Doing this allowed us to avoid the markup that thhe would have benefited from for managing the work. This helped show me that Brian wanted to help us meet our financial goals instead of make as much money as possible on the build.
I have seen and heard horror stories of hiring the wrong builder in the residential and commercial world. You truly do get what you pay for and if I went with the lowest first cost builder I knew it was likely to cost me more money, time and stress in the long run.
Looking back, I am thrilled to have had Brian and Hedgefield build my house and would do it again if I ever needed to.
After the contract was signed, we learned the Construction Manager would be taking over the project at this point and would be responsible for the day to day activities on site. I was nervous about this since I had largely just work with Brian and was confident in his experience and not Collins. Collin was just as professional as Brian and I quickly saw his experience, expertise, and dedication to excellence.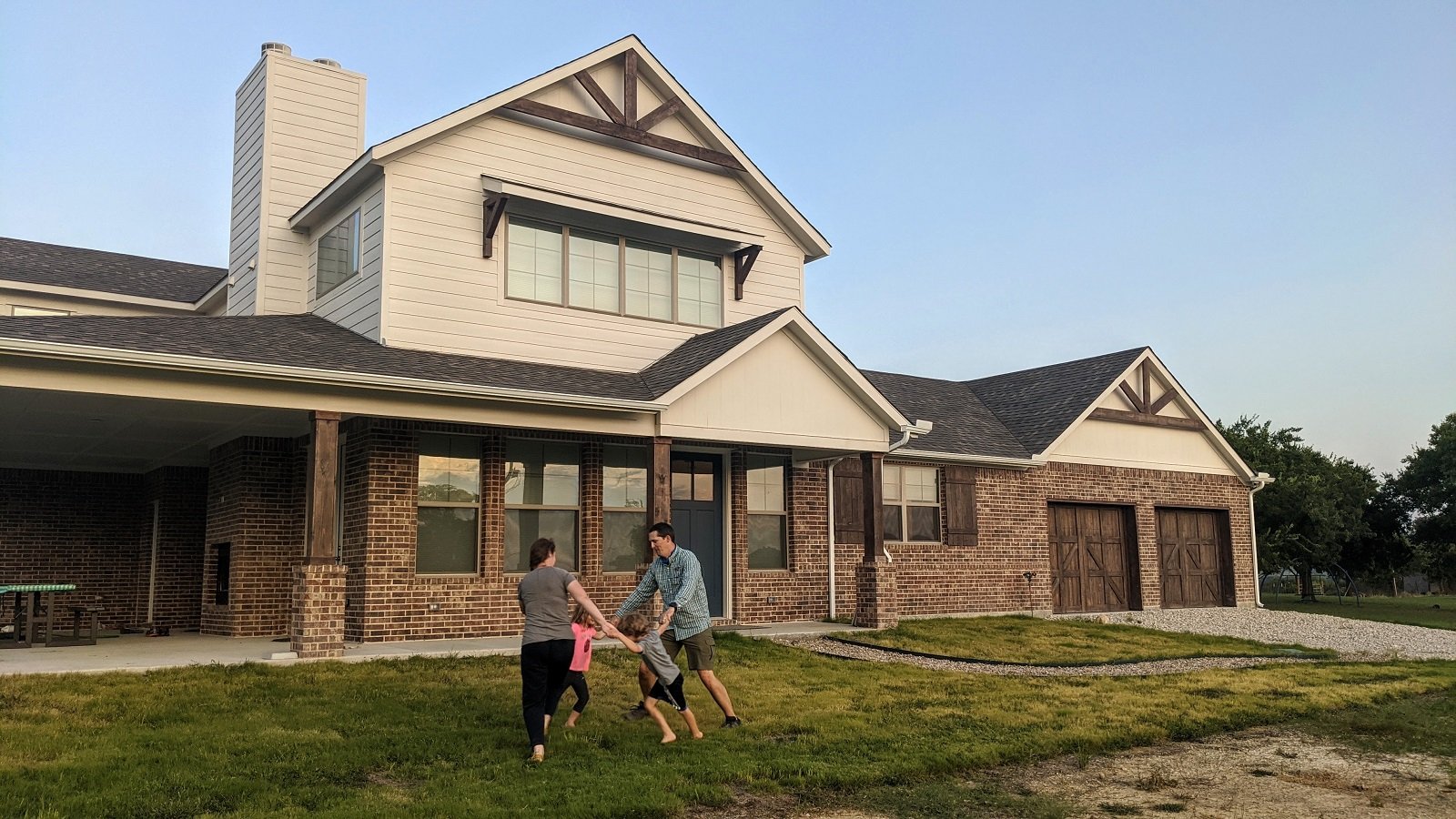 Did you hit any roadblocks with Hedgefield and how did you get past them?
There were also some items that Hedgefield did not think were done with well and made changes at cost to themselves not even requiring a modification. With my job, I go onto construction sites and identify deficiencies. I am experienced in finding issues.
Early in the project, I was checking everything I could to see it was done correctly. I would find a few things and spoke to Collin about them and they would get corrected.
At one point, I had done this and found a few things that were not done the way I wanted but were not really an issue and it could have stayed that way with no significant impact. I came back the next day and it was getting corrected without my telling anyone.
This is where I really started to trust Collin. I am convinced, if I had gone with the lowest bidder, that I would have had to be there every day and fight to get things done correctly. With Hedgefield, I did not need to do this. Building a home can be very stressful but Hedgefield dealt with the contractors and made sure things were done correctly.
After the turnover I noticed 3 problems. 2 lights in the house stopped working and we found an issue with the security system. This was all after the final payment was made and during the warranty period. This is where you can really find the character of a company. I contacted Collin and all of the issues were taken care of at no cost to myself.
Any final thoughts you'd like to share about Brian Carlin or Hedgefield ?
Being an engineer, I had a few things I wanted that were not typical in houses today. I showed Collin what I wanted and he made sure we had the space and infrastructure. I was then allowed to install it myself like I wanted as a cost savings measure.
Collin let me know the window the work needed to be completed by too not slow progress on the house and I came and got it done.
That brings up another great point, the schedule. Early on I was speaking with Collin and he told me it should not take more than 6 months to complete the house. I was provided a schedule every few weeks and it went almost exactly as they predicted at the start of the project.
There was some slight flex on the exact day things were done but they were essentially done on schedule. In all, the build time was less than 6 months. I was impressed by that especially when you consider this was during the first few months of COVID and the lockdown.
In summary, Hedgefield has the team, processes and experience to do the job right. They have the dedication and experience required to be successful in home building. They made it as stress free as possible. They provided invaluable help in finalizing design details. They offered a fixed price on the project. They allowed me to be as involved as I wanted to be. They worked efficiently. They resolved all the concerns I had before, during and after. They had third party inspections. Most importantly, I feel they have the integrity a company needs to do right by the customer.