Sealing pipes and wires in an exterior wall - the right way
Through-wall penetrations are the utilities that pass through the exterior wall in order to connect services: think electrical wires, gas pipes, water lines for hose bibs and tankless water heaters, vent pipes, etc. When we build an exterior wall, we want it to remain water-tight and air-tight once we are done. It's easy enough to seal around the big holes: windows and doors (although these often don't get the attention they deserve), but often ignored are the smaller penetrations.
Take an exterior wall with siding. The typical ting you'll see on new builds is this: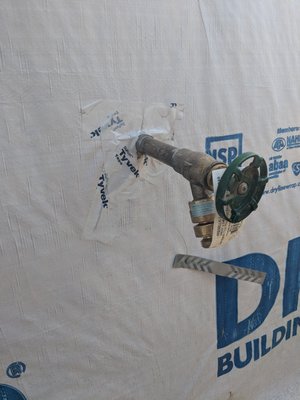 (Image Above) This is not our job site. But this is a typical flashing job on a through-wall pipe. How durable do you think that tape, does it look like its making good contact with the pipe to form a tight seal? As the metal expands and contracts and the wood frame moves, does this look like a seal that will hold up?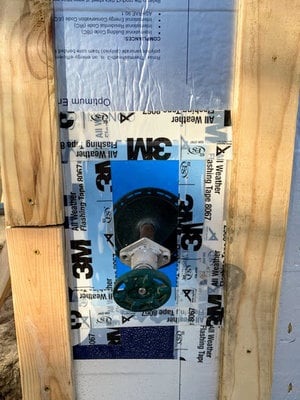 Step 1 & 2: Quickflashing seal and taped edges.
These Quickflashing flashings come in different sizes, we keep them in inventory and hang them around the penetrations as they are installed. Side note: we leave our hose bibs long so we can remove the faucet to install siding, then the plumber comes back to trim the pipe and get a snug fit.
On this project, we are installing a 3/4" rain screen detail to provide drainage and drying behind the James Hardie siding, so we need to block out around the pipe to keep us on the same plane and give us nailers for our blocking and siding.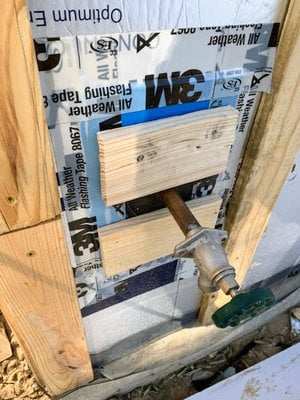 Step 3: Blocking out to complete the rain screen and provide nailing support for our siding and trim
Next we come back over our blocking with a trim block - this gives us something to terminate our siding around so we don't simply have an irregular hole punching through the siding. We do this one of two ways - in this shot we are using a Sturdimount PVC block that is pre-cut into two halves, which makes it easy to slip around the pipe without unthreading the faucet. These typically come with a flange for flashing, but in this case we can't use it because it won't work with the blocking, so we just use the block.
Step 4: Sturdimount block installed.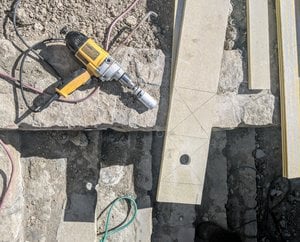 If we don't have Sturdimounts on hand, we will use a hole saw to cut through a 3/4" trim board, works just as well. Note: hole saws are not part of the average cornice crew or framer's tool bag. This is our own equipment.
Notice the 3/4" blocks are cut slightly larger than the Sturdimount, so we have a nailer for our siding as we cut it in around the block. Side note: I typically see builders in our market installing siding first, then trim on top of it. In our book, this is not the right way to install these materials architecturally. Its definitely a lot faster and easier, but it just doesn't look right.
Next, we install a z-flashing with a canted drip edge over the top and seal the edge. This is exactly what we would do for a window, because we want to direct any water hitting that joint back out instead of letting it collect on the top of our blocking and rot it out over time.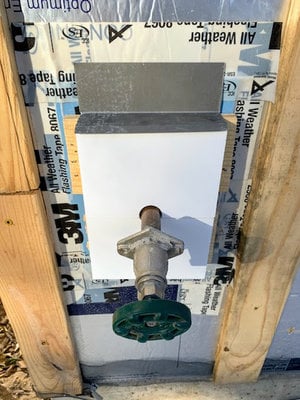 Step 5: Z-flashing. We had these custom made, they are thicker gage than what we get from the lumber supplier, so they don't wave and get torn up so easily, plus they have a true drip edge as opposed to a 90 degree turn-down like standard z-flashing.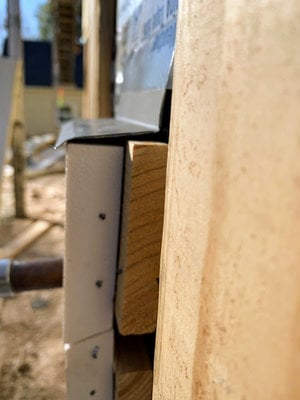 Step 6: Seal Z-flashing. Any water running through the rain screen gets diverted out. Note the slope and the drip edge..the details matter.
Now we are ready to run our siding. We will not caulk the gap between the z-flashing and siding, and we leave a gap at the bottom so the water has a clear path out.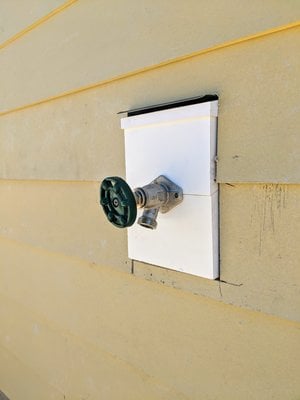 Step 7: Siding install. Note the siding seam falls within the faucet flange plane, so if there were no blocking, you would be left with a gap beneath to try to seal up - probably with lots of caulking.
There are lots of through-wall penetrations on a home, which means lots of opportunities for water and air to leak, and for rot to form. We treat our small openings with the same care as our big ones, because we think its the right thing to do, and it helps us build tight homes that are easy to maintain, that hold up over time, that keep the conditioned air inside, where it belongs.